Editing in the series era: the collaborative world of La Corte Editores


Sam Baixauli, Ana Castro and Alejandro Lázaro, partners and editors of the editing studio The Court Editors, bring the new editing keys to the ever-changing world of video-on-demand platforms.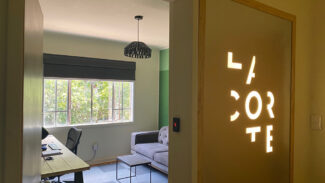 He mounting. Formerly solitary work and an almost therapeutic relationship between the editor and the director (while helping to resolve doubts and find solutions to a project during a critical phase), today he opens up to new approaches that redefine his identity. The scissors are long gone, opening doors to an era where the software, decades later still not exempt from crasheos, continues to give life and meaning to stories, stories and memories.
Like everything in this life, things change. On this occasion, industrially and technologically. The arrival of the big platforms With its monetary muscle, the commitment to series and the renewed global momentum of productions provided a new dimension to the favorite product of the small screen. Series of wide complexity and long duration should be available in full to calm the growing voracity of a spectator who discovered the pleasure of binge-watching. In addition, with different approaches to the classical nature of the montage, to bring to the cliffhanger to a new era (and we thought that Twin Peaks o Lost they had sublimated this art!) and put FOMO back on everyone's lips.
In parallel, the epitome of socio-sanitary catastrophes made an appearance between crises and populism, even today, unstoppable. He audiovisual entertainmentIn a world as connected as it is secluded, he needed new methods to keep his flame alive. Independent developers and large corporations redoubled their efforts to drive the post-production industry to a new cooperative era, in which the ubiquity would become a capitular concept.
In this particular breeding ground, full of opportunities, a group of publishing professionals decided to join forces to create a collaborative editing studio with his eyes set on the series, which, today, employs more than 40 professionals in up to 10 productions in parallel. Consequence or response to the transformation of the television fiction industry, La Corte Editores is an exceptional witness of a creative, conceptual and technological transformation. Sam Baixauli, Ana Castro and Alejandro Lázaro, partners of the company with extensive professional experience, provide a transversal vision of the assembly world.
---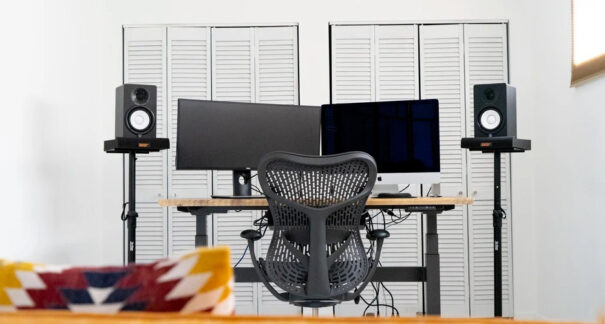 inside the court
2017, CDMX. Under the everlasting filter of warm photography that always accompanies productions from the Mexican capital (or not), a group of editors decided to come together to face this "new stage in which the industry was going to need larger work teams," he recalls. Baixauli. This group of professionals versed in feature films and advertising saw the opportunity for growth in the world of series, but they knew that they could only face it with all the guarantees Joining forces.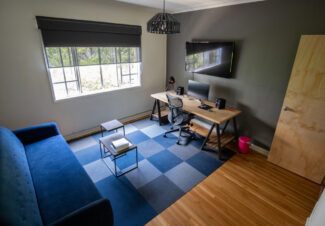 With the aim of prioritizing that logistical and personal union between the editors, they took their first steps in a humble headquarters in Mexico City to scale into the US and Spanish markets with the opening of an office in Miami (now extinct), and facilities in Madrid y Barcelona. This "organic and exponential" expansion, in the words of Baixauli, currently translates into a team of 40 personas that scale up 60 professionals depending on the active projects: "Beyond the assemblers, we have a team that organizes finance, production, accounting and technical management. All of them support what we prioritize: talent and the creation of work teams that adapt to each project".
Netflix, Amazon Prime Video, HBO Max, Apple TV+, NBC Universal, Telemundo, El Estudio, Gato Grande Productions, Espotlight o Lemon Studios These are just some of the market agents that have opted for the proposal of La Corte Editores. Some of the most prominent titles to come out of their workstations include big names in Spanish-speaking production like Luis Miguel: The series, Hernan, the queen of the south (seasons 2 and 3), The Other Sea, Costa del Sol Brigade, woman arms or the latest exclusive Disney+ production in Spain: You would too.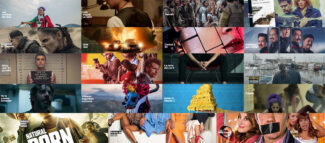 Apart from these editing services, Lázaro points out that the company is beginning to offer more and more "turnkey" services, in which the production companies trust La Corte Editores to contract global solutions. For this type of project, the company has a portfolio of collaborators among which are companies and professionals specialized in colour, sound or visual effects: "In some cases we have done almost a blind tasting: we have commissioned 10 minutes of footage from three different colorists for the final customer to choose. We are very open to all kinds of proposals. We do not compete at the price level, but in the quality of the project", transfers Lázaro.
---

From individuality to collective
the beginnings of The Court Editors they were not easy. The arrival of a renovating concept in an industry in transformation increased the dizzy feeling of the producers. The first projects came supported by past experiences and individualities, as Baixauli confesses: "The first clients we had had already worked with Ana, Alejandro or Manu (Ndr: V. Manu Medina, partner) and we knew they could adapt to this new model". From La Corte Editores they knew that their proposal marked the future of the industry: "For the projects they had in hand, they knew they were going to need several editors. They had several options: look for freelancers, or have a work team that already knows how to work with each other, is going to give advice in this regard and has established an internal creative, logistical and technological flow".
His way of operating has maintained with slight modifications from its origin. Each project has two prominent figures: lead editor, a "creative interlocutor" who is in charge of directing the team of assemblers (up to 15 people per project according to their specific requirements), and production coordinator, responsible for functions such as the control of materials or the sharing of deadlines.
"All the fears usually reach the cutting room, so we have to see how to solve them for get the best out of every story".
All this structure, full of clear interlocutors and proven processes, aims to make the customer "feel protected". Baixauli elaborates on this concept: "When the client contacts us, he arrives after having worked for many years on a script, having managed to sell a story, fighting with his own clients and overcoming filming, which are always complicated processes. For this reason, we want to get them to feel that their material is taken care of, well reviewed and analyzed, and to commit ourselves to the story they want to tell. All fears usually reach the editing room, so we have to see how to solve them to get the best out of each story.
Castro adds to the words of his partner: "We use all kinds of tools to always be clear about the big picture of the project. The most important thing is order and organization. They are two elements that will make everything come to fruition".
---
Montage in the age of cliffhanger and the data
One of the resources that video-on-demand platforms are most suspicious of is their data collection. Authentic treasures, although frequently enemies of creativity, they allow us to know the viewer's habits in order to try to unravel the always elusive success formula: at what point can the viewer get tired, what works at what point or how to get it to say "one more chapter". the traditional focus groupbut with millions of inputs.
Just as data provides clues, it also provides solutions that affect both scriptwriting and editing. Today, the cliffhanger, classic hooks to keep the expectation about what is to come, are part of the day to day of The Court Editors: "He cliffhanger It can be hooked on paper, but many times it is not appreciated on set. In editing, we have to invent it, make a flashback or think of different ways to create them", transfers Castro, who points, with some resignation, to a new way of approaching each project: "Now everything is a crescendo After another. I find it a bit exhausting, since many times the priority of the editors becomes getting the viewer to stay". This, as the reader will have been able to confirm on their trusted platform, also translates into the reduction of the length of the chapters, with drama premieres that opt ​​for a duration of 27 or 30 minutes.
"Now everything is a crescendo After another. I find it a bit exhausting, since many times the priority of the assemblers happens to be make the viewer stay".
The tireless search for the success of video-on-demand platforms increasingly required by extreme competition and large investments translates, as many voices in the market point out, into a growing lack of creativity. This is how Baixauli expresses it: "When all this started, I feel that there was more room for exploration. There were fewer accumulated databases and, therefore, more ignorance, which meant that there was more openness towards creativity (...). Now, although there showrunners and executive producers who continue to defend the nature of the project, all possibilities are analyzed and valued, which limits the options in the editing process ".
---
Networks: support of collaboration
The rise of the remote streams, one of the few positive notes of the pandemic, reaffirms the founding axiom of La Corte Editores. Those initial processes that are the result of survival are already part of the day-to-day of the company, which uses various tools for its daily operation.
The basis of his proposal is the construction of a network that interconnects the servers that store all his work in his three locations: Madrid, Barcelona and Mexico City. This interconnection accessible via VPN with an important firewall provided by Cisco Meraki allows editors to work in person from each of the locations with all the security measures required by their clients.
Despite this transoceanic interconnection, the real processing and operability muscle rests on local teams, not solutions cloud or virtualized. However, Lázaro is clear that the cloud it will be the next step for their operations: "We are all going to go to mass storage in the cloud. Both Netflix and Amazon Prime Video are heading to establish themselves as a kind of content hub for publishing, taking advantage of its bets on the cloud". maybe this philosophy cloud also arrive at workstation of La Corte, since as Lázaro himself confesses between laughs: "We have already spoiled several times buying machines and it is not our intention to do it again".
"We are all going to a mass cloud storage. So much Netflix as Amazon Prime Video are going to establish themselves as a kind of content hub for edition taking advantage of their bets on the cloud"
For now, the work teams include several Mac Mini with processor M2 y M1, which deliver more than solvent performance for your workflows, often at 2K. Working with coding H.265 y HDR, the next step will be UHD: a natural evolution, in the words of The Court, but not strictly necessary for its daily operability.
While external collaboration is done with tools like Evercast, the internal collaborative workflow usually benefits from the Premiere Pro editor. Connected to the internal network of La Corte Editores and benefiting from the tool Productions integrated into software Adobe, "up to 15 or 20 editors can work simultaneously on the same project".
---

Editing software: paradigm shift?
Beyond Adobe Premiere Pro, La Corte Editores also frequently works with Avid Media Composer, Final Cut Pro and the editing module DaVinci Design.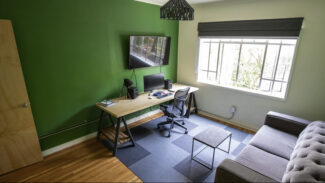 This breadth of options is freely offered to the different professionals that make up the whole of The Court. However, day to day shows preferences. Final Cut Pro It aims to be used less and less due to the "growing abandonment" of this system by Apple for top-level professional productions, in the words of Lázaro. On the other hand, Avid Media Composer It continues to occupy a prominent position in the daily life of La Corte, although its integration with the Nexis system limits its application in different projects. In fact, Baixauli affirms that many of the projects that are addressed with the Avid solution in-house are "inherited" from other editing processes that have not had, in the opinion of executive production and management, the ideal finish.
From the other perspective, Premiere Pro stands as the preferred option of The Court Editors for its "ease, accessibility and collaborative options". In fact, Baixauli denotes a certain stigma against the Adobe tool in Spain that usually dissipates at the moment in which the collaborators verify the correct functioning of the collaborative and control tools that the software integrates. Finally, the editing module of DaVinci Resolve receives a special mention from the La Corte team: everything indicates that its future will turn more and more towards this tool developed by Blackmagic Design.
---

The promise of AI in assembly
"Everyone is now a bit paranoid about the AI ​​world," he says between knowing glances with his companions Lazarus. However, immediately afterwards, his partner Baixauli proceeds to expose with certain illusion many of the doors that could open: "I am convinced that it will make processes much more agile and will be very useful for certain projects."
These first solutions for the publishing world, developments open-source, processes integrated into editing software or creations of independent companies, promise to simplify processes such as the cataloging of clips, synchronization, organization by blocks or the first armed, as well as improve already established tools such as the audio to text transcription, noise removal o dead pixel detection. In La Corte Editores they already apply several of these tools, and they are even doing tests for the assisted creation of credit titles.
"I am convinced that the IA will do the processes much more agile and it will be very useful for certain projects".
All these processes are mere assistance; a useful aid that eliminates tedious processes, but that are not capable, for now, of build narratives and stories. That is, according to Lázaro, what evidences the value the figure of the editor. Far from technologies, machines and new revolutions, the personas they will be making a difference at La Corte Editores: "Our value is not in hardware or software, but in the individual talent of the people we hire. In fact, on our website we do not show our machines, but the projects and our people. That is, really, our capital".
A report by Sergio Julián Gómez
Did you like this article?
subscribe to our RSS feed and you will not miss anything.
Other articles on Adobe, Avid, Blackmagic, Cisco, Evercast, The Court Editors