EWTN Hungary renovates studio with Blackmagic Design solutions

A selection of Blackmagic Design solutions such as URSA Broadcast G2 cameras or ATEM 1 M/E Constellation HD mixers have recently been integrated into EWTN Hungary's workflows.
Founded more than 40 years ago, EWTN Global Catholic Network has become one of the world's leading religious media. Today, its television and radio programmes are broadcast in several languages 24 hours a day, year-round, to more than 400 million households in 150 countries.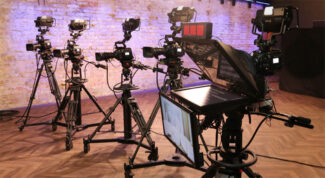 Recently, the Hungarian branch of the broadcaster, which has a potential audience of three million families, renovated its facilities workflow, including three studios (narration, podcast and morning magazine) and a control room, in cooperation with Media Networks. Csucs Zoltán, part of the technology team at EWTN Hungary, explains the aims of the project: "Our goal was to design and build a facility that looks and delivers on broadcast level output cost effectively. Having achieved that, we are now at a point where we use Blackmagic Design in every aspect of our production chain."
With the integration of the elements complete, EWTN Hungary's studios have now moved on to six URSA Broadcast G2 cameras equipped with Blackmagic URSA Viewfinder units and B4 variable focal length lenses manufactured by Canon. With regard to signal distribution, the central control relies on a Smart Videohub 20×20 matrix, which is connected to another Smart Videohub 12G 40×40 unit located in the studio control room. This allows the cameras, distributed in two different spaces, to work in parallel independently, as well as to control aspects of the cameras remotely if necessary.
EWTN Hungary's new control room
The control room at EWTN Hungary's studios are equipped with the ATEM 1 M/E Constellation HD mixer and an ATEM 1 M/E Advanced Panel unit, both Blackmagic Design solutions. For Zoltán, "the fact we can patch the six configurable AUX outputs into the router and a reference monitor makes this a flexible bit of kit and works well alongside the ATEM Camera Control panel for remote control."
In addition, a Blackmagic MultiView 4 monitor makes it easy to set up the remaining two displays, while multiple HyperDeck Studio HD Pro units are used to record the on-air signals and play back images.
"What sets Blackmagic apart from other manufacturers is the interconnected nature of its offerings, coupled with its ease of use and operation. As a complete solution, it delivers tremendous value for money and technical advantages at all stages of the production chain while giving us a predictable content pipeline that is reliable," concludes Zoltán
¿Te gustó este artículo?
Suscríbete a nuestro RSS feed y no te perderás nada.
Other articles on Blackmagic [INT], Canon [INT], EWTN [INT]