Panasonic AG-HPX300 P2 HD, first camcorder HD 4:2:2 10 bit of affordable price
Capta en AVC-Intra de cuadro individual a 2,2 megapíxeles nativos y velocidad de cuadro variables. Puede utilizarse tanto para ENG como para estudio.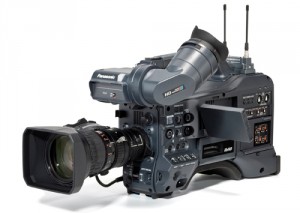 Tanto para trabajo sobre el hombro como en estudio, Panasonic ha lanzado al mercado, a un precio por debajo de los 9.000 euros, el camcorder AG-HPX300 P2 HD. Captando AVC-Intra 4:2:2 a 10 bit y 2.2 megapíxeles nativos, su formador de imagen incorpora tecnología avanzada de tres MOS de 1/3" 2.2 megapíxeles para adquirir imágenes con resolución nativa totalmente HD. Con un bloque óptico rediseñado y tecnología de fusión de prisma de alta precisión, estos formadores de imagen avanzados aportan excepcional calidad de imagen minimizando cualquier resplandor o aberración cromática.
La nueva AG-HPX puede grabar en AVC-Intra, AVC-Intra 50, DVCPRO HD y definición estándar (DVCPRO50, DVCPRO y DV), pudiendo en la modalidad AVC-Intra 100 y 50 trabajar con modos nativos 24p/30p en Full HD con salida HD-SDI.
En configuración de estudio, la HPX300 puede ser usada también como cámara de estudio, estando equipada con un terminal de control remoto (RCU) para ser usado con la unidad de control remoto opcional AJ-RC10G y sistemas compatibles de control remoto de estudio. Más adelante este año, Panasonic hará el lanzamiento de un sistema de configuración de estudio adaptado para la HPX300 que incluirá la estación de base AG-BS300, la unidad de extensión de control (ECU) AG-EC4 y el adaptador de control remoto de cámara AG-CA300.
Con poco más de tres kilos y medio, se trata de un camcorder de diseño ligero, bien balanceada, con asa ergónómica y con todos los controles de volumen y ranuras para tarjetas en el lado izquierdo para facilitar su acceso. La HPX300 está equipada con un buscador de imagen a color en pantalla ancha LCOS de 1.226.000 puntos y un monitor a color LCD de pantalla ancha de 3,2 pulgadas y 921.000 puntos. En cuestión de consumo: todo un logro, apenas 18w.
La AG-HPX300 P2 HD se comercializa junto un objetivo Fujinon 17x, aunque puede trabajar con cualquier lente intercambiable.
Did you like this article?
Subscribe to our RSS feed and you will not miss anything.
Other articles on AG-HPX300, AVC-Intra, P2HD, Panasonic
Otros artículos relacionados