AEQ Opera: robustness and design in an analog console for radio
And more than two decades ago that the Spanish AEQ, an international benchmark in the design and manufacturing of audio solutions for radio and television, presented his first mixer.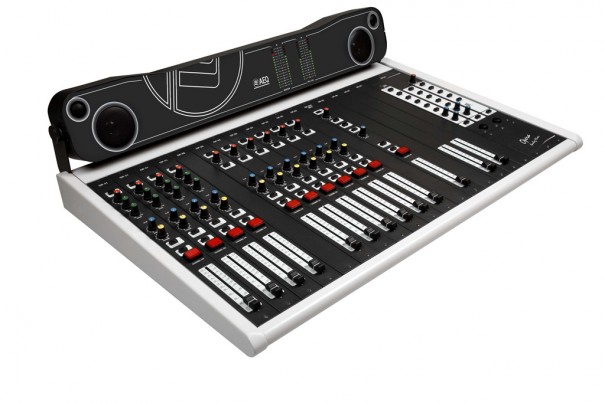 In 1987 AEQ launched its first broadcast audio mixer.
Based on the high quality standards of the popular and reliable audio console BC500, AEQ has included in its catalog Opera.
The Opera Console is the perfect tool for radio stations, where it takes many years of use without fear.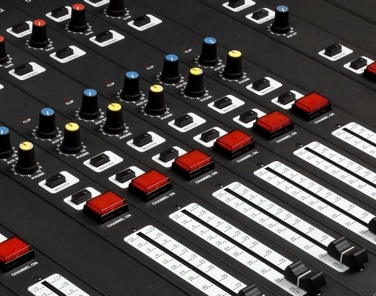 One feature that is highly valued all technicians at one time or another in the life of a console are forced to make adjustments or repairs and, of course, do not want to stop the issue in no time.
It is noteworthy that Opera can be configured as needed with optional micro-equalized line, double line stereo, input-output modules and output modules. Starting from a standard configuration can be easily extended with new modules. The option of adding one or two digital telephone hybrids and multiplex frequency extension gives additional value.
As befits a professional audio table in Opera all inputs and outputs are balanced: balancing transformer in the mic / line and all the outputs, and stereo line inputs, external inputs as well as
Opera permite también conmutar el envío a bus master, así como el mute de cada canal con señalización 'On air' y corte de monitores. Las conexiones son XLR 3 hembra para micro y línea. En cuanto a la línea doble estéreo, ésta se balancea electrónicamente contando con un conmutador para seleccionar Línea A o B o estérero/mono. Cuenta también con pulsador de preescucha, potenciómetro de envío a teléfono y bus auxiliar y bus master.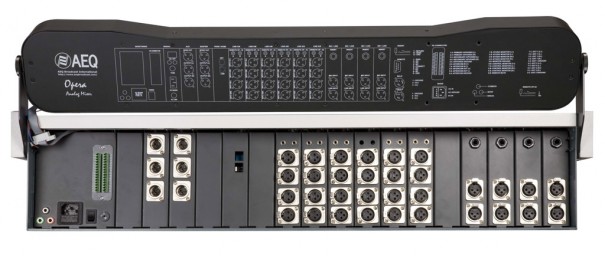 Autocontrol o control-locutorio
Una de las características diferenciadoras de esta consola es la posibilidad de trabajar en modo de operación autocontrol o control-locutorio, accionando únicamente un pulsador. La mesa cuenta también con intercom de cuatro hilos para ordenes integrado; puente de monitorado con dos vúmetros para Programa y PFL-Select con ángulo de visión ajustable y altavoces de CUE estereo de dos vías. La consola Opera está específicamente diseñada para su instalación semiempotrada integrándose a la perfección en el mobiliario del estudio.
En cuanto a las salidas, cada consola puede equipar dos canales de salida, incorporando cada canal una salida estéreo y una mono balanceadas por transformador. Cuenta también con un potenciómetro fader general de 100 mm, con control VCA. Entre las funciones auxiliares de salida destacan los altavoces en puente de monitordo para preescucha PFL y T'back con potenciómetro de nivel, un PFL acumulativo con pulsador de reset (direccionado de vúmetros y altavoces en puente de monitorado), una salida estéreo balanceada con monitor de control con potenciómetro de nivel y la posibilidad de seleccionar entre master, aux, PFL Exterior 1 y Exterior 2. Además, es posible cortar automáticamente los monitores si se en autocontrol. La salida para monitores de estudio es estéreo balanceada pudiendo elegir entre master, aux, PFL Exterior 1 o Exterior 2. La salida a auriculares cuenta con regulación de volumen independiente.
La consola Opera admite 17 canales de entrada/salida, pesa unps 30 kg. Y tiene unas dimensiones de 83,5 x 58,5 cm.
Descárgate aquí todas las características técnicas
AEQ Opera, principales características

Hasta 17 canales de entrada y salida de audio.

Entradas de micro-línea y salidas balanceadas por transformador.

Entradas de línea estéreo y exteriores balanceadas electrónicamente.

Filtros de radiofrecuencia en módulos de entrada.

Indicadores de saturación ("clipping") en módulos de entrada.

Módulo de entrada-salida, con controles y preescucha independiente de entrada y salida.

Módulo de híbrido telefónico digital con extensión de frecuencia y múltiplex.

Control por VCA en faders.

Control indirecto de los envíos principales.

Buses balanceados electrónicamente.

Envíos pre o post-fader programables.

Módulos de salida estéreo más salida monofónica simultánea.

Conectores XLR metálicos con enclavamiento.

Control independiente de auriculares de control y locutorio.

Modo de operación seleccionable como auto control o control-locutorio mediante pulsador.

Mute remoto desde el locutorio.

Activación de señalización automática "On Air" en módulos de entrada, programable por el usuario.

Intercom (cuatro hilos) para órdenes al exterior, coordinación de unidades móviles, microfónicas, etc.

Puente de monitorado con 2 VU metros para Programa y PFL-Select con ángulo de visión ajustable.

Altavoces de CUE (preescucha) estéreo de dos vías.

Diseño especial para instalación semiempotrada en el mobiliario del estudio.

Conmutador para señalización ON AIR y corte de monitores en modos autocontrol y control-locutorio

Micrófono T'back con envío a Master, Aux, Estudio, Teléfono e Intercom.

Dos vúmetros estéreo para Programa y Select / PFL

Corte de tos.
Did you like this article?
Subscribe to our RSS feed and you will not miss anything.
Other articles on AEQ, Opera
Otros artículos relacionados