AEQ Opera: robustness and design in an analog console for radio
And more than two decades ago that the Spanish AEQ, an international benchmark in the design and manufacturing of audio solutions for radio and television, presented his first mixer.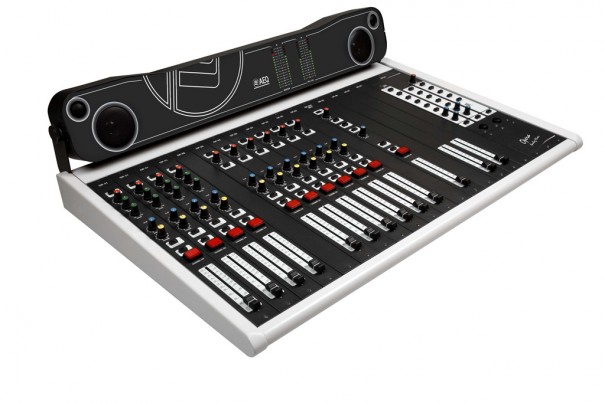 In 1987 AEQ launched its first broadcast audio mixer.
Based on the high quality standards of the popular and reliable audio console BC500, AEQ has included in its catalog Opera.
The Opera Console is the perfect tool for radio stations, where it takes many years of use without fear.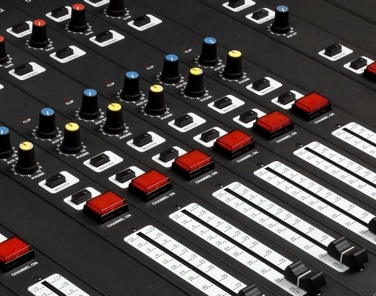 One feature that is highly valued all technicians at one time or another in the life of a console are forced to make adjustments or repairs and, of course, do not want to stop the issue in no time.
It is noteworthy that Opera can be configured as needed with optional micro-equalized line, double line stereo, input-output modules and output modules. Starting from a standard configuration can be easily extended with new modules. The option of adding one or two digital telephone hybrids and multiplex frequency extension gives additional value.
As befits a professional audio table in Opera all inputs and outputs are balanced: balancing transformer in the mic / line and all the outputs, and stereo line inputs, external inputs as well as
Opera can also switch sending a bus master and the mute each channel signaling 'On air' and court monitors. Connections are XLR 3-pin female to micro and online. As for the stereo double line, it swings having a switch electronically to Line A or B or stereo audio / mono. It also has button cueing, delivery potentiometer phone and assistant master bus bus.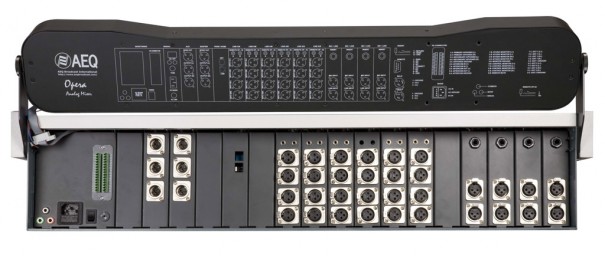 Self or studio control
One of the distinguishing features of this console is the possibility of working in self mode or studio control by operating only one button.
As for the outputs, each console can be equipped two output channels, each channel incorporating a mono and stereo output transformer balanced.
The Opera console supports 17 channels of input / output UNPS weighs 30 kg. And has dimensions of 83.5 x 58.5 cm.
Download here all cTechnical eatures
AEQ Opera, main features

Up to 17 channels of audio input and output.
Mic-line and transformer balanced outputs.
Stereo line inputs and outdoor electronically balanced.
RF filters on input modules.
Overload ("clipping") on input modules.
Input-output module with independent controls and PFL input and output.
Module digital telephone hybrid with frequency extension and multiplex.
VCA faders control.
Indirect control of the main shipments.
Buses electronically balanced.
Pre or post-fader shipments programmable.
More modules simultaneously output mono stereo output.
Interlocked metal XLR connectors.
Independent control room and studio monitor headphones.
Operation mode selectable as self control or studio control push-button.
Mute remote from the parlor.
Enabling automatic signaling "On Air" in input modules, user programmable.
Intercom (four wires) orders abroad, coordination of mobile units, microphonic, etc.
Bridge TV monitoring with 2 VU meters and PFL-Select program with adjustable viewing angle.
Speakers CUE (PFL) two-channel stereo.
Special design for semi-recessed installation in studio furniture.
Switch ON AIR signaling and self-monitors cutting modes and studio control
Microphone T'back delivering Master, Aux, Study, Telephone and Intercom.
Two stereo level meters and Select Program / PFL
Court of coughing.
Did you like this article?
Subscribe to our RSS feed and you will not miss anything.
Other articles on AEQ Extra, Opera
Otros artículos relacionados