Miranda simplifies migration to 3Gbps extending support to its parent Nvision
Simplificar la migración a entornos 3Gbps, HD y enrutado por fibra es ahora más sencillo mediante Nvision Enterprise Class, con soporte extendido a matrices históricas de terceros.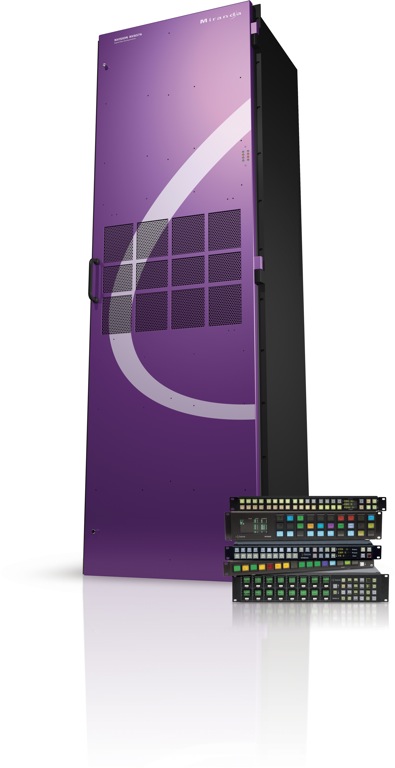 Son muchas las cadenas que cuentan con matrices tan extendidas como GVH SMS7000 o la famosa Philips Jupiter que quieren modernizar sus instalaciones migrando a 3Gbps, HD y fibra, utilizando para ello la propuesta Nvision de Miranda. Para facilitar esta migración, Miranda propone el uso de Enterprise Class añadiéndolo simplemente al sistema Nvision para controlar tanto los nuevos como los existentes routers en una instalación. Esto permite actualizar fácilmente las instalaciones migrando a 3Gbps, HD o fibra, al mismo tiempo que proteger sus inversiones existentes de enrutamiento. También minimiza costes adicionales y de ingeniería de sistemas. Para aquellas instalaciones más complejas, Miranda dispone del NVision 9000 que trabaja con una amplia variedad de software y hardware de matrices tan populares como SMS GVG 7000, Philips Jupiter, Pro-Bel, Sierra Video,
Sony y Pesa.
Los sitemas de matriz NVision Enterprise Class 3 Gbps/HD/SD presentan una excepcional resistencia, escalabilidad e integración, estado disponibles en configuración de hasta 1152×1152 entradas.

Did you like this article?
Subscribe to our RSS feed and you will not miss anything.
Other articles on Miranda, NVision, signals
Otros artículos relacionados