Sony PDW-F800: production of high level for the most demanding operators
The ability to record in progressive 24 p with style of cinema, the option to 'ramps' playing with increasing and reducing the frame rate, recording in standard definition and the double turret of optical filters to make the F800 a high-level production both environments of television camera.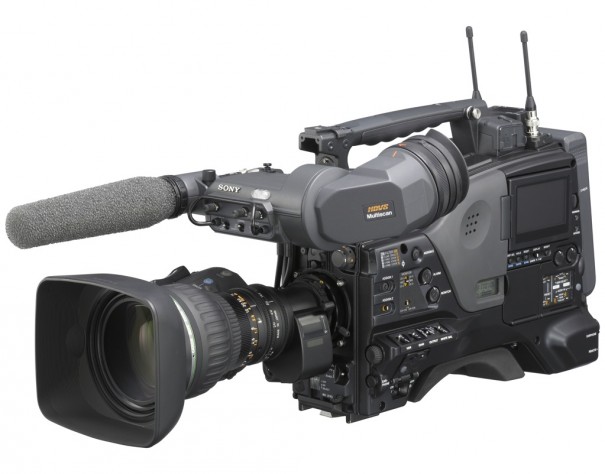 Heiress of the PDW-700 (presented by Sony in 2008), PDW-F800, of fuller and high range, is the new camera from Sony presented at NAB'09 XDCAM HD family. What most draws the attention of this House is that both the body and the keypad is very similar to its predecessor, which facilitates familiarisation of the operator, having a very similar electronics including laser sensors and the deck.
Especially designed for the production of series and documentaries of high level, this camera uses 2/3-inch three CCD Power HAD FX offering recording in MPEG 422 to 50 Mbits/sec and a framerate of 23.98 p to 1080 native. The PDW-800 is a totally multi-format camcorder since it allows to work in 1080i 25 p, 23.98 p, 720, 04:02:2, 04:02:0, IMX 50, 40 or 30 Mb/s, SD quality DVCAM, or PAL and NTSC or 04:03 16:09. In short, the same camera to record NTSC or PAL up to 1080i or 24-25 p film look.
For those who still continue with some fear when it comes to press 'Rec' and remember that there is no any tape inside, this camera to work on Professional Disc, with recording in MPEG IMX, DVCAM formats and 4:2:0 HD, is facilitating a new step in the familiarization of equipment completely tapeless. Also offers recording multi-format (1080i/720 p), as well as HD/SD conversion and cross during playback between 1080i and 720 p conversion.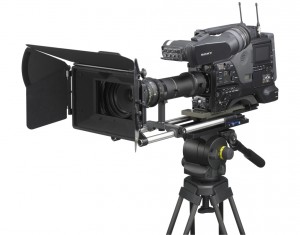 XDCAM HD 422 technology it is possible to now record to 50 Mbps with a 2/3 inch camcorder, thus providing greater creative possibilities of production to filmmakers, broadcasters and professional.
Following the introduction of version 1.5 of the firmware for this series, both the F800 and the F700 has benefited from significant improvements such as recording at 23.98 fps or even in different formats in a single drive (with the same frame rate). Another advantage is the possibility to record in continuous mode, in the purest linear emulating tape, avoiding the creation of dozens of clips during the recording of several planes of a sequence.
Another important novelty is the simultaneous recording in low resolution proxy which allows faster access to the material. But perhaps one of the aspects that most professionals from film fields have appreciated is the possibility to 'ramp' on the F800: at 23.98 p (between 1-48), at 23.97 (between 1-59 94fps), in 25 p (between 1-50 fps).
With this camera we can burn to fast or slow camera even reaching double the speed. The result achieved in attracting overcrank is really good, with very smooth, flicker-free. Another advantage of the F800 is allowing play sequences in slow motion in the camera allowing you to use the camera without having to make the material to send, for example, to a satellite link.
Another very useful function when faced with the production of documentaries on nature is the ability to record a frame every certain interval programmed (up to 24 hours) or hold the shutter open for a maximum range of 16 frames (a luxury for those who tend to look to the sky with its stars and fight with impossible profit) something great when recording under a starry sky without having to activate the gain.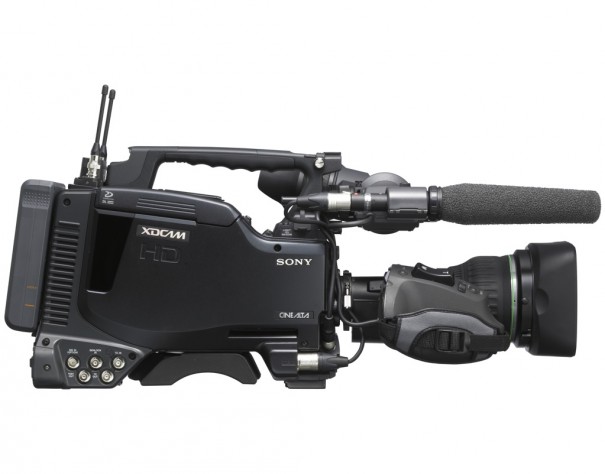 For the most demanding users
The ability to record in progressive 24 p with style of cinema, the option to 'ramps' playing with increasing and reducing the frame rate, recording in standard definition and the double turret of optical filters make the F800 a camera for television environments both production of high level, including cinema... In addition, the most demanding operators have other possibilities as the image (which allows use of cinema 2/3″, Ultra Prime and anamorphic lenses) or the focus Assistant. This function consists of a bar chart visible in the bottom of the Viewer, which will indicate what is the accuracy of focus within the area marked on the display. As it improves the focus graph moves the right to reach the ideal focus point. The display, or even a monitor connected to the SDI output, also shows other aspects such as the safe area, aspect ratio, image Center, the gate skin and zebra level.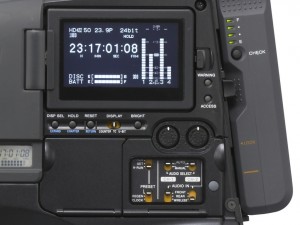 But perhaps one of the best valued in this House is the possibility of working with gamma curves previously defined by the user. This is one of the functions that operators were long suing Sony. Now, thanks to the HyperGamma we have four default gamma settings, and can configure them in the camera, or even from a laptop via the CVP File Editor software originally developed for the HDW-F900.
This possibility greatly accelerates the shooting, since in addition to the four settings of the camera, any operator series can incorporate their gamma curves directly on the camera controlling even the smallest detail of lighting, shadows or color of a scene, avoiding always hasty last-minute tests at the site of the shooting.
Another important improvement over the PDW-F700, presenting only one, is the double turret of optical filters. The PDW-F800 has a filter to control the neutral density and another to adjust the color temperature. Although it might seem that Sony has taken a step back by replacing the selection of electronic filter by a physical filter manually controlled, the truth is that this decision relieves a few returned us crazy with both button preferring the immediacy of the wheel. However, there are opinions for all tastes, and there are those who prefer the system of a single wheel and electronic control, as in the model 700, but the truth is that having two wheels allows you to add other filters of broadcasting or similar behind the optics.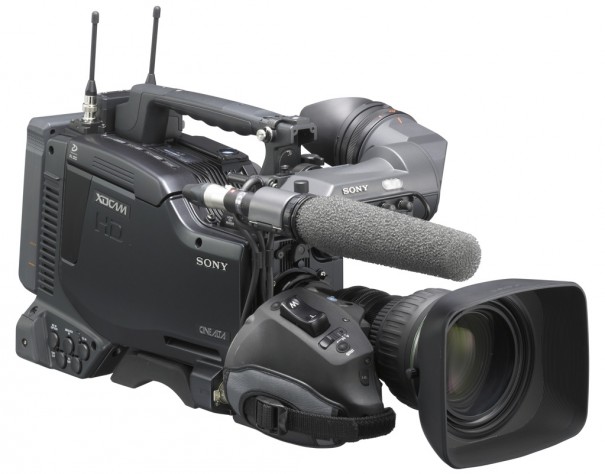 Dalí made on Professional Disc
Despite the generalization of tape-free environments, are still many users who keep some uncertainty in the absence of tape. In the case of the F800 to work on the Professional Disc support these 'suspicious' users have a physical support on which your trust in that the only time that is capturing are storing. We could say that it is 'a matter of faith'. Professional Disc has been shown as an extremely robust and reliable format that supports weather and extreme temperatures. The cost of working with Professional Disc round euro per GB, enabling reuse in more than a thousand times in half a century. In terms of cost, according to estimates from Sony, a double layer disc at a price of about 59 euros (50 GB) would amount to a tape of 94' that 73 euros, which would mean a saving of 20%.
Both disks can be used with the F800 layer (23 Gb with reference PFD-23A) as double (50 Gb re PFD50DLA). In the first case, it is possible to record 45 minutes, while in the second, reaching the 96 minutes of HD material to 50 Mbps.
Interestingly, since the F800 admits can also record standard definition, is possible to pull on a Professional Disc recording time, easily doubling the recording time up to 190 minutes. In this way, broadcasters still working in SD get a ratio of cost per minute of recording frankly low.
XDCAM as a file-based system allows an immediate access to the material, even simultaneously by several groups for real-time editing, post-production, graphic design... with the consequent saving of time. In addition to simultaneously record files proxy lighten considerably the workflow saving time wide bandwidth and storage.
The absence of tape allows an immediate response. Like the rest of the series PDW, PDW-F800 has a cache that allows you to store video temporarily before writing to disk. Therefore, it is possible to start recording images until the optical disc drive start to spin at full speed, which provides high speed of response. Even when the computer is in save mode, when you press the 'Rec' starts recording immediately without further delay. In addition, both the PDW-700 and the F800 have a cache of up to 30 seconds, allowing that don't miss any critical image in a press conference, or the precise moment that the animal that we had been observing days ago the action that we had hoped and we find the camera in standby or changing the blade.
For the XDCAM HD?
One of the advantages of working with XDCAM HD format is that it shares the same scheme and operational teams based on tape with the advantages of a non-linear medium, connected in network and sharing files. XDCAM records, also simultaneously files in high quality HD as in low resolution which allows to move them quickly.
Based on files provides more efficiency with additional information such as metadata, higher speeds of dump, direct integration with most of the NLE and compatibility (MPEG2 encapsulation into MXF 422P@HL compression).
The MPEG-2 422P@HL 50 Mbps algorithm offers an optimum balance in terms of image quality and recording autonomy. In addition, precise processing very inferior to other intraframe MPEG-4-based algorithms.
Access
PDW-F800, strengths

Full HD CCD 2/3 "(more sensitive to a 600% dynamic range)
Native resolution 1920 × 1080
Format 1080i/720 p and 24 p to HD422/420 (1080)
It admits of 23.3 Gb (48 min 25 p HD) and 49 GB (double layer) discs
Nameable MXF files
Different format on disc (XDCAM, IMX, DVCAM) recording
Four channels of high-quality audio
Dual HD/SDI output and composite HD-and
Ethernet interface and i-Link
Side LCD (which already incorporated the 650)
New display TC and remain
Noise suppressor
Editable user menu
Assignable buttons on the handle
Use of cards memory stick for camera settings and scene files
Log disk Professional Disc with single UMID
Gallery:
Did you like this article?
Subscribe to our RSS feed and you will not miss anything.
Other articles on PDW-700, PDW-F800, Sony, XDCAM
Otros artículos relacionados