Ovide and Sony presented the first compact camcorder HDCAM SR in professionals
Heredera de la F23, el nuevo camcorder, con apenas 6,5 kg. y un consumo de apenas 57W, puede realizar grabaciones en formato 4:2:2 Y/Cb/Cr a 10 bits con la más alta calidad, en 1080/23.98P, 24P, 25P y 29.97P, así como en 1080/50i y 59.94i o en 4:2:2 720/50P y 59.94p.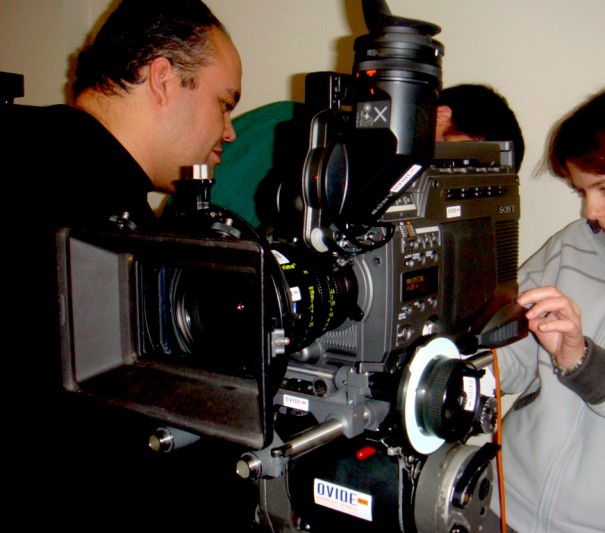 Sergi Ovide Maudet, director técnico de Ovide BS y Fernando Muro, product marketing Business Solutions en Sony, han presentado esta semana en Barcelona y Media el primer camcorder en HDCAM SR disponible ya para alquiler. El nuevo SRW-9000, hereda muchas de las prestaciones de la HDW-F900/F900R o la F23 pero con una gran movilidad ya que pesa la mitad que la F23 (6,5 Kg.) y aproximadamente lo mismo que la F900. En cuanto a precio, la nueva cámara cuesta un 7% menos que la F900. Aunque sus características son similares a este modelo anterior, la nueva SRW-9000 no contaría con el sofisticado prisma dicróico de la F23 con su amplia respuesta en espacio de color.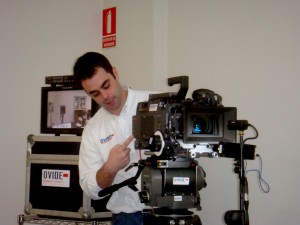 Se trata del primer camcorder compacto que graba en HDCAM SR y que dispone de 3 CCDs de 2/3" ofreciendo 1920×1080 con grabación RGB 222 a 10 bits y una velocidad variable de hasta 60 fps. Sony ha concebido este camcorder 'para toda la vida' por lo que partiendo de una arquitectura abierta, dispone hoy de un bloque óptico de CCD de 2/3 de pulgada pero en poco tiempo podrá acoplársele un PL de 35 mm. Sony también ha previsto la sustitución de la cinta por una memoria SR. Esta memoria que llegará a un 1TB el próximo año trabaja a más de 5 Gbps en velocidad de acceso, será capaz de trabajar en multistream con hasta 8 streams HD RGB 444, con hasta 240 fps (como frecuencia para 3D), y todo ello sobre estado sólido con una protección RAID 5.
Una de las principales ventajas de este camcorder trabajando en HDCAM SR es que se graba cuanto capta el sensor, dejando ajustes de color o gamma, por ejemplo, para postproducción sin ninguna pérdida de información. En la configuración estándar, el SRW-9000 puede realizar grabaciones en formato 4:2:2 Y/Cb/Cr a 10 bits con la más alta calidad, en 1080/23.98P, 24P, 25P y 29.97P, así como en 1080/50i y 59.94i. Además, el SRW-9000 puede grabar señales 4:2:2 720/50P y 59.94P, que pueden usarse para aplicaciones de programación y transmisión DTV. Para los usuarios que necesiten un mayor rendimiento creativo, se pueden añadir diversas tarjetas opcionales que les permitirán beneficiarse de la captura de imágenes RGB en formato 4:4:4 con ancho de banda 1080, la captura de imágenes y grabación SR Motion a una frecuencia de cuadro variable, gamma S-Log y entradas y salidas de señal adicionales.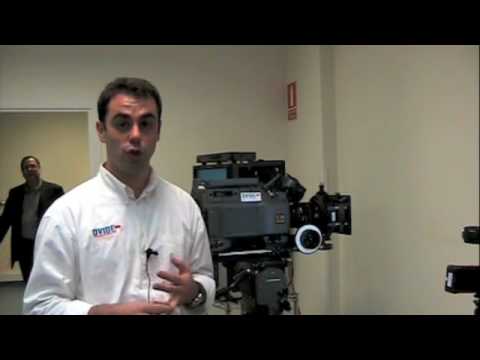 Primeras imágenes de

Màxima de Llits

Coincidiendo con la presentación de la SRW-9000 en Barcelona y Madrid, han podido verse ya en las sedes de Ovide BS en Barcelona y Madrid las primeras imágenes de <em>Llits</em>,una producción en 3D de Televisió de Catalunya con la colaboración de Apuntolapospo, Ovide BS y Kronomav grabada en el Teatre Nacional de Catalunya durante la representación del espectáculo de Lluís Danés.

Para la producción de Màxima de Llits, Ovide BS ha suministrado cuatro parejas de cámaras. Por necesidades físicas y también para poder valorar distintas tecnologías, han trabajado con varias configuraciones que van desde dos parejas de Panasonic AJ-HDX900 (DVCPRO HD) en los rigs grandes, trabajando con ópticas Digiprimes, una pareja de Sony PMW-EX3 y otra pareja Iconix RH1. Durante el rodaje también se utilizó a modo experimental la nueva Sony SRW-9000 en grabación 4:4:4 HQ.

Para el monitoreado 3D, emplearon monitores JVC 3D junto con el software desarrollado por Apuntolapospo para control estereoscópico.
Did you like this article?
Subscribe to our RSS feed and you will not miss anything.
Other articles on Apuntolapospo, F23, HDW-F900, ICONIX, Kronomav, Ovide BS, Panasonic, Sony, SRW-9000, TV3
Otros artículos relacionados