Chyron: efficiency and speed in graphics on-air
Chyron Quintette market presents its new system for management and distribution in graphics, while updating the AXIS platform and introduces improvements to its flagship HyperX and LEX. For managers of Chyron stereoscopy, from the point of view of graphics, should not present any operational problems with respect to 2D.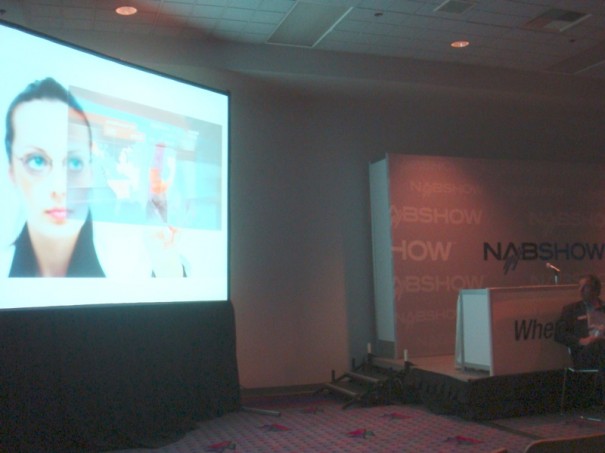 Chyron announced at NAB 2010 launch of Quintette, a solution that will help the broadcaster to produce and deliver sophisticated graphics in real time.
Among the benefits it will bring Quintette emphasizes the integration of metadata management Adobe XMP, sophisticated intelligence in the graph flow and management, collaborative tools to share projects, assets and templates, support for multiple workflow hubs four video / key channels to broadcast and persistent objects update, rolls, crawls ... with other data from live sources.
AXIS, reducing costs

Its graphical cloud platform AXIS also have improvements from now in order to reduce cycle times and costs while increasing the chances of integration, support for video track (allows faster search all active maps stored as AXIS,
They will also have statistical reporting (reporting continuously and in real time on the efficiency graphical workflow and all its resources, and native support for flash video (and can render animations directly from AXIS environments for new media including web advertising, for example ) ...
Improvements HyperX and LEX
Chyron has also announced new features for HyperX graphics system will facilitate the use and flexibility.
Also new platforms new generation of two of its most widespread solutions among broadcasters small and medium size: LEX graphics system and the Channel Box.
LEX, meanwhile, remains a thought for small broadcasters or mobile applications suite, helping them to step into the HD. The new system includes new features such as call tactile graphics, integrated clips, DVE and second video input.
BSkyB premium energy efficiency

Finally, note that Chyron announced, coinciding with NAB, completion of the project that has been conducted in the British BSkyB, intended primarily to cover the new Sky Sports News currently being implemented in the new production center in Sky Osterley, West London.
This new facility is being developed on the principle of energy conservation, so that all equipment, including Chyron be supplied by low consumption. This has been a determining factor in the final decision to choose Chyron by BSkyB. In this installation emphasizes the integration carried out between the HyperX platform and Avid iNews publishers will face automate broadcast graphics
During the press conference held today in Las Vegas Chyron has also emphasized other facilities carried out recently in other broadcasters like NBC or Fox US.

Did you like this article?
Subscribe to our RSS feed and you will not miss anything.
Other articles on 3D, Adobe, Avid, Chyron, NAB
Otros artículos relacionados