Evertz stereoscopic processor
The processor stereoscopic 3D video Evertz 7832SVP-3G module is intended to facilitate the production and postproduction 3D HD videos. It has inputs for left and right outputs processed and blended image.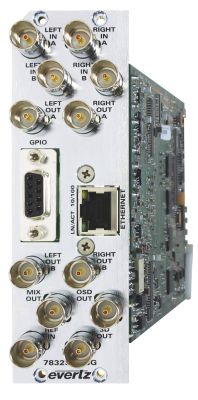 Evertz has expanded its modular solutions, in this case thinking about stereoscopy, launching the new processor 7832SVP-3G.
It also has horizontal flip for input left eye or right can also apply a programmable horizontal or vertical motion to each of the eyes or compensation for inverted images.

Did you like this article?
Subscribe to our RSS feed and you will not miss anything.
Other articles on 3D, Evertz
Otros artículos relacionados