Evertz stereoscopic processor
El módulo procesador de video estereoscópico 3D Evertz 7832SVP-3G está pensado para facilitar la producción y postproducción de vídeos 3D en alta definición. Cuenta con entradas para imagen derecha e izquierda y salidas procesadas y mezcladas.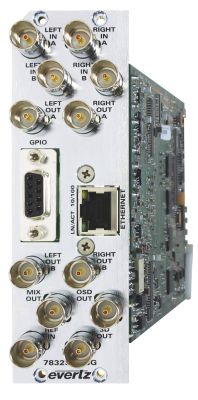 Evertz ha ampliado su soluciones modulares, en este caso pensando en la estereoscopía, lanzando el nuevo procesador 7832SVP-3G. Dispone de entradas para la señal del ojo derecho e izquierd y dispone de salidas procesadas y mezcladas que combinan ambas entradas y una salida en 3D formateada para monitores planos de 3D. Esta es una salida serie HD de 1,5 Gb/s y 3 Gb/s que permite la proyección de 3D en configuración izquierda-derecha, arriba-abajo, Pixel Checkerboard, igualando la resolución del display, independiente del formato de entrada.
También dispone de flip horizontal para entrada del ojo izquierdo o derecho pudiendo además aplicar un desplazamiento horizontal o vertical programable a cada uno de los ojos o una compensación para imágenes invertidas.

Did you like this article?
Subscribe to our RSS feed and you will not miss anything.
Other articles on 3D, Evertz
Otros artículos relacionados