Optical Spectrum Analyzer (OSA) for FTTH Promax Prolite 77 meter
Before the unstoppable deployment of FTTH (Fibre To The Home) technology, Promax has a wide range of custom solutions that allow to reach the excellence of quickly and easily. One of these proposals is the Prolite 77, an Analyzer of FTTx offering numerous functions.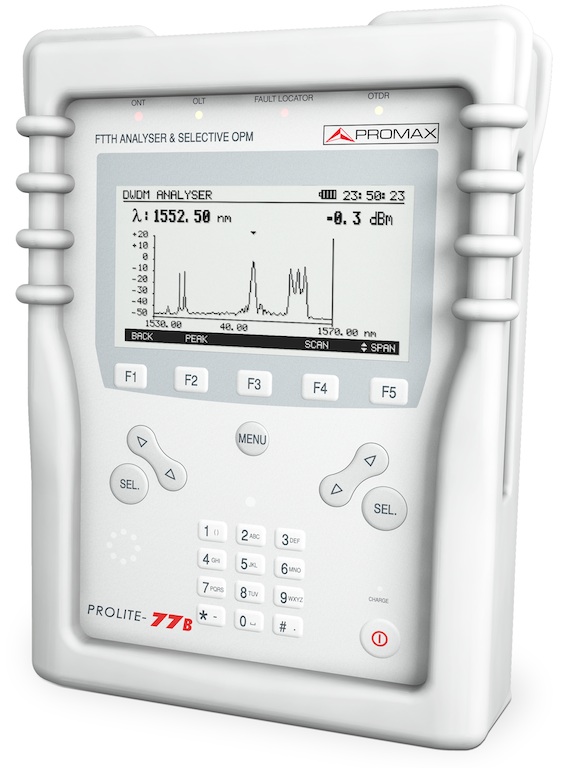 The unstoppable deployment of FTTH (Fibre To The Home) technology is positively affecting the possibilities of telecommunication installers develop tasks based on the handling and installation of optical fibers.
Operators are struggling to compete with each other to reach the first households and offer the service as soon as possible. Professionals who have opted to work as subcontractors of these operators know that you must first overcome the initial fear of lack of knowledge of the technology of fiber from a physical point of view. That is, you must know fusion techniques. Then, to access tasks from more responsibility as high, required adequate instrumentation.
It is here where ProMax It proposes different measuring equipment that allow to reach the excellence of quickly and easily. Triple light sources, selective meters, spectrum analyzers, the OTDRs... all those teams and many more can be provided by Promax with different levels of benefits for all economies.
Prolite 77
The Prolite 77 is an Analyzer of FTTx designed under the tutelage of Telefónica and the SETSI (Ministry of industry), who in addition to being useful in ICT facilities, is very suitable for making high of subscribers thanks to a range of collected outstanding features in a team only with:
for DWDM Spectrum Analyzer
WDM-PON selective meter. It measures Upstream, Downstream and spectrum simultaneously
fault Locator (visual fault Locator)
selective optical power meter
automatic test of ICTs
test of OLTs
ProMax present at NAB in Las Vegas

As it has become usual, Promax Electronica has presented its products at NAB 2012, which were received with great enthusiasm by the visitors who attended the event.

Many of the attendees came to see live the TVExporer meter in its different variants. Especially the ATSC version which is which has been developed for the North American market and that is also very much interesting in Mexico, which has adopted the same standard of digital TV.

At a time when digital television is beginning to develop in South American countries, TVExplorer ISDBT team has caused fury among visitors looking for an economic solution to solve your measurement problems and develop their coverage plans in a practical way. Hundreds are already Broadcast customers who use it to analyze the different signals that are transmitted in countries with ISDBT. The equipment allows them to analyze the transmissions of signals in SD, HD and One sec. which is used for TV reception in mobility.

Also, the Catalan company was developing its modulators for broadcast in DVB-T / T2, ISDB-T and DMBT formats. They are very suitable for laboratory testing equipment for training centers for all kinds of production lines that require recipients to test the digital television signal.
Did you like this article?
Subscribe to our RSS feed and you will not miss anything.
Other articles on NAB2012, ProMax, Test & measure
Otros artículos relacionados