Litepanels Launches Sola 4 Traveler Travel Lighting Kit
El Sola 4 es uno de los fresnel en LED con DMX controlable más pequeños del mercado.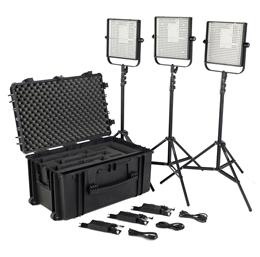 Litepanels acaba de lanzar el nuevo Sola 4 Traveler Kit, diseñado específicamente para dar cabida a las necesidades de producción contrareloj en cualquier ubicación. El kit incluye tres fresnel en LED Sola 4 alojados en un resistentes trolley de viaje que apenas pesa 29,5 kilogramos.
El Sola 4 es uno de los fresnel en LED con DMX controlable más pequeños del mercado. La luz LED día balanceada de este equipo ofrece un control total del haz inherente a un fresnel pero con un consumo mucho menor y una salida comparable a 125W HMI. Puede conectarse directamente a la red o bien utilizar baterías profesionales.
Chris Marchitelli , vicepresidente de marketing global de Litepanels, destaca que "nuestros kit de viaje han sido siempre muy populares entre nuestros clientes y estamos encantados de añadir el kit de viajero Sola 4 a nuestra oferta. En Litepanels, estamos centrados en desarrollar productos que satisfagan las necesidades reales de nuestros usuarios. El Sola 4 ofrece el rendimiento de un compacto fresnel con todas las ventajas de LED. Con características como el balance de color de luz día, su diseño ligero y la batería opcional, creemos que este equipo ayudará a acelerar la migración de la industria para el uso de luminarias LED en campo" .
Litepanels también ha lanzado una actualización de sus populares kits de viaje 1×1 que ahora estarán disponibles en más modelos.
Did you like this article?
subscribe to our RSS feed and you will not miss anything.
Other articles on Litepanels, To be seen