Audient launches EVO as a new audio interface brand
EVO nace para ayudar a todo el mundo a realizar grabaciones con un sonido excepcional de la forma más fácil posible.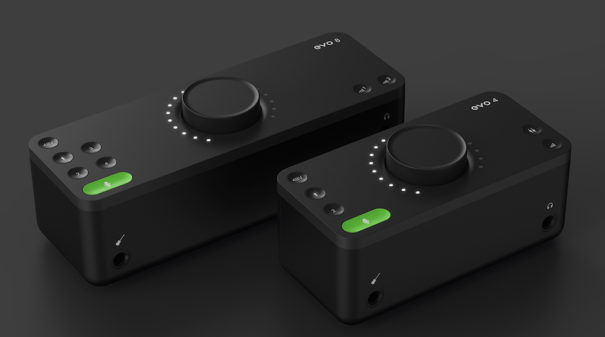 El fabricante británico Audient lanza una nueva marca de interfaces de audio destinados a proporcionar un nuevo nivel de efectividad al usuario, con un objetivo claro hacer más fácil la grabación. EVO se presentará en la NAMM 2020 y los visitantes del stand de Audient (stand 10102) podrán probar el nuevo interface de audio de 2 entradas / 2 salidas EVO 4 y conocer detalles sobre el interface EVO 8, que estará disponible próximamente.
Con el espectacular crecimiento del podcasting, streaming y gaming, además del rápido y continuado crecimiento de la grabación doméstica, el diseño conceptual de EVO está dirigido al mercado de interfaces de audio asequibles, para ofrecer una nueva gama de productos que ofrecen un uso intuitivo, con características muy específicas y una estética sorprendente; todo ello manteniendo el sonido profesional y la alta calidad técnica que se espera de los productos creados por Audient.
Andy Allen, director de marketing de Audient, afirma que "creemos que la tecnología no debe interponerse en el proceso creativo; debe reforzarlo y debe ser accesible a todo el mundo, sin importar su nivel de conocimientos o el tipo de forma creativa, y EVO ha aparecido para ayudar a todo el mundo a realizar grabaciones con un sonido excepcional de la forma más fácil posible, sin esfuerzo de ningún tipo."
"Una de las características exclusivas de EVO es Smartgain, que se encarga de ajustar automáticamente la ganancia tan pronto como en usuario empieza a cantar o a tocar", continua Andy. "Resulta perfecto para cualquiera que dese centrarse en ser creativo, o simplemente para aquel que justo está empezando. Por supuesto, los profesionales pueden seguir ajustando de forma manual la ganancia, si lo desean; además, podrán seguir beneficiándose de otras prestaciones que esperan encontrar en un interface de audio profesional", afirma.
La gama EVO incorpora los nuevos preamplificadores microfónicos de altas prestaciones EVO, con una gama de ganancia de 58 dB, conversores de la máxima calidad con una gama dinámica de 113 dB, así como D.I. JFET, Smartgain, Smart Touchpoints, salidas para altavoz y auriculares, latencia ultra baja, mezcla de monitores y funcionalidad loopback, una prestación impresionante para su gama de precio.
Main features

2 preamplificadores microfónicos EVO (EVO 4)

4 preamplificadores microfónicos EVO (EVO 8)

Conversores de alta calidad

Smartgain

Smart Touchpoints

Entrada JFET para instrumento

1 Salida para altavoces (EVO 4)

2 Salidas para altavoces (EVO 8)

1 Salida para auriculares (EVO 4)

2 Salidas para auriculares (EVO 8)

Latencia ultra baja

Mezcla de monitoraje

Funcionalidad Loopback

Alimentación a través del bus USB2.0

Software + Plugins gratuitos

Funcionamiento baja latencia de 4ms

Frecuencia de muestreo: 96kHz 24bit

Compatible USB-C

Preamplificadores microfónicos controlados a través de DAW

Alimentación phantom real de +48 V a través de USB
Did you like this article?
subscribe to our RSS feed and you will not miss anything.
Other articles on

Audient