Visual Three delves into the UHD universe with AJA solutions

AJA has provided a number of solutions to Visual Three, a Malaysian company whose goal is to streamline its production of UHD content.
Visual Three, While it has been providing regional and international support for sports and entertainment productions since 1997, in recent times it has specialized in providing UHD production services. To maintain a prominent position in the market, its main studio has an infrastructure 4K / UHD HDR equipped with a series of emission solutions AJAsuch as HDR / WCG frame sync and converter in real time FS-HDR. This solution, as detailed Jason Lim, Visual Three's chief engineer, enables them to "perform a wide range of basic daily tasks using a single device: everything from real-time color and format conversion, embedding and de-embedding, frame synchronization and fiber transmission. ".
One of Visual Three's latest projects has been to provide technical support to a local Malaysian television so that it could offer the first live broadcast UHD from Malaysia. Although the client required an HDR master for archival purposes, the broadcast had to be streamed in UltraHD SDR. Dado que las cámaras y el sistema de emisión interno de Visual Three están en HDR, el equipo aprovechó FS-HDR para realizar conversiones HDR y SDR en directo, así como para incrustar el audio para la distribución final. Visual Three utilizó un flujo de trabajo similar usando FS-HDR para incrustar el audio para la distribución final para el Desfile del Día Nacional de Singapur en 2019.
In parallel, FS-HDR has allowed the production company to simplify its workflows to convert and match the signals of different systems, as well as coordinate the color between cameras from different manufacturers. During the pandemic, the FS-HDR web user interface has also provided a simplified workflow for remotely configuring and controlling cameras in multiple locations.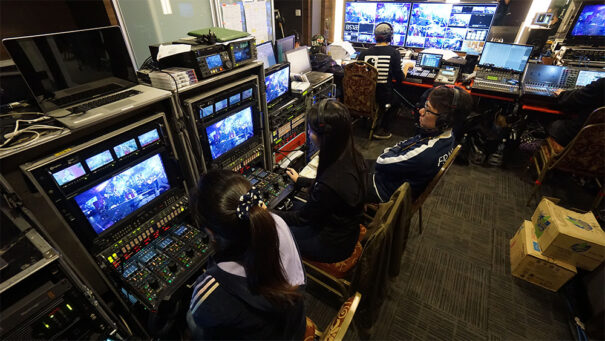 FS4 and Ki Pro Ultra
In addition to FS-HDR, Visual Three is using the Synchronizer and Converter FS4 4K / UltraHD and 2K / HD multi-channel for color matching of cameras from your central control room; and the Ki Pro Ultra from AJA to simultaneously record up to four HD channels as Apple ProRes files, with analog or AES audio. The company, which previously used FS2 and Ki Pro for HD broadcasts, decided to continue betting on AJA in its jump to UHD.
Jim outlines the reasons that have led them to trust AJA again in this new phase: "Incorporating AJA teams into our workflow saves us time and money as the solutions are cost-effective and include extensive features in a single device. AJA also offers local support and releases frequent firmware updates that continually improve the performance of its products, further simplifying our workflow. "
Did you like this article?
Subscribe to our RSS feed and you won't miss a thing.
Other articles on AJA, Visual Three