MBC Group trusts Lawo to create a flexible production model based on IP technology

Dos salas de control de
MBC Group
situadas en
Dubai Studio City
han sido recientemente actualizadas con equipos de
Lawo
compatibles con AES67/RAVENNA.
MBC Group, empresa de comunicación con gran alcance en la región MENA, buscaba un sistema flexible que permitiera que cualquiera de salas de control pudiera dar servicio a diversos estudios con una gran variedad de combinaciones de E/S. Para hacer realidad este modelo, la compañía se decantó por dos consolas de producción Lawo mc²56 de 48 faders and one E/S compartida para el sistema de red IP, configurado como una mezcla de dispositivos A__stage64 Y Dallis Stagebox modular.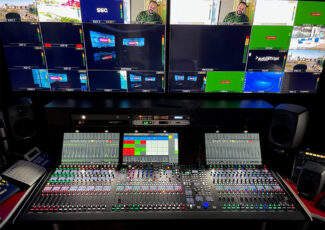 En cuanto a la incrustación y desincrustación de audio de las fuentes de vídeo, esta pasa a realizarse con la caja de herramientas de vídeo/audio de 8 canales V__pro8 from Lawo. Las nuevas mesas de Lawo también cuentan con un sistema de gestión de derechos de usuario integrado, el cual permite proteger las fuentes de audio "reservadas" por un mc²56 para evitar cambios de configuración inesperados desde la consola de la otra sala de control de audio.
Si bien la mayoría de los flujos de audio de MBC Group se intercambian vía AES67/Ravenna, otras señales se reciben a través de MADI. Para lograr una continuidad entre las nuevas soluciones de Lawo y los equipos previamente instalados, se ha decidido integrar un router Nova73 HD que proporciona una tarjeta Dante de 4 puertos. De esta forma, el nuevo sistema es perfectamente capaz de manejar flujos AoIP de estándar abierto, señales MADI y fuentes Dante en cualquier combinación y con un elevado número de canales.

Operaciones remotas
El sistema de Lawo, más allá de habilitar flujos de trabajo dentro de los propios estudios, permite controlar remotamente cajas de escenario. De esta forma, los operadores de MBC pueden dirigir las producciones de audio desde las salas de control de Studio City, evitando la necesidad de desplazar a un importante número de soluciones técnicas a las ubicaciones de producción.
Por otro lado, el soporte nativo IP permitió a Lawo proporcionar la formación práctica y configuración de forma remota desde Europa gracias a las posibilidades de control remoto de faders y pantallas basadas en WAN. Este proceso de aprendizaje se acompañó de una conexión de vídeo en directo para terminar de ayudar a los operadores a realizar una transición fluida al nuevo sistema.
Did you like this article?
Subscribe to our RSS feed and you won't miss a thing.
Other articles on Lawo,

MBC Group