ARRI and Plazamedia create a new 360 m2 mixed reality studio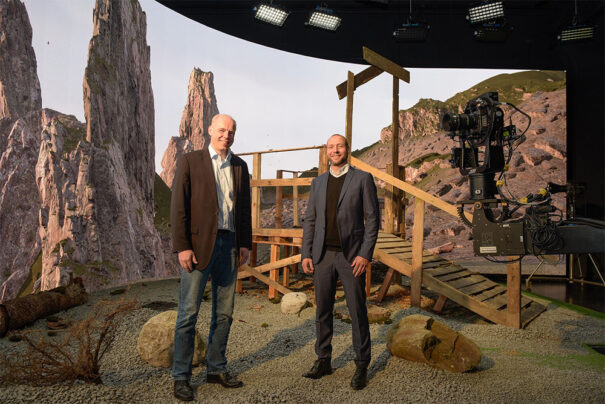 The Studio 6 from Plazamedia in Ismaning (Munich, Germany) has been completely renovated with ARRI technology to house mixed reality productions.
Plazamedia and ARRI are collaborating hand in hand on this ephemeral project, which, over the coming months, will seek to adapt and optimize the complex mixed reality technology. As a reference supplier of lighting and camera systems, ARRI is providing core technologies (synchronization, color calibration, metadata, lighting integration, lens measurements, etc.), as well as camera and lighting systems. On the other hand, Plazamedia is contributing to the cause with its experience as an established content producer in the fields of augmented reality and virtual production, as well as its expertise in workflow development, project conception and implementation. Likewise, it provides its facilities, defined by Plazamedia itself as "the most modern IP-based transmission center in Europe".
360 m2 of mixed reality
The Plazamedia and ARRI initiative is set up in a 360 square meter, 7 meter high space. A 120-square-meter ROE Visual Diamond 2.6 LED wall with a length of 23 meters and a height of five meters stars in the installation's workflow, which is complemented by the Mo-Sys Star Tracker and Trackmen tracking system. In addition, GhostFrame technology has been integrated as an optional tool and the Unreal Engine 4.27, developed by Epic Games, as the graphics engine.
The studio lighting is, unsurprisingly, provided by several ARRI SkyPanel S60, ARRI Orbiter, ARRI L5 and grandMA Lighting. As a special feature, as detailed by Plazamedia, the installation allows scene-specific automated lighting control. In terms of acquisition systems, it was decided to integrate an ARRI-ALEXA-Mini-LF-Kit with ARRI-Signature-Zoom-Lens, an ARRI AMIRA and Sony HDC-3500 cameras.
Stephan Schenk, general manager of global sales and solutions at ARRI, appreciates the experience: "Together with PLAZAMEDIA, we are working on optimizing mixed reality for TV applications using The ARRI camera and lighting systems. Already, we have all learned a lot. Now it's a matter of further developing this fruitful cooperation and taking it to a new level."
Jens Friedrichs, CEO of Plazamedia, adds: "We have created a pilot project at the media capital Munich together with ARRI that is unique in this form and with which we want to set new standards for virtual applications. Many customers have already visited this mixed reality studio and some have expressed concrete interest in productions."
¿Te gustó este artículo?
Suscríbete a nuestro RSS feed y no te perderás nada.
Other articles on ARRI [INT],

GhostFrame [INT]

, Middle Square [INT], ROE [INT], Sony [INT],

Trackmen [INT]

, Unreal Engine [INT]