3H Sound Studio renews its facilities with new Fairlight consoles (Blackmagic)

Several Blackmagic Design Fairlight control surfaces, from which DaVinci Resolve will be operated, are incorporated into the facilities of audio post production company 3H Sound Studio.
Founded by sound designer Tu Duu-Chih in 2004, 3H Sound Studio specialises in services such as location audio recording, automatic dialogue replacement (ADR) and Dolby Atmos post-production. It has received several international awards, such as the High Technical Commission Award at the 54th Cannes Film Festival, nine nominations and an award for Best Sound Design at the Hong Kong Film Awards, and 35 nominations and 12 statuettes for Best Sound Effects at the Taipei Golden Horse Film Awards Festival.
Duu-Chih has been instrumental in the technical development of sound for Taiwan's film industry. He has collaborated on masterpieces by major filmmakers, such as In Our Time, directed by Edward Yang, Yi Chang, Ko I-Chen and Tao Te-Chen, which is recognised as the foundation of modern Taiwanese cinema, and The Terrorizer, directed by Edward Yang. In addition, he specialised in on-location sound synchronisation working with famous directors, including Hou Hsiao-Hsien on City of Sadness and Edward Yang again on A Brighter Summer. 3H Sound Studio has also partnered with prestigious sound studios worldwide, e.g. Nikkatsu Recording Studio, AtLab, Sound Firm and Ramindra on Dolby Atmos projects.
Duu-Chih, who began his career in sound design when analogue audio processing dominated the film industry, opted for an all-digital workflow when he chose Fairlight devices in 1997. Today, 3H Sound Studio Ltd. has 10 mixing rooms with various digital audio stations, including two and five-module Fairlight consoles with DaVinci Resolve Studio software and seven Fairlight systems.

DaVinci and Fairlight in 3H Sound Studio
In the main mixing room, Duu-Chih has an advanced five-module Fairlight console along with DaVinci Resolve Studio for Dolby Atmos projects, which has been used on dozens of films, including director Chung Mong-Hong's A Sun, director Ann Hui's Love After Love, Wei Shujun's Ripples of Life, and Longman Leung's Anita.
Duu-Chih is delighted to now begin a phase of upgrading several of its Fairlight solutions to the most advanced models, which benefit from all the features of DaVinci Resolve Studio: "Not only has DaVinci Resolve Studio inherited the quality of being fast, reliable and intuitive from Fairlight, but it also has tons of new features such as higher performance, ability to export to various formats, immersive audio, efficient and easy to use ADR functionalities, 2,000 tracks with realtime effects, new loudness meter and free software updates as well as more responsive, sophisticated hardware consoles."
"It's Blackmagic Design's Fairlight that gives us a complete solution with both software and hardware, and maximizes our efficiency and flexibility for complex audio post production on tight schedules. When we see the efforts Blackmagic Design continues to put into the research and development result in innovative updates, we know Fairlight is a product that we as sound designers can expect and rely on," concludes Duu-Chih.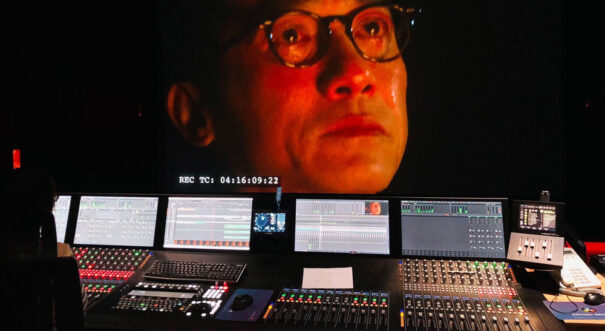 ¿Te gustó este artículo?
Suscríbete a nuestro RSS feed y no te perderás nada.
Other articles on 3H Sound Studio [INT], Blackmagic [INT], Dolby [INT]