ES Broadcast supplies Quality with the cameras, lenses and tripods for the production of the ODESUR Games

The REMI IP production he undertook Quality to bring to the whole world ODESUR Games featured ES Broadcast as a strategic partner.
ES Broadcast has provided a wide range of cameras, lenses and tripods of its rental fleet to support the live coverage of the ODESUR Games in Asunción, Paraguay. Specifically, the company supplied 30 cameras Sony HDC-4300 along with a range of associated objectives, including objectives Canon CJ20, CJ25, CJ45 UHD, HJ22, HJ40 y HJ45 HDas well as the objectives Fujinon UA22 y UA107 UHD. Tripod systems have also been provided Vinten Vision 250 y Vector 750, as well as a large number of SMPTE fiber. The equipment was used in sports such as track and field, handball, volleyball, basketball, badminton, skeet shooting, boxing, and hockey, among others.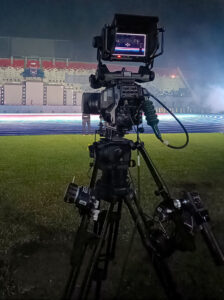 cameras were key to the success of Quality in the coverage of the Games, which was done for the first time in the form of remote IP production. Pablo Reyes, production manager and partner of Quality, provides more details: "Thanks in part to the equipment supplied by ES Broadcast, Quality was able to carry out the first REMI IP production in the history of the IOC-recognized Games, completing more than 1,000 hours of live production on IP, with a high quality standard.
The rental was managed by the Madrid office of ES Broadcast Hire. The branch manager, Marta del Moral, has commented in this regard: "This project for the ODESUR Games reflects the trust that clients place in us, not only for projects in Spain and Europe, but throughout the Spanish-speaking world. Especially for customers operating in Latin America, we can also arrange additional support with a very quick response from our US office in Orlando."
The games ODESUR, which were held from October 1 to 15, took place in 36 venues in the Paraguayan capital and its surroundings. In addition, some tests were also held in Encarnación, located on the banks of the Paraná River, in the south of the country.
Did you like this article?
subscribe to our RSS feed and you will not miss anything.
Other articles on Canon, ES Broadcast, Fuji, Odesur, Sony, To be seen, Vinten