Hollyland launches Lark C1, a new wireless microphone for iPhone and Android

The Lark C1, with a range of up to 200 metres, is the Hollyland latest venture in the field of microphones compatible with iPhone and Android mobile phones.
The "ultra-compact" Lark C1 wireless microphone allows the receiver to be connected to the phone for audio recording and playback without having to unplug it. The Hollyland latest system can record audio without interruption, as the transmitter (TX) and receiver (RX) work while charging and the receiver can be plugged into a power socket to charge the phone while in operation.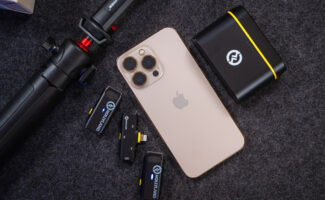 The transmitters can be clipped to clothing as a wireless lavalier microphone, enabling 48 kHz/16-bit professional audio fidelity from the device, covering from 20 Hz to 20 kHz. The Lark C1 also features advanced audio processing algorithms and active audio cancellation, delivering "crystal-clear digital audio with background noise eliminated."
Other key features of the Lark C1 are its ability to offer an ultra-long recording duration of 32 hours when using two transmitting units with a fully charged charging case, as well as its compatibility with the Hollyland LarkSound app, which offers advanced controls and features to enhance the recording experience. Among the data the app exposes are the transmitter's battery level, the ability to adjust the level of noise cancellation, and the ability to control volume and playback in real time.
This product is available in an iOS version with Lightning connector on the receiver (with one or two transmitters) and in an Android version with USB-C connector on the receiver (with two transmitters). In addition to mobile phones, the Android version of the Lark C1 allows the wireless microphone function to be added to other products, such as the DJI Action 3 and Action 2, making it a suitable microphone for recording vlogs.
¿Te gustó este artículo?
Suscríbete a nuestro RSS feed y no te perderás nada.
Other articles on Hollyland [INT]