Basis Berlin processed the images merging reality and LED backgrounds of the '1899' series with DaVinci Resolve

The Netflix series 1899 has challenged cinematic innovation by pushing the boundaries of television storytelling and playing with DaVinci Resolve Blackmagic Design's virtual production and final conform.
The show, from Dark creators Jantje Friese and Baran Bo Odar, offers high production values, rich period sets and costumes, sumptuous cinematography, exemplary acting, and mind bending visual effects. This was greatly helped by the fact that 1899 shared much of the creative talent behind Dark.
Nikolaus Summerer provided cinematography to his usual high standard on 1899, while color and sound post production was carried out at Basis Berlin, where colorist Steffen Paul handled the UHD HDR grade on DaVinci Resolve. They had both performed similar duties on Dark and earlier projects with Friese and Odar.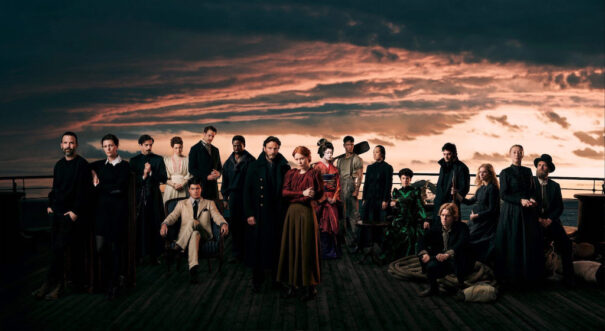 Virtual developments
To service the unique narrative needs of 1899, a vast 270 degree circular LED wall 'Volume' was erected for filming with a turntable capable of rotating 360 degrees.
This virtual production environment allows real-time background replacement using CGI and pre captured content on the LED walls, to be motion tracked to the camera view and mixed with the live action on the stage.
However, this innovative in-camera methodology in no way spells the end for post production. VFX is still very much required, while color grading and finishing are more essential than ever.
"In Virtual production, large parts of the image are created long before the shoot. You start with VFX, and the shoot comes last," says Steffen Paul.
Paul's involvement began during pre production and testing, producing a standard look for the color grade, a show LUT, to be applied to all the monitors and dailies used while producing 1899.
"We hoped that one LUT for the entire production would be sufficient," he explains. "This is especially relevant when setting up the color pipeline between all the different VFX vendors and the editing room. There is a lot of information you need to track – we didn't want the show LUT to be another variable in this setup.
The color pipeline had the latitude to evolve. "The main look transform is locked from shooting on day one, but scene matching and exposure compensation and finding the right mood for a scene is just as important," says Paul. "The dailies team at Panoptimo in Munich did a terrific job and had to take the initial heat on set."
After picture lock, the work at Basis Berlin began in earnest, beginning with a conform on a fully expanded DaVinci Resolve system.
"The online and editing capabilities have improved so much in Resolve that it doesn't make much sense to do the conform elsewhere," says Paul. "We used CDL conform color transformations in conjunction with ACES color management and the show LUT to create a starting point for the DI grading."
Paul feels virtual production requires more time in DI than traditionally shot scenes. Blending a physical set with atmospheric effects and a virtual backdrop was a particularly complicated process.
"With the volume, you are constantly working on a way to blend foreground and background better," he explains. "One of the things that separate the two is perceived sharpness. The LED wall often looks too soft, possibly because the actual resolution of those panels is limited. What helped with that were the sharpening tools on the Resolve Color page, especially Texture Pop, which lets you sharpen certain frequency bands without affecting others."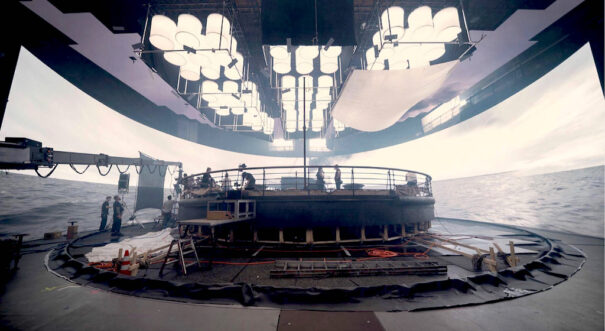 Contrast and color
"The Volume tends to reflect a lot of light if you illuminate it externally. This leads to somewhat muddy blacks that look quite off, especially in a scene with good blacks in the foreground," Paul explains. "The spectrum of the light emitted by the RGB LEDs is not continuous and doesn't have a lot of energy in the orange part of the spectrum where skin tone resides.
Paul is a keen user of DaVinci Colorspace Transform Language (DCTL), which he uses to create custom transforms.
"It's a great way of experimenting with your ideas about how color could be manipulated," he explains. "Some of those transforms proved helpful in situations where we needed to adjust the contrast of the volume but where we couldn't isolate the background in a traditional way. I could change the contrast in a specific color region – usually only blue – to achieve the desired result.
"In some interior scenes that play inside the cabins we felt at some point that it would be cool to see the sea," he continues. "Naturally, those were shot in the studio without a backdrop. We made extensive use of the Match Move tool to place a faintly visible horizon in the distance where required. I think tasks like this will become even simpler with the surface tracker available in version 18 of Resolve."
The plug-in in Resolve Studio also helped. "I would have been lost without it," says Paul. "There are so many instances of fire, people with lamps, flicker from monitors that people look at or flare guns that had to reflect back from the faces of the characters."
Some shots were a joy to work on. "Worth mentioning are the scenes that play out in the ship's lower quarters. The production designer Udo Kramer did a terrific job there," Paul recalls. "But then there are scenes where you need to work harder, often with the help of the VFX department."
Final deliveries for 1899 were one IMF per episode according to Netflix specifications, delivered in UHD with Dolby Vision metadata and a Dolby Atmos mix.
"From the grading timeline, we rendered the digital source master in ACES for QC and mastering," says Paul. "The mastering team uses ColorFront Transcoder to encode the final IMF and all other deliveries. I think it's great to have the grading and delivery process decoupled, so pre-deliveries can be sent out at any time without interfering with the grading timeline."
Paul feels that the various teams have achieved something unique together. "The fans of Dark will certainly recognize the visual handwriting, and there is some similarity in how we've dealt with the color," he says. "However, we tried to take it a step further this time. It's easy to fall into genres with your look; we didn't want that. 1899 starts as a historical drama and becomes a dark thriller, only to become a sci-fi piece. The look had to cater to all those genres, so we wanted it to feel historic and modern simultaneously. We like mystery and suspense, so everything is quite dark like you would expect."
¿Te gustó este artículo?
Suscríbete a nuestro RSS feed y no te perderás nada.
Other articles on

Basis Berlin [INT]

, Blackmagic [INT]