Blackmagic unveils new broadcast solutions ahead of NAB 2023

Blackmagic will travel to NAB 2023 with new solutions, including the Studio Camera 6K Pro and the ATEM Television Studio HD8 switcher.
The new Blackmagic Studio Camera 6K Pro is an advanced EF-mount solution with a larger 6K sensor, neutral density filters and direct Internet streaming via Ethernet or mobile data. Designed for live production, Blackmagic's latest camera features advanced colourimetry and HDR capabilities, making it suitable for environments where lighting conditions are challenging; its maximum ISO value of 25,600 helps achieve good results in this context. Other advanced features include a communication system, pilot light, colour grading functions and USB disk recording.
Accompanying the announcement of the Studio Camera 6K Pro, Blackmagic has also introduced the Blackmagic Studio Camera 4K Pro G2 model, an upgraded version of the 4K model that provides the ability to stream directly over the Internet. The Blackmagic Studio Camera 4K Pro G2 and 6K Pro versions are designed for professional workflows and therefore offer 12G SDI, 10GBASE-T and XLR connectivity for balanced audio signals. At the same time, 10G Ethernet technology makes it easy to transmit all signals over a single connection, using 6A copper cable.

ATEM Television Studio HD8 and ATEM Microphone Converter
Another major new product Blackmagic will be bringing to NAB 2023 is the new ATEM Television Studio HD8 line of mixers, which combine professional tools with a portable design. These units have integrated control panels with advanced features that allow web streaming and recording of content, including signals from all sources in the ISO version, and also support the connection of up to eight cameras remotely. They also offer a communication system and the possibility of installing an optional internal memory.
The ATEM Television Studio models are "ideal" for news bulletins and studio presentations, with four advanced compositors for chrominance overlays. It comes in two versions: the standard version, called ATEM Television Studio HD, and the ATEM Television Studio HD ISO version, which offers live editing capabilities, adding full post-production dynamics with editing, colour grading, visual effects and audio mixing tools. Another highlight of the ISO model is its ability to connect to the Blackmagic URSA Broadcast G2, Blackmagic Studio Camera 4K Pro G2 and Blackmagic Studio Camera 6K Pro cameras remotely.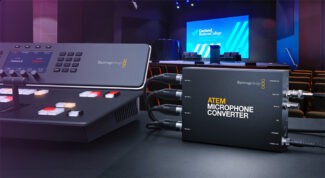 Finally, Blackmagic has introduced the ATEM Microphone Converter, a device that allows digital signals to be obtained from analogue sources and additional microphones to be connected to ATEM mixers such as the ATEM Television Studio HD8 models. With a MADI connection, only one BNC cable is required and there is no need to configure complex settings. The design features a noise floor of -129 dBv, a dynamic range of –131dB(A) and a minimum distortion of 0.002% with a uniform tolerance level across all channels. The ATEM Microphone Converter model also includes an HDMI output for monitors, allowing all information to be viewed on-screen, including four scrolling waveforms showing the last 60 seconds.
¿Te gustó este artículo?
Suscríbete a nuestro RSS feed y no te perderás nada.
Other articles on Blackmagic [INT], NAB2023 [INT]