Brilliant Screen unifies all its post-production processes with DaVinci Resolve

Blackmagic's DaVinci Resolve Studio software has enabled production company Brilliant Screen Studios to unify its post-production pipeline.
Brilliant Screen, founded in 2005 by Ace Underhill in San Diego, recently moved to Los Angeles to expand its operations, where it offers production and post-production services, as well as a production equipment rental area and a virtual production space. Underhill, together with partner Zack Ward, have strengthened their commitment to technology during this phase in order to "streamline our workflow for our own projects while using this knowledge to help our clients save money and time", Ward says.
They soon found suitable solutions to optimise their production dynamics. However, post-production was a challenge. Ward says: "The garble of post production drove me crazy. Constant upgrades, mismatched software, conform issues, communication errors, VFX shot logging, deliverables, and more. Just a royal pain in the butt."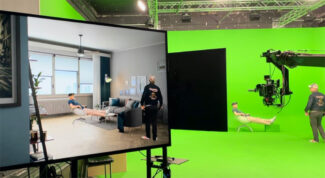 Underhill began looking for a solution to this perennial dilemma. DaVinci Resolve Studio was already being used in-house for colour grading, and Underhill was familiar with Blackmagic Design's innovations in various aspects of post-production: "The inciting incident was when I had to spend a week manually realigning the aspect ratio and all the post transforms of our entire film from another editing package to DaVinci Resolve for color grading. I'm not proud when I say I got madly frustrated at a process that seemed like it should be automated and instinctive. And that's when Ace said, 'I think I've found a solution.'"
For the company, editing in DaVinci Resolve Studio was a natural transition, and quickly the company's music composers and visual effects artists began adopting the Fairlight and Fusion modules, respectively: "DaVinci Resolve eliminates all of that complication and time wasted by providing an all in one post solution that everyone can access. The Resolve collaborative workflow also allows members of our team and clients to work remotely when necessary and saves us time and money as an all encompassing solution. This, in turn, allows us to provide the greatest value to our clients and to our own films that Zack and I produce," adds Underhill.
Strong commitment to Blackmagic
In addition to DaVinci Resolve Studio, the company has adopted a wider range of Blackmagic Design products, particularly for its dynamic virtual productions. The company now shoots with URSA Broadcast G2 cameras and uses Smart Videohub, HyperDeck Studio 4K Pro, SmartView 4K, UltraStudio 4K and Ultimatte 12 4K backstage equipment, as well as a variety of converters, all connected via 12G technology and with sync generators.
All of these improvements, both Underhill and Ward note, is allowing Brilliant Screen Studios to expand and take on more and more projects: "Our brand new finishing theater has both DaVinci Resolve and Fairlight control surfaces to maximize efficiency and quality. Our new virtual production stage is integrated into this workflow as well, giving us at the ability to stream out cameras live from set or post to clients anywhere in the world," says Underhill.
"Now I can see DaVinci Resolve is creating a paradigm shift in production. The law has always been, 'Good, fast or cheap. You only get two.' But now we're getting closer to almost getting all three. As the workflow gets smarter and smoother, it allows us to really flow from prep all the way through post. That is an exciting new world we intend to be leading," Ward concludes.
¿Te gustó este artículo?
Suscríbete a nuestro RSS feed y no te perderás nada.
Other articles on Blackmagic [INT],

Brilliant Screen [INT]