3D Storm inaugurates its offices in Madrid with an open day

Una jornada cargada de demos, presentaciones y networking sirvió para estrenar las nuevas oficinas de

3D Storm

in Madrid.

El Reseller Open Day de 3D Storm proporcionó una oportunidad única para que los asistentes aprendieran más sobre las soluciones y tecnologías que 3D Storm distribuye, incluyendo los últimos productos IS of NewTek, Kiloview, Telycam y NewBlue, así como para establecer contactos y conectar con profesionales afines. A lo largo del día, los invitados también tuvieron la oportunidad de explorar las nuevas instalaciones, participar en demostraciones e interactuar con el equipo de 3D Storm.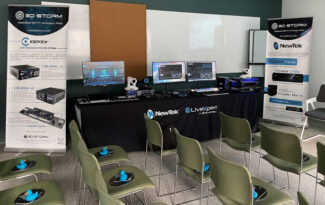 Del mismo modo, la cita reunió a varios expertos del sector, como Tatiana Zolotuskaya, directora regional de ventas de NewTek para la región EMEA del sur y el este de Europa, o Andy Hawker, director de ventas internacionales de Studio Network Solutions, quienes compartieron sus conocimientos y experiencia con el grupo. 3D Storm considera, echando la vista atrás, que el Reseller Open Day que sirvió para inaugurar sus oficinas en Madrid fue "un gran éxito", lo que ayuda a consolidar la posición de 3D Storm "como líder del sector (…) sentando las bases para un crecimiento y una innovación aún mayores en los próximos años".
Marc Gaillard, el propio director de ventas de 3D Storm, también hace balance de la jornada: "Estamos encantados de haber tenido la oportunidad de mostrar nuestra nueva oficina y conectar con tantos de nuestros valiosos revendedores y socios. Nuestro equipo estuvo orgulloso de compartir las últimas innovaciones de marcas fuertes como NewTek, Kiloview, Telycam & NewBlue, y esperamos seguir colaborando con nuestra red de socios para impulsar aún más el éxito en el futuro".
Did you like this article?
subscribe to our RSS feed and you will not miss anything.
Other articles on

3DStorm

,

Kiloview

,

NewBlue

, Newtek,

Telycam