Globo tests use of 5G for major event coverage with TVU Networks

TVU Networks' TVU One mobile transmitters were part of the 5G workflow that Brazil's Globo TV deployed for coverage of the presidential inauguration in Brasilia and the São Paulo Carnival.
At both events, several live broadcast tests were conducted over a 5G standalone network. Globo, among other equipment, used TVU One mobile transmitters with 5G standalone (SA) technology.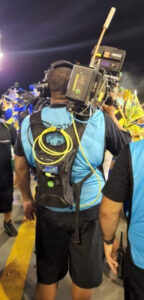 In a 5G standalone system, all network functions are managed and controlled by 5G components, including network control, resource management and user authentication. This enables greater flexibility and scalability in the deployment of 5G services, as well as improvements in latency, data transfer speed and network capacity. Compared to non-standalone 5G (NSA) deployment, which still relies on 4G LTE infrastructure, 5G standalone enables the implementation of new services and applications that require a fully autonomous 5G network.
Uira Moreno, part of Globo's strategy and technology team, confirms that both tests were in direct response to the possibility that both events would feature 4G network saturation, which would inevitably impact live content streaming. "We configured the TVU One 5G backpacks with priority to the SA network, obtaining more stability and flexibility during coverage. Among many advantages, 5G technology is already a reality for us and brings even more quality and speed to live transmission," Moreno explains.
On the other hand, Eduardo Mune, sales director of TVU Networks in Brazil, reflects on the progressive deployment of use cases with 5G as the protagonist: "With 5G technology, we have faster data transfer speeds and reduced latency, which is expanding the use of remote production in events, providing more reliability for more complex events. We see the use of TVU One and TVU's 5G routers in many different production workflows. This is the result of the combination of 5G technology with our expertise in transmission, which brings more flexibility and ease of use to our customers."
¿Te gustó este artículo?
Suscríbete a nuestro RSS feed y no te perderás nada.
Other articles on Globo Tv [INT], TVU Networks [INT]