Flying Lap Media shoots racing content with Blackmagic cameras

Cinematographer Chris Ortenburger, owner of production company Flying Lap Media, opts for Blackmagic solutions such as the Pocket Cinema Camera 6K Pro to shoot all types of automotive content, especially racing competitions.
Ortenburger, from his company Flying Lap Media, works with clients such as GT World Challenge America, Fanatec, BMW North America, CrowdStrike Racing and the International Motor Sports Association (IMSA), among others.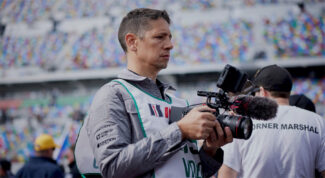 An early Blackmagic Design user and advocate of the Blackmagic RAW format, he has recently started working with the Pocket Cinema Camera 6K Pro because of the size and flexibility it offers: "My latest weapon of choice is the Pocket 6K Pro. The bigger flip out screen and handheld form factor makes the Pocket 6K Pro a versatile tool to capture multiple forms of content in a single shot. Love or hate vertical video, it's seemingly here to stay, and it's quite easy to film footage horizontally, then immediately rotate the camera to get some vertical as well. When you add in the native Blackmagic RAW format and built in neutral density filters, you have a true workhorse that's perfect for any run and gun shooter creating a myriad of content." With this camera, Flying Lap Media has recorded the Rolex 24 at Daytona and will be working imminently on the IndyCar season opener in St. Petersburg, Florida.
Ortenburger is always on the lookout for new options and recently tested a Blackmagic URSA Mini Pro 12K digital film camera and was fascinated by it. He says, "It's really a powerful camera that's under appreciated for the price point. Of course, just for kicks, I had to test the full resolution12K footage (12,288 x 6,480). It blew me away. It almost feels unfathomable that an image that big would be within reach at a price that's comparable to lower resolution cameras in that market. The URSA Mini Pro 12K is also one of the few cameras that offers 240 frames per second frame rate. Slowing down cars that can move in excess of 180 miles per hour is a valuable storytelling tool."
For post-production, Ortenburger opts for DaVinci Resolve Studio, the editing, color correction, visual effects and audio post-production software, both for color correction and all other aspects of post-production: "Resolve was always an application that I knew existed but shied away from learning. Finally, after a different editing application continued to crash at the worst times, I vowed to take the plunge and learn it. I always assumed Resolve was just a color grading tool that also moonlighted in editing. But come to find out, Resolve is also an insanely capable non linear editor and its audio and motion graphics tools are incredibly powerful as well. I've never looked back and use Resolve daily for a complete end to end solution."
¿Te gustó este artículo?
Suscríbete a nuestro RSS feed y no te perderás nada.
Other articles on Blackmagic [INT],

Flying Lap Media [INT]