Intercom, audio, video and now live replays... are the focus of Riedel's presence at NAB 2023

Adrián Lorenzo and Benjamín Mariage, System Consultant South Europe and Sales Director CALA in Riedel, respectively, address in this video interview the latest developments in intercom, audio, video and, this year for the first time at NAB 2023, their solutions for real-time video production resulting from the purchase of Simplylive.
Following the announcement last IBC of the acquisition of Simplylive, Riedel has significantly expanded its portfolio of solutions now including Simplylive Production Suite, composed of its Venue Gateways, Web Multiviewers, ReCapture y RiMotion.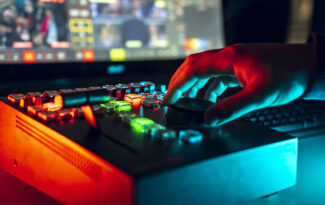 It is precisely this last family of products that has been expanded with the launch of the RiMotion R84, the first RiMotion variant to offer UHD resolutions and 10-bit HDR support. Taking its first steps at NAB 2023, the solution combines slow motion capabilities, including Super Slow Motion (SSM) support, with an innovative and easy-to-use interface.
In addition to the previously available RiMotion R6, R8 y R12Offering six to 12 HD channels, the new RiMotion R84 features up to four UHD channels and up to eight HD HDR channels, and comes in a compact 2 RU chassis with five 2 TB SSD RAID storage drives. With the ability to network multiple systems and add secondary operators and RC-10 remote control units, the RiMotion R84 has been designed to accommodate productions of all sizes.
As far as matrices are concerned, Riedel presented in Las Vegas Artist 1024 with native Dante protocol support through its universal interfaces. in the panels SmartPanel Serie 1200 showed the audio monitoring application AMA (Audio Monitoring App) Together with Riedel's intercom application and control panel application, the RSP-1216HL and RSP-1232HL SmartPanels offer users audio monitoring, intercom and control functions in a single control panel. Users can thus monitor up to 16 SMPTE 2110-30 (AES67) stereo/mono streams in parallel, while a total of 256 audio sources can be preconfigured and managed directly on the RSP-1216HL and RSP-1232HL SmartPanels via their displays. high-resolution touch screens and intuitive interfaces.
Another great release is the new Venue Gateway Advanced. With eight-channel bi-directional encode/decode capabilities, this low-latency, multi-channel, multi-format contribution device bridges the gap between broadcast production infrastructures and remote venues. In addition to including all the features of the standard version, such as an integrated multi-viewer, it incorporates two additional 10 Gbps RJ45 Ethernet connectors for higher network backbone bandwidths, up to 100 hours of RAID SSD storage and two redundant power supplies in a compact 2 RU chassis.
Did you like this article?
subscribe to our RSS feed and you will not miss anything.
Other articles on NAB2023, Riedel