Antena 3 Noticias with Dalet in Madrid, Las Palmas and Tenerife
The Spanish private channel progressively implemented solution Dalet Media Asset Management both at its headquarters in San Sebastián de los Reyes (Madrid) and in the centers of Las Palmas and Tenerife.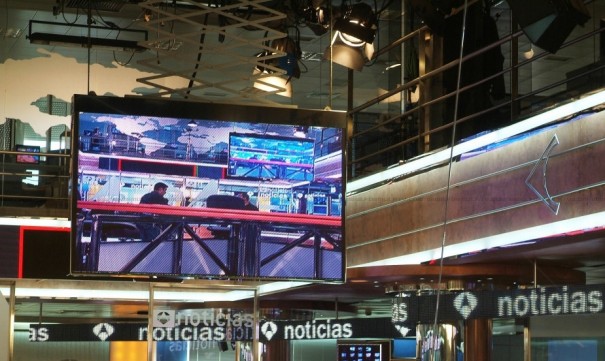 Dalet Digital Media Systems announced during IBC that been agreed with Antena 3 Television to integrate progressively the system of media asset management (MAM) in its headquarters in Madrid and their centers of Las Palmas and Tenerife. Antenna 3 has begun using the Dalet News system to create and launch into the air all their news, some sporting events, and other magazines programs such as Public mirror, and Me what Doctor? Intake, the newsroom and editing system as well as the playout has been fully integrated with the Dalet MAM. Users work areas are built in Dalet in accordance with the table of assignments given to from there each user access to the tools of production for each specific job. All workflow is monitored using the Dalet Dashboard, analyzing the resources and the capacity of the system continuously to optimize and detect potential problems.
Raúl Lorenzo, the project manager at Antena 3 has commented that "We deeply evaluated the different options, coming to the conclusion that the Dalet solution was the best choice for money in terms of the return on investment. "The ability of Dalet in the development of software and its commitment to this project, along with a software platform who exploited to maximize the benefits of emerging technologies, made dalet the ideal candidate to carry out this project."
Antenna 3 has integrated its corporate file, developed by I3, using Dalet Web Service API, thus connecting workflows between production of programmes and advertising throughout the entire chain of production.
Julien Decaix, general manager of Dalet Spain and America America, said that "this project fulfilled three main objectives for Antena 3." One, the Dalet API provides a framework of continuity for a real interoperability between the different workflows, such as the corporate file system. Two, Dalet asset management allows Antena 3 to streamline their writing and the different operations in its two island campuses. "And three, Antena 3 has an infrastructure intended for new media and channels to both technical as geographically appear in future".
Open architecture
Both flow in news as in magazines of today is entirely managed by the DaletPlus architecture and its media management platform. At the Madrid headquarters 250 jobs production with 20 stations for intake are by integrating satellite managing a mix between XDCAM and P2 and 6 Dalet for playout. Journalists create parts using all available equipment and integrating them with Dalet NRCS, while the production of programmes benefits from editing tools integrated in turn with a variety of post-production systems.
The latter is an aspect to emphasize that Daleth open architecture provides total with post-production systems interoperability. Final Cut Pro jobs erstan connector with Dalet Dalet Xtend module. The editing of Avid and Avid Unity system exchange at the same time MXF content through Dalet NetXchange, while the Quantel eQ are integrated with Dalet through Flip Factory.
Dalet Webspace proporciona también a los periodistas en cualquier lugar acceso remoto a sus herramientas de producción y al contenido a través de la propia Internet. La tecnología de servidor integrada en Antena 3 es de Omneon controlada mediante el módulo de playput Dalet OnAir. Por último, el almacenamiento de NetApp e Hitachi también se han integrado con Dalet al igual que el grafismo de Chyron.

Did you like this article?
Subscribe to our RSS feed and you will not miss anything.
Other articles on Antenna 3, Chyron, Dalet, Final Cut Pro, Hitachi, NetApp, Omneon, P2, Quantel, XDCAM
Otros artículos relacionados