Blackmagic announces the new DeckLink Studio 2 card
Se trata de la primera tarjeta de bajo coste a 10 bits conmutable para SD y HD capaz de facilitar la edición con SDI, HDMI, componentes, S-Video, captura compuesta y playback, con cuatro canales de audio balanceado.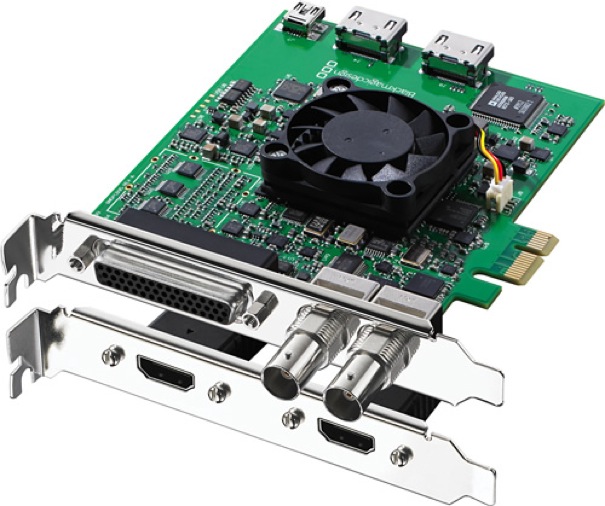 Blackmagic Design muestra estos días en IBC'09 un nuevo modelo de tarjeta capturadora, la DeckLink Studio, diseñada para reemplazar las tarjetas de definición estándar, incrementando la conectividad analógica así como las conexiones SDI/HD-SDI y HDMI. DeckLink Studio 2 viene así a reemplazar el actual modelo DeckLink Studio añadiendo 10 bit HDMI a un precio que ronda los 545 euros.
DeckLink Studio ofrece conexión independiente SDI, HDMI, componentes analógicos, S-Video y compuesto, para que todos los tipos de equipo de vídeo externo puedan permanecer conectados sin necesidad de recablear. DeckLink Studio también incluye SDI y conexiones HDMI para cambiar de SD y HD, así como una salida SD única que siempre da salida mediante convertidor aunque se esté trabajando con fuentes HD. De esta forma, esta tarjeta se convierte también en un convertidor a un precio muy reducido. La señal de downconverter puede configurarse en formato 16:9, 16:9 anamórfico o 4:3, en cualquier formato de vídeo de alta definición así como en los modos de captura y reproducción. Cuando se trabaja con formatos de vídeo HD, el S-Vídeo y vídeo compuesto de salida vía conversor está siempre disponible, independiente del estándar de vídeo utilizado.
DeckLink Studio está pensada para profesionales creativos que tienen muchas generaciones de equipos broadcast, incluyendo alta conectividad de audio para cuando los clientes necesitan utilizar sistemas mas antiguos como Betacam SP. DeckLink Studio 2 incluye cuatro canales balanceados de audio analógico, así como dos canales AES/EBU de audio digital. Para audio digital, los canales de salida 3 y 4 pueden conmutarse a AES/EBU para los canales 3 y 4, y 5 y 6, contando así con seis canales de audio digital en total. Una solución idónea para monitorizar 5.1 o trabajos con varias pistas de idiomas.

Did you like this article?
Subscribe to our RSS feed and you will not miss anything.
Other articles on Blackmagic, IBC
Otros artículos relacionados