Orad Morpho 3D: a solution for graphic on-air 2D and 3D flexible, powerful and easy to use
Meet the creation of 2D and 3D with a powerful engine to render graphics in a turnkey solution and integrating a wide range of multimedia resources on a platform with great ease of use, has been the target set by Orad Morpho 3D conceive. The platform is able to take full advantage of the robustness of Linux for the render and play-out and the easy handling of Windows XP to present the user interface.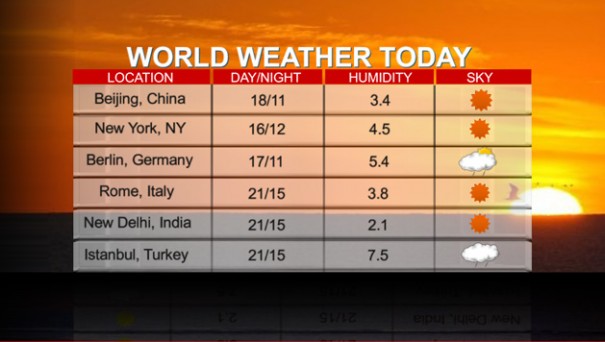 Having a set of graphics online that meets a wide range of multimedia resources getting the most out of Linux for the rendering and the play-out and the ease of operation of Windows XP to interact easily with the user... is now a reality. Morpho 3D is called and it's a turnkey solution that is supplied on a 2U chassis that is sized just a CPU of a computer (DVG 2U). In this way, the only thing that we will need to have list this advanced graphics solution is a computer monitor to see the interface and an HD monitor for play-out. One of the many advantages of this system is that it incorporates a system of linear keys that let you play video clips in almost all formats, including AVI, QuickTime and MPEG. From the extremely simple interface of the Morpho 3D, the user can integrate in real time several graphic layers in 3D with just drag and drop pages, as well as prepare and launch graphic sequences into the air just by pressing a button.
What most draws the attention of the Morpho 3D is its intelligent design and robustness that gives the fact of actually hold about two parallel computer systems on two operating systems (Linux and Windows). The advantage of this architecture is that while Linux takes place the rendering and the tasks that most 'pull' CPU at high speed, and without surprises, about Windows XP runs the own Morpho 3D interface, as well as other applications like Adobe Photoshop or PowerPoint, for example. The separation of the operating systems on separate units also protects the Linux operating system and the core of the system of possible virus attacks. Which gives complete peace of mind when it comes to integrate this solution into a production line.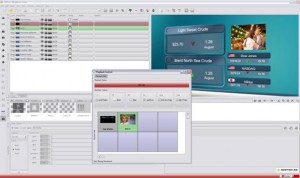 SD and HD graphics
Morpho 3D allows to work both in SD as HD environments, and can be switched with a SDI, SDI video input and two outputs with ability to preview VGA. In addition, it is compatible with virtually all HD and SD formats and most common frame rates.
One of the most outstanding of Morpho 3D is that the operator can import layers from Photoshop or 3D Collada, include pre-selected 3D graphics, video clips or photos with just drag them to your interface. In addition, allows you to directly take any RSS feed or database text presenting the data in real time on the screen, even plain text automatically become 3D. For ease of use, its friendly interface is divided into four areas (Storyboard, preview, Media Manager, Editor), from which work in specific stages in the creation of graphics. From the Storyboard area we can create pages, sort them, and mark them with duration parameters, effects of input and output...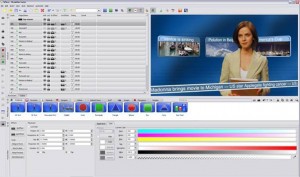 The preview window allows you to instantly see the result made up of all the graphic elements combined. From here you can directly drag different graphic elements, change their appearance, size or position by placing them in different layers of a highly intuitive way... and fast!. From the Media Manager window you will find the entire library of graphic elements that are available, and can drag most of them directly from the preview to the page itself. Burberry has incorporated into the solution a number of elements and objects, even though logically you can customize the library with countless active graphics. Set-up and creative manipulation can carry out from the editing area. From this window we can convert instantly text 2D 3D marking you features like the shape of bevel, color (RGB full control, and with the possibility to go to a gradient or selection by eyedropper), texture, brightness or opacity. We can even create different light sources with its corresponding effect on the text. Thus, any operator smart minimally, in a matter of minutes, can be 'playing' with graphic elements or labels, resizing them or rotating them with the help of a simple mouse (also allows the direct use of parameters of position and movement).
From the interface we can control at all times the input/output pages or all the elements that compose it, its movement or its effects. The Morpho 3D interface provides control also advanced on the order of output pages or any other elements, determining the sequence previously or jamming it in real time. For example, allows you to separately handle the layer which is the logo of string or program with respect to the layer of a ticker, and thus may at all times show it at the top, bottom or full screen.
As for the subtitles, can be generated directly live on time code with a corresponding link to the basis of texts. Once prepared the chart, launch it into the air is as easy as select 'Play' to the sequence starts to run or open the playback controller and have manual control at any time to change the sequence of a page or change the order of the elements that appear on screen then. In addition, called the attention that the editing window is accessible at all times, so that we could alter the elements just seconds until you leave the air, although it is started the sequence.
An important tool for channels of news or sports programs or bag, for example, is the ability to automate access to RSS feeds by adding them directly to the system, and can even convert the data selected in 2D or 3D graphics. It also supports sending animated graphics to the Internet and apply a timeline of an editing system, thanks to its ability to emit clips in a variety of formats.
Although obviously, Orad Morpho 3D is not much less a solution of composition, and nor is it intended to, the reality is that with it you can be performed most operations of composition that daily occur in any television. With the advantage of being a much simpler system than the complex composition of market systems. Actions as complex as the positioning of lights or the optimized management of Z-ordering are easily achievable from Morpho 3D. Ultimately, functions more used in solutions such as color, displacement, speed, reflex mirror, texture or light source control and total quickly and easily. In reality, and bridging the distance, creating graphics and movements in Morpho 3D is as easy as using a PowerPoint.
Finally point out that Morpho 3D can be integrated with most systems of automation and newsroom through major industry protocols. Orad markets this solution in English, French, Portuguese, Spanish, Russian, German, Japanese and Chinese, being based 100 on architecture compiled 100% Unicode.
Orad Morpho 3D

Switchable SD/HD
Creation of 2D and 3D graphics
Video and clips as textures on any object
Play-back graphics both sequential and random
Support the majority of graphics as Photochop and 3D Collada standard
Work with external databases such as feeds RSS, MS Excel and SQL
Integration with the majority of systems of automation and newsroom
Multilanguage 100% Unicode
Interface in multiple languages
Sequential or computerized emission control
Powerful tools for tickers
Previous VGA
SDI video input
Control video and correction
Generation of 2D and 3D characters
Sound effects
Import of 3D objects from Burberry 3Designer and from Collada 3D models
Unlimited undo even after recording
Did you like this article?
Subscribe to our RSS feed and you will not miss anything.
Other articles on Morpho, Pray
Otros artículos relacionados