AvediaStream E3530: encoding HD for streaming in digital signage
Techex presenta el nuevo AvediaStream E3530 de Exterity, un codificador HD para streaming de contenidos, digital signage y PC.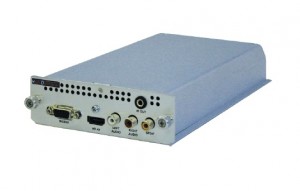 Techex, mayorista de soluciones de vídeo en entornos corporativos para España y Portugal, ha presentado el nuevo codificador HD AvediaStream E3530 de Exterity especialmente concebido para streaming de contenidos para digital signage y PC a través de la red.
Entre las principales características destaca la codificación de vídeo H264 MPEG-4 desde dispositivos con salida HDMI tales como reproductores Blu-ray Disc, así como la posibilidad de llevar a cabo un streaming de contenidos HD desde sistemas de cartelería digital para obtener un mayor impacto o codificación e inclusión de gráficos de PC en alta resolución. El sistema facilita también la distribución de presentaciones de diapositivas como un canal de?vídeo y la posibilidad de hacer multicast de cualquier contenido desde un PC.
El E3530 de Exterity soporta RGBHV (VGA) y HDMI, hasta 1080i 60Hz o 1080p 24Hz y se instala en el chasis AvediaStream con diseño modular ofreciendo oportunidades futuras.? Además, Exterity ha lanzado otros nuevos productos como los codificadores AvediaStream E3532 1080p 60Hz y E3550 1080p 3G SID y las nuevas capacidades de personalización del portal para el dispositivo de vídeo bajo demanda AvediaServer.

Did you like this article?
Subscribe to our RSS feed and you will not miss anything.
Other articles on coding, Exterity, TechEx
Otros artículos relacionados