Clear-Com develops a new range of intercom hybrid TDM/IP
Manufacturer of the Vitec Group offers a solution of intercom hybrid somewhere between the digital world classic and IP communications enabling you to communicate, unless the user is aware of this, both with a study to few meters away like other located thousands of kilometres away.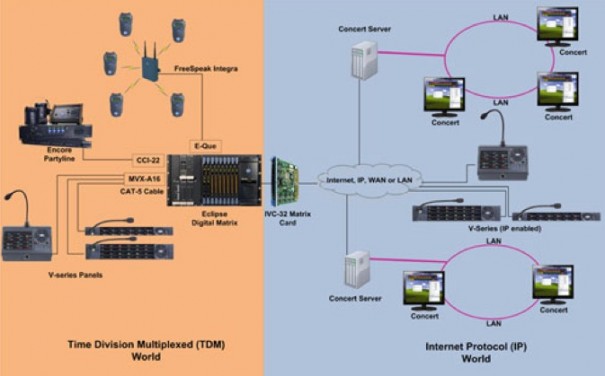 Aicox solutions, distributor in Spain of the firm of Clear-Com intercom systems, has just presented its new range of products developed under a concept of intercom hybrid TDM/IP. The pillars of this integrated solution are the matrix of digital intercom for next-generation Eclipse and proprietary VoIP switching engine IV Core. This engine responds to the name commercial technology of switching and routing of voice over IP created to respond to a market that requires high availability, quality and reliability in IP communications. Within this market includes the broadcast sector and telecommunications as well as the high security.
Compared to systems of voice over IP, based on SIP technology, IV Core provides the following advantages: possibility of getting an audio quality far superior, management oriented Conference with hundreds of users simultaneously, speaking very low latency, high scalability while maintaining benefits, redundancy packages and AES encryption.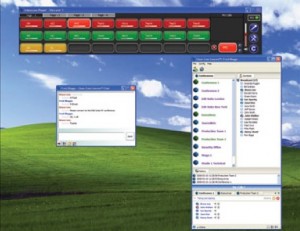 Concert and Eclipse
The first result of this technology is the corporate communication system 100% Clear-Com Concert software. Concert is a system based on a Linux server dedicated to high availability and quality applications. Thanks to Concert it is possible to establish conferences, multiplex of coordination, information, etc. with delegates around the world or or connected to a LAN or WAN network. Customers are also 100 per one hundred software.
Then Clear Com has managed to integrate this technology into the core of the matrix of digital intercom Eclipse and their own panels. In this way the new v-series panels can communicate directly with the matrix via IP without need for external Gateway. Each card IVC-32 is capable of managing IP customers directly in the matrix avoiding bottlenecks with data packets.
With this solution, the Eclipse chassis can be equipped with conventional ports, IP ports or a mixture of both. At the other end all v-series panels work interchangeably with both formats if they have been enabled to do so with what the flexibility and versatility of the system is complete.
The latest developments has been the full integration of the digital matrix Eclipse technology TDM with the corporate communication Concert system since both share the IV Core technology. Thanks to this development now a customer of classic panel could have as a destination on your keyboard a virtual client Concert and vice versa. In addition, to facilitate the flow of work, Clear-Com has designed a virtual panel for users Concert that represents a pane of classic hardware.
As a result, clients of the global system work with absolute transparency with all others, in seamless integration without perceiving if the user that is calling belongs to its parent and is in a nearby room or it is a user working from a hotel room on the other end of the world, where the news is being developed.

Did you like this article?
Subscribe to our RSS feed and you will not miss anything.
Other articles on Aicox, Clear-Com, intercom
Otros artículos relacionados