Canon will debut at IBC the new XF105 and XF100
Canon will show first in Amsterdam the last two additions to its range of professional cameras of series XF, the two smaller models to incorporate the codec of MPEG-2 Full HD recording on memory cards CompactFlash (CF) to transfer speeds of 50 Mbps, with a sampling of 4:2:2 color of great wealth, recorded high levels of color for tasks of post-production information.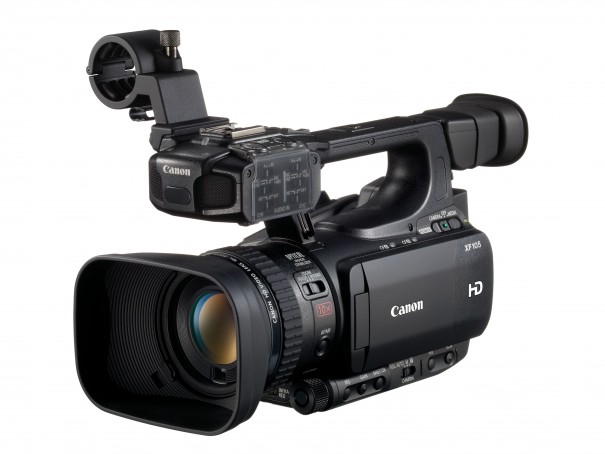 Visitors to the stand of Canon at IBC will learn about for the first time the two latest additions to its XF series professional camcorders. The new XF105 and the XF100 are the smaller models to incorporate the codec of MPEG-2 Full HD (4:2:2, 50 Mbps) recording.
Designed to offer Full HD recording on a laptop, both models share many of the features already available in the XF300 series launched recently.
The XF105 and the XF100 are a very adaptable camcorders that offer the maximum image quality in a small and lightweight body. With slightly more than 1 kilogram and advanced ergonomics are comfortable to use during long recording sessions, both camcorders benefited from a series of adopted characteristics of the XF300 series. The principles of design of the current XF camcorders have also inspired the construction of the two new models, with customizable and controls easy to reach, a spectacular LCD and XLR inputs built into the handle.
The compact design of these cameras make them ideal for those operators who engage in regular and frequent form among a series of projects, such as weddings, corporate and documentary videos with total versatility.
Additionally, you can integrate the XF105 in recordings within a study or in recordings with multiple cameras thanks to HD-SDI output and the input/output of times and entry code of intersincronizador ('Genlock') shared.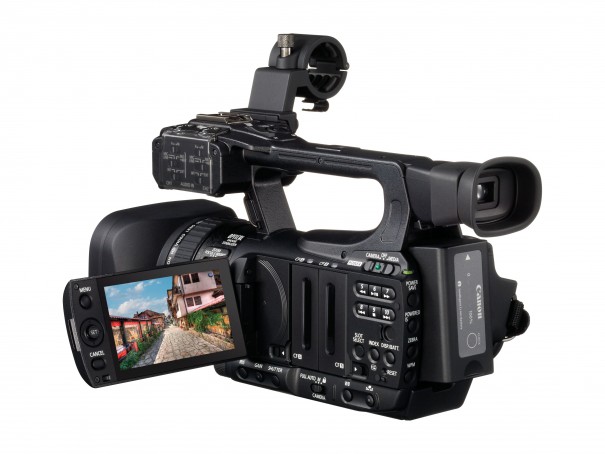 Full HD MPEG-2 MXF files
As the series XF300, the XF105 and the XF100 record video Full HD MPEG-2 MXF files (Material eXchange Format) open source, standard in the industry, in memory cards CompactFlash (CF) to transfer speeds of 50 Mbps, with a wealth of 4:2:2 color sampling, recording high levels of color for tasks of post-production information.
Both models offer Relay Recording and the new recording in dual-slot, a feature that allows you to record the same scene in two different CF cards simultaneously. In addition, during recording, it is possible to change or initialize a card if it is not being used to record at that time.
Canon MXF MPEG-2 video files are fully compatible with the most popular editing software programs from Adobe, Apple, Avid, or Grass Valley, thus ensuring practitioners immediate integration into your usual workflow. The Canon XF Utility software and complementary programs for Apple Final Cut Pro and Avid Media Composer are supplied.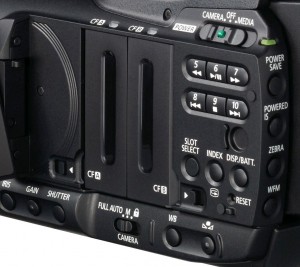 Zoom Canon HD Video 10 x
Both models feature a zoom Canon HD Video lens 10 x, with a focal 30.4 mm angle and a high brightness of f/1, 8. The diaphragm of the objective of eight metal sheets, also supplies an effect 'bokeh' (blur) almost circular, allowing camera operators to create very attractive blurred funds, while one increasing number of mobile lens groups help to reduce chromatic aberration and size in general lens, for greater flexibility. A digital telephoto function can also be used to extend the focal length of the lens in 1.5, 3, or 6 times, enabling users to get closer to the action.
The XF105 and the XF100 benefit also the stabilizer optical of the image of Canon (OIS) adopted in cameras XF, offering three different stabilization modes: standard, dynamic, and motorized.
A new Canon CMOS sensor 1/3 type and 2.07 megapixels (MP) allows you to capture high definition video real (Full HD) with a native resolution of 1920 x 1080. Adapted from the 3 CMOS sensors system used in the XF300-series models, the XF100-series sensor is equipped with a type Bayer color filter to achieve high sensitivity and wide dynamic range. The high-speed data reading technology also minimizes deformations by displacement of the shutter that can occur in camcorders with conventional CMOS sensors.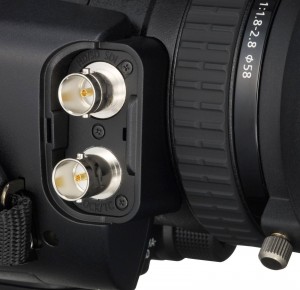 Support for 3D recording
Like the XF300 series, larger models, XF105 and XF100 camcorders provide a wide and rich range of options for performing creative recordings. Modes 1080/50i, 1080/25 p, 720/50 p and 720/25 p, as well as different bit rates are available to complement the current workflows.
It is also possible in fast and slow motion recording, recording intervals and recording frames (for recording frame-by-frame animation works), as well as the option of Pregrabacion of 3 seconds or cache.
The XF100-series offers even more options in the form of a new infrared and help 3D recording recording functions. The infrared (IR) recording mode can be activated using a switch located on the front of the camera, under the objective. Through a built-in IR lamp and light green and white recording options, the XF105 and the XF100 allow us to record authentic night scenes of great impact, ideal for recording wildlife and documentary work.
Two new 3D recording help features are also available in both models. The optical stabilizer of image (OIS) displacement of the axle uses a system of image stabilizer with lens shift to correctly align two camcorders connected during the recording of stereoscopic 3D video. A guide to focal lengths help, moreover, to accurately synchronize the zoom settings.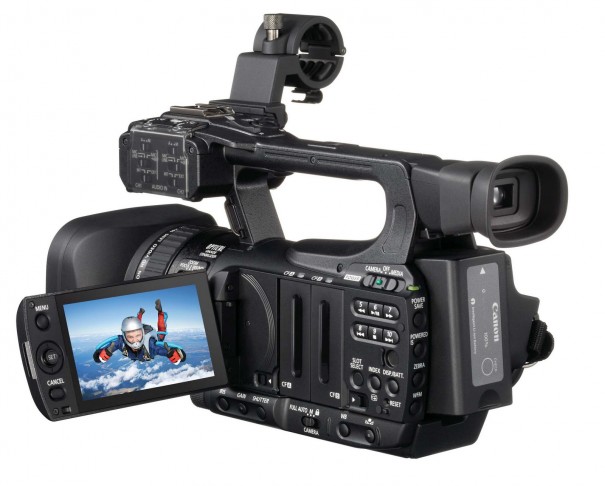 Customization
Both camcorders are equipped with a large LCD screen on the side, for monitoring during recording. This screen of 8.8 cm (3.5 ") has a crisp resolution of 920,000 pixels, displaying images with incredible clarity. Additionally, a built-in waveform monitor and a function of approach at the edges help to set the scene perfectly, with the menu selections made by interfacing with 'joystick' type lever. They also have an electronic viewfinder of 0.61 cm and 260,000 pixels, with a coverage of 100%.
A manual ring of the lens allows you to control the focus, zoom and iris, while a switch located on the side helps to instantly change from one mode to another. It is also possible to select a series of settings, such as the iris control, using a combination of the custom button and control dial.
A specific button allows on-demand between manual focus and auto focus (AF). In addition to the AF with face detection of Canon and exclusive instant AF modes, included a new mode AF single-sided, which limited autofocusing to detected faces only, a feature that will be useful for 'single operators', such as television reporters outside.
Like many larger camcorders for television use, the XF105 and the XF100 offer a wide range of options for customization, providing flexibility and versatility without rival. Users can configure to your liking more than 90 individual variables related to the image using the custom image function, which includes the selection of one of six preset gamma curves. Operators may also assign 34 individual functions to 10 customisable buttons, making them to optimize the camera according to your recording preferences or stylistic considerations.
In each body up to 9 'custom image' can be stored with the gamma settings cinema.V and cinema.(F) included among three presets supplied series. Preferred settings can be saved and transferred from a camcorder to another, using SDHC cards, which is useful to keep a creative style in different bodies of camcorder or to ensure a uniform configuration in various camcorders.
Advanced audio
The high quality images of each of the cameras may be complemented by professional quality sound recording. Independent sound can be recorded by connecting external to the two inputs XLR microphones, while the front microphone built into camcorders record sound in stereo. Both models are capable of recording linear PCM audio at 16-bit / 48 kHz, providing a sound quality suitable for professional use or for broadcast on television.
Gallery
(click on any photo to start carrousel - scroll by clicking on the arrow - left and right)
Did you like this article?
Subscribe to our RSS feed and you will not miss anything.
Other articles on Canon, IBC
Otros artículos relacionados