LG Multi-Vision Display reduces the distance between screens in 4 mm videowall
LG Launches the videowall Multi-Vision 120 inch Display, with a design that reduces the distance between screens up to only 4 mm. With four 60 "integrated WXGA plasma panels, the possibilities increase exponentially get a 120 inch videowall very versatile, since it can cover the functions both of signage, and AV environments in dishes or digital signage and corporate.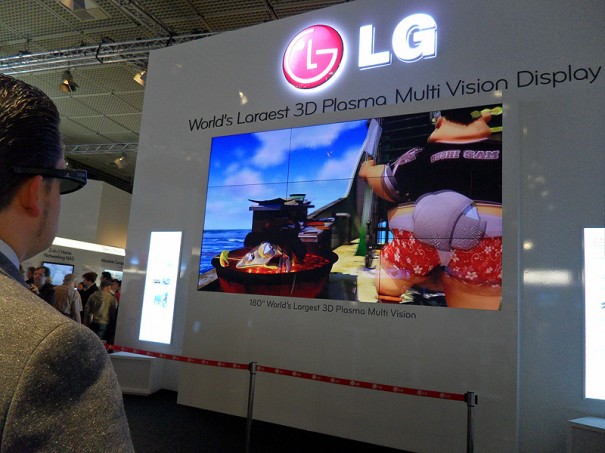 LG Electronics has launched the 120-inch Multi-Vision Display that, with four plasma WXGA 60 "integrated panels, covers functions of signage, digital signage or dishes AV environments and corporate.
With a side frame of 2 mm, LG has managed a virtually imperceptible distance between screens of 4 mm, which enables playback without interruptions in the image. Designed to create videowalls from two by two screens, the 120-inch Multi-VIsion Display is also equipped with other advancements introduced by LG: the APC (automatic adjustment of image), getting uniformity in four monitors that form the walls. The four components perform together, simultaneously, an exchange of image parameters thus resulting in a total synchrony. The APC is achieved that the brightness, color level, contrast, and gamma curve is perfectly synchronized creating natural and vivid images.
Versatility
Thanks to its four panels, the 120-inch Multi-Vision Display enables great versatility, since they may operate in sync or engage as independent display thus obtaining four modes of use as four independent screens, two different displays in vertical, two horizontal or a continuous 120 inch screen.
Picture quality is another of its salient features, thanks to the advanced technologies that LG has provided it with. Through the Sub Field Driving 600 Hz will reduce substantially the blurred images and vibration on fast moving scenes. In addition, like all LG plasmas, it consists of autoiluminados pixels that have a 0.001 ms response time, which translates into images of great clarity. Also in favour of clarity the contrast ratio dynamic which reduces reflections and glare optical play for making dark, darker colors and the clear, clearer.
This latest generation plasma panel has a brightness improved thanks to its 650 candelas per square meter that achieve a clean and realistic images. With an improved viewing angle, it has also very high accuracy in the reproduction of colors and has a great uniformity in the ranges of white.
Ecology and efficiency
LG plasma equipments are designed to maintain a long-lasting performance, with an estimated 60,000 hours life. This is achieved thanks to, among other things, the protection of ISM, a set of functions that protect screen permanent prints and discoloration and also thanks to the screen saver.
When designing the 120-inch Multi-Vision Display, LG has also thought about energy consumption. Thus it has managed a team more ecological and more efficient, reducing the electricity bill due to their low consumption through an advanced technique to reduce the expenditure of energy in cells that have dark colors. All this, without sacrificing the quality of the image. In addition, four screens that make up the walls are manufactured without using either lead or mercury.

Did you like this article?
Subscribe to our RSS feed and you will not miss anything.
Other articles on LG
Otros artículos relacionados