National radio presents 'Life of Brian' a new fiction Sonora
Basada en el divertido guión de los Monty Phyton, Radio Nacional vuelve a poner en marcha una experiencia única de radio teatralizada.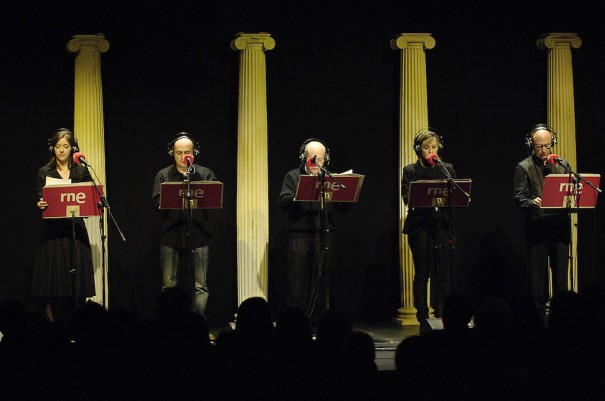 La Ficción Sonora vuelve a las ondas de Radio Nacional, esta vez con la comedia de los Monty Phyton La vida de Brian. La obra nos trasladará al año cero de nuestra era, cuando nace en Belén un niño llamado Brian. Pepe Viyuela dará voz al protagonista de la historia. El reparto lo completan Alex Angulo y otros 14 actores y locutores que darán voz y vida a los 52 personajes de esta historia, que se representará en La Casa Encendida de Madrid, el día 1 de febrero a las 22.00 horas y se emitirá en directo en Radio 3. El programa 'Abierto hasta las dos', de Radio Nacional, lo emitirá el 18 de febrero.
Después de transitar por géneros como el terror y la novela negra, el equipo de Ficción Sonora de Radio Nacional nos acercará a una de las obras clásicas de la comedia, La vida de Brian , un "reto" según palabras de Ignacio Elguero, director del canal Radio Nacional, ya que "es más difícil hacer reír que hacer llorar". Para empezar con este género se ha elegido 'La vida de Brian' porque "es un clásico que combina humor, ironía y fabulación histórica", ha explicado.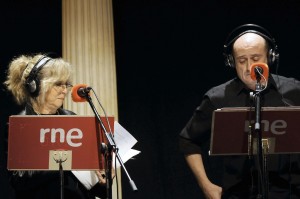 Pilar Martín, directora de Programas de RNE, ha recordado que "no se trata de recuperar la ficción sonora, que nunca hemos perdido; lo que busca Radio Nacional es reivindicarla y ponerla en el lugar que le corresponde porque es la máxima expresión del género radiofónico".
La historia nos transporta al año cero de nuestra era para contar una historia universal: la de un niño que nació en un establo de Belén y que creció sin saber quién era su verdadero padre. La vida de un hombre que se convirtió en un revolucionario, que movió multitudes, sufrió la persecución de los romanos y terminó crucificado, la vida de Brian.
Dieciséis actores, entre ellos Pepe Viyuela, como Brian, y Álex Angulo, se las ingenian para dar vida a cincuenta y dos personajes en un guión en el que la envoltura sonora de músicas y efectos está creada para aumentar la comicidad de la historia. Sobre su experiencia con la ficción sonora, Viyuela ha dicho que es "un género maravilloso" que le ha dado "la oportunidad de disfrutar como pocas veces", y ha subrayado que "descubrirlo para las nuevas generaciones es una apuesta muy acertada de Radio Nacional". Alex Angulo también lo ha vivido como "algo mágico", con lo que ha deseado que la fantasía no acabe y que la puesta en marcha de iniciativas como esta continúe.
La adaptación del guión es obra de Alfonso Latorre, y la puesta en escena, realización y ambientación es de Mayca Aguilera, que ya ha participado en otras ficciones sonoras del RNE.
Ficha técnica 'La vida de Brian'

Adaptación: Alfonso Latorre

Ambientación y realización: Mayca Aguilera

Control de sonido: Amparo Hernández, Mercedes de Prado y José Antonio Barrera.

Producción y luces: Ilia Sánchez
Did you like this article?
Subscribe to our RSS feed and you will not miss anything.
Other articles on
RTVE