LG closes a deal with Perform to offer Livesport.Tv in your Cinema 3D Smart Tv
La Cinema 3D Smart TV de LG ofrecerá acontecimientos deportivos en directo y bajo demanda, actualidad y noticias a través de la aplicación.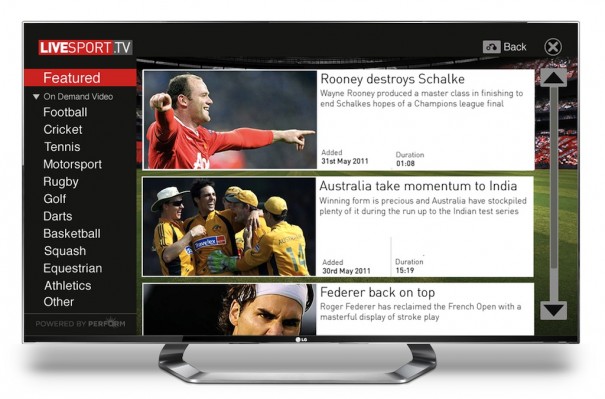 LG Electronics ha cerrado un acuerdo con un medio líder digital de deportes, Perform, proveedor de Livesport.Tv, una aplicación que proporcionará miles de horas de contenidos deportivos en directo o bajo demanda para las Cinema 3D Smart TV de LG.
Según Havis Kwon, presidente y consejero delegado de la división de Home Entertainment de LG, "tanto los contenidos deportivos ofrecidos por Perform como su capacidad de ofrecer a los consumidores un servicio de calidad garantizan a nuestros clientes de Smart TV el acceso a algunos de los mejores contenidos deportivos online disponibles".
Con Livesport.Tv, Cinema 3D Smart TV de LG ahora ofrece un magnífico canal para los fans de los deportes europeos. Este acuerdo incluye una serie de contenidos en directo y bajo demanda como por ejemplo las ligas de fútbol europeas y sudamericana, la World Snooker, la Australian Rules Football (AFL), PSA Squash, artes marciales mixtas, balonmano, dados, hockey, tenis, Rugby Union, la liga de rugby y billar americano más un serie de eventos deportivos como por ejemplo boxeo.
LG ofrecerá Livesport.Tv en cinco países europeos con sus respectivos idiomas: Alemania, Francia, España, Italia y el Reino Unido. Los deportes en directo estarán disponibles a través de diversas opciones flexibles de suscripción, mientras que el acceso a los contenidos bajo demanda será gratuito.
"Estamos muy contentos por haber integrado Livesport.TV en Cinema 3D Smart TV de LG. El crecimiento y adopción de televisiones conectadas significa que rápidamente se están convirtiendo en una parte importante en salones de todo el mundo. Este acuerdo asegura que nuestros contenidos deportivos digitales están ahora a disposición de millones de hogares en Europa con Cinema 3D Smart TV de LG", ha aformado Oliver Slipper, Joint-CEO de Perform.
Gracias a la función integrada de Cinema 3D Smart TV de LG que permite convertir el 2D a 3D, los fans de los deportes podrán disfrutar de todos los contenidos de Livesport.Tv en 3D. Se espera que esta característica sea una gran ventaja para los amantes de los deportes que quieren disfrutar de todos los grandes momentos deportivos en imágenes 3D. Otra característica que ya ha recibido multitud de elogios es el innovador mando de LG Magic Remote, gracias al cual los usuarios disponen de un interfaz de navegación más intuitivo a través de las cuatro funciones del mando a distancia: Scroll, Voz, Puntero y Gestos.

Did you like this article?
Subscribe to our RSS feed and you will not miss anything.
Other articles on LG,

Perform
Otros artículos relacionados