Avid: cambia de imagen y de estrategia
Una mayor interoperatividad con terceros, nuevas versiones en sus soluciones y una política mancomunada de marcas, rigen el futuro inmediato de una renovada Avid.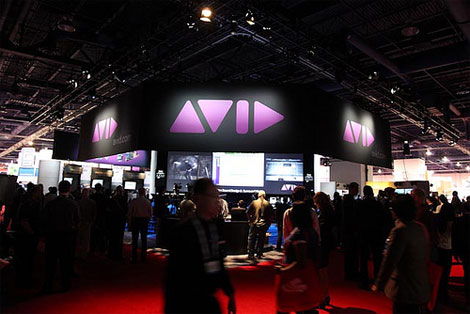 Avid ha decidido este año retornar al NAB y lo ha hecho con un espíritu renovador, no sólo en su imagen, sino también en su política de negocio y de grupo empresarial multimarca reagrupando a la propia Avid, Digidesign, M-Audio, Sibelius y Pinnacle bajo un mismo paraguas y estrategia. Durante su comparecencia en Las Vegas el nuevo CEO de la compañía, Gary Greenfield se empeñó en mostrar que los cambios en Avid van más allá de un nuevo logotipo que refleja las sinergias de las cinco divisiones en forma de iconos-botones con los que los profesionales estamos muy acostumbrados a trabajar.
Desarrollando su negocio tanto en las áreas de audio como de vídeo, desde prosumer a profesional, Avid pretende unificar todo su catálogo de soluciones bajo el signmo de la interoperatividad. Los pasos dados en los últimos meses con la armonización y sincronización vía Video Satellite, entre dos de las herramientas insignia de la casa, como son Pro Tools y Media Composer, dice mucho de por dónde irán los tiros. Por fin, los usuarioa de Pro Tools HD pueden sincronizar con un Media Composer la reproducción del material, pudiendo incluso llegar a conectar hasta cuatro Pro Tools HD a un Media Composer mediante la opción denominada Satellite Link, sin necesidad de renderizar ninguna secuencia de vídeo.
Pero como no sólo de interoperatividad de puertas abiertas vive el hombre, Avid también está empeñada en demostrar que está abierta a colaborar con terceros fabricantes aunque ese tercero sea la misma Apple. Y si no que se lo digan a quienes en su stand en Las Vegas pudieron asistir perplejos a la demostración de cómo Final Cut puede acudir ahora a recoger material a una red Unity ISIS o a un servidor Omneon (ahora en posible integrar cualquier servidor con protocolo VDCP), con material procedente de una Sony XDCAM o de una Red One, editando conjuntamente en otras soluciones de la marca como Media Composer o NewsCutter en cualquier resolución tanto en SD hasta 4K. Sin olvidar, la posibilidad de trabajar en estereoscopía y con sonido mezclado al más alto nivel en Pro Tools HD. Pero no quedaba así la cosa, y en stand de Avid ha podido verse también otras máquinas y soluciones con el sello Sundance, Omenon o Deko compartiendo un flujo de trabajo bajo la propuesta para informativos Avid iNews. ¿Pero cómo es capaz toda esta compleja arquitectura de reconocer el ir y venir de clips almacenados en diferentes soluciones y ponerlos a disposición de varias plataformas de edición? La respues se llama Avid Media Acces. Se trata de un plugin que integrado en las soluciones de Avid permite ahorrar tiempo en la ingesta, transcodificación y envío del material ya sea Panasonic P2 en DVCPRO/ 50/ HD y 10 bit AVC-Intra 100/ 50 (MPEG-4/ H.264 HD) o Sony XDCAM HD (LongGOP HD MPEG2). En definitiva, todo un espectáculo interoperativo en un circo de muchas pistas.
Did you like this article?
Subscribe to our RSS feed and you won't miss a thing.
Other articles on

AVC-Intra

, Avid,

Digidesign

,

DVCPRO

,

M-Audio

,

NAB

,

P2

,

Pinnacle

,

ProTools

,

Sibelius

,

XDCAM
For
DRAFTING
• 21 Apr, 2009
• Section:
Storage
,
Audio
,
Automation
,
Capture
,
Film / Technique
,
Issue
,
Study
,
Media management
,
graphics
,
Postpro
,
UHD TV