Snell Parents at UK's Arena Television
Una de las mayores empresas de servicios y móviles del Reino Unido, Arena Televisión, selecciona las matrices Sirius y Cygnus para migrar sus unidades a entornos de alta definición.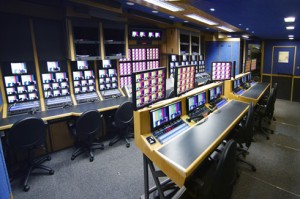 Arena Television, una de las mayores compañía de servicios y unidades móviles en el Reino Unido fundada en 1988, ha optado por la tecnología de matrices y enrutamiento de señales de Snell para migrar sus UM a alta definición. En concreto, ha escogido las matrices Sirius y Cygnus para integrarlas en sus móviles comenzando por la VT6 y en la móvil de nueva construcción VT7.
Las cuatro Sirius y las dos Cygnus que Arena acaba de adquirir proveerán hasta 512×512 entradas y salidas de audio/vídeo, otorgándole un amplio margen de crecimiento en la expansión de sus operaciones. Recientemente, las matrices de Snell también sirvieron a Arena Television para entregar señal a seis canales de BBC (incluyendo uno en HD y dos interactivos) en el Glastonbury Music Festival. Las matrices HD de Snell se han utilizado también en los últimos meses en eventos desarrollados en Buckingham Palace, el British Grand Prox o en el Centre Court en Wimbledon.
Did you like this article?
subscribe to our RSS feed and you will not miss anything.
Other articles on SAM, Snell