HBO and Disney+ consolidate their growth in the Spanish OTT market

El último barómetro de
GECA
confirma el importante crecimiento de
HBO
(7,2 puntos) y
Disney+
(2,6) en el mercado OTT español.
HBO, with a 28,6% de cuota, es la plataforma que más crece entre los usuarios con acceso a las plataformas, con un incremento de 7,2 puntos respecto al trimestre anterior, impulsada por el lanzamiento de HBO Max en octubre. Al igual que Netflix (con un 74,2% de cuota y un crecimiento del 1,1%), alcanzan su segundo mejor resultado dentro del Barómetro OTT, solo por detrás del que firmaron durante el confinamiento en 2020.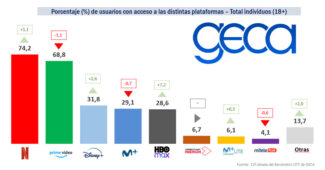 Disney+ (31,8%, +2,6) mantiene su crecimiento y registra un nuevo récord histórico, superando por primera vez la barrera del 30% de penetración y situándose por encima de Movistar+ (29,1%). Atresplayer Premium (6,7%) mantiene intacto su registro por tercera oleada consecutiva, superando a Movistar+ Lite (6,1%) y Mitele Plus (4,1%). El conglomerado "Otras" (13,7%, +2), donde se engloban marcas de entretenimiento y deportes, vuelve a incrementar su resultado y alcanza un nuevo récord con DAZN, Rakuten y of the movie a la cabeza.
En términos generales, el porcentaje de usuarios que tienen dos plataformas o más continúa por encima del 65% (65,9%), aunque experimenta un descenso leve respecto a la oleada precedente (67,5%). De ellos, destaca el porcentaje de quienes tienen cuatro o más servicios (19,7%) en detrimento de los que tienen tres (34%).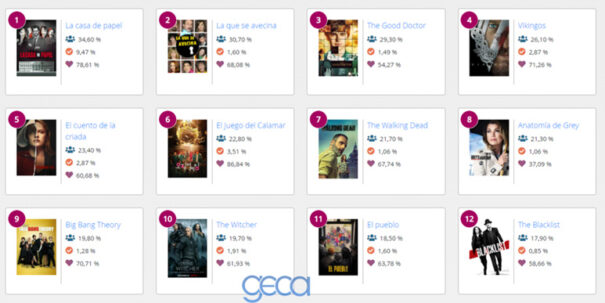 The Money Heist
continúa líder
He top 5 de series más vistas en plataformas se mantiene intacto. The Money Heist (34,6%) vuelve a encabezar el ranking de lo más consumido coincidiendo con su temporada final. Le siguen nuevamente The one that is coming (30,7%), The Good Doctor (29,3%), Vikingos (26,1%) y El cuento de la criada (23,4%). Cabe mencionar la entrada en el top 10 de El Juego del Calamar, beneficiado por el boca a boca y su tirón mediático; la comedia The Big Bang Theory, presente en cinco plataformas en el momento del estudio; y The Witcher, cuya segunda temporada fue estrenada en Netflix el pasado 17 de diciembre.
Entre las novedades de esta 11ª oleada del Barómetro OTT sobresalen en ficción La rueda del tiempo (11%), serie basada en las novelas de Robert Jordan y estrenada el 19 de noviembre por Prime Video, e Historias para no dormir (7,6%), reinterpretación de 2021 de la mítica serie de Narciso Ibáñez Serrador, estrenada también en la plataforma de Amazon.
En lo que respecta al entretenimiento, destacan las entradas de Where is Martha? (7,3%), serie documental producida por Quartz para Netflix sobre el caso de Marta del Castillo, y de G.E.O, más allá del límite (5,5%) y Celebrity Bake Off España (4,6%), ambas de Prime Video. El concurso de repostería con famosos presentado por Paula Vázquez y Brays Efe supera en seguimiento a los realities también estrenados en este trimestre por Netflix: Insiders (4,1%) y Amor con fianza (2,6%).

Lo más visto en cada plataforma
Las 5 series más vistas en Netflix en el cuarto trimestre de 2021 son, en este orden: La Casa de Papel, El juego del calamar, The Witcher, Vikingos y Elite. In Prime Video, La que se avecina, El Pueblo, El cuento de la criada, The Boys y Anatomía de Grey; y, en Movistar: Hierro, La que se avecina, The Big Bang Theory, El joven Sheldon y Los Simpson.
The Mandalorian sigue imbatible en Disney+, seguida de Los Simpson, Loki, Falcon y el Soldado de Invierno y Bruja Escarlata y Visión. In HBO Max, destacan Juego de Tronos, Chernobyl, El Cuento de la criada, El ministerio del tiempo y 30 coins. Finalmente, GECA contabiliza Atresplayer Premium, con un top conformado por Poison, Paco's men, Los protegidos: el regreso, FoQ: el reencuentro y Los protegidos.
En el totalizado anual de las 4 oleadas del Barómetro OTT de GECA, las 3 series más vistas de 2021 son The Money Heist (31%), The one that is coming (29,7%) y Vikingos (26,9%).

Nuevas preguntas en el Barómetro OTT de GECA
Entre las novedades de esta 11ª oleada del Barómetro OTT se han incluido nuevas preguntas que hacen referencia a dos claves de la actualidad de las plataformas.
De esta forma, GECA ha cuestionado a los usuarios de HBO Max si notan mejoría en términos de navegación y contenidos respecto a la antigua HBO España: un 32,5% dicen haber notado una notable mejora y un 31,5% una ligera mejora. También se ha preguntado a los usuarios de Netflix sobre si el incremento de precio de los planes Estándar y Premium les han hecho platearse su permanencia en la plataforma. Un 45,4% declara que esta subida no le influye en nada para plantearse la baja, frente a tan solo un 5,8%, que manifiesta haber decidido que va a solicitar la baja debido a este sobrecoste.
Por otro lado, el Barómetro OTT de GECA apunta que Netflix, Prime Video y Disney+ vuelven a ser las mejor valoradas por los usuarios en lo que respecta a experiencia de navegación y usabilidad con un 83,9%, un 75,2% y un 73,1%, respectivamente, que la consideran buena o excelente. Estas tres plataformas son nuevamente las que, según los usuarios, ofrecen las recomendaciones de contenidos más interesantes o acertadas para los usuarios. Más de la mitad de los usuarios que han utilizado Netflix (57,3%) y Prime Video (50,7%) manifiestan que hacen habitualmente caso a las sugerencias que les ofrecen estas plataformas, porcentaje que se sitúa en el 44,7% en el caso de Disney+.
Did you like this article?
subscribe to our RSS feed and you will not miss anything.
Other articles on Amazon Prime Video, Atresplayer,

Dazn

, Disney, studies, of the movie, GECA, HBO, Mediaset, Movistar, Netflix, Rakuten