Sony and Gwantsi Technology team up to create China's first Crystal LED virtual production studio

Located in the center of Shanghai (Yuyuan Road), the new virtual studio promoted by Sony and Gwantsi Technology occupies a total area of ​​83 square meters with a 5.47 meter high and 15.2 meter wide B series Crystal LED screen, a CineAltaV 2 cinema camera and a 4K HDR monitor.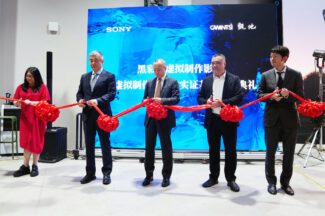 They attended the inauguration Takeshi Yoshida, president of Sony (China); Zhang Xueqin, directora general de Shanghai Gwantsi Technology y Zhou Chengqing, chief technical director of Epic Games (China), who were able to attend one of the technology used in virtual production together with the guests at the event.
At the opening ceremony, Mori Kenichi, CMO of Sony (China), said that by sharing the same industry vision as well as a strong sense of responsibility and hard work, Sony and Gwantsi are making joint efforts to build a high-quality virtual production studio. in China and contribute to virtual filming in the country.
Sony aspires to create high-level virtual production solutions. The virtual production studio is equipped with the three main Sony products, a screen Crystal LEDa movie camera CineAltaV 2 and a monitor 4K HDR by Sony, setting the standard for high-quality studios, bringing exceptional products to the market and customers, providing content creators with an excellent user experience, and optimizing content creation through technology.
On the one hand, the 83-square-meter LED screen meets the creators' demand for size. Even with the interference from the studio lighting and the focos Photoflood During shooting, the LED screen can accurately reset the scene for various times and illuminate with intense and delicate colors.
The screen delivers accurate colors and cinema-quality images even without the need for complicated tonal correction processes, making it impossible for audiences to distinguish between the real and virtual worlds.
All guests at the event praised the demonstration, noting that the virtual production studio can greatly reduce the stage preparation in traditional studios to facilitate the creation, shorten the shooting period y save filming costs.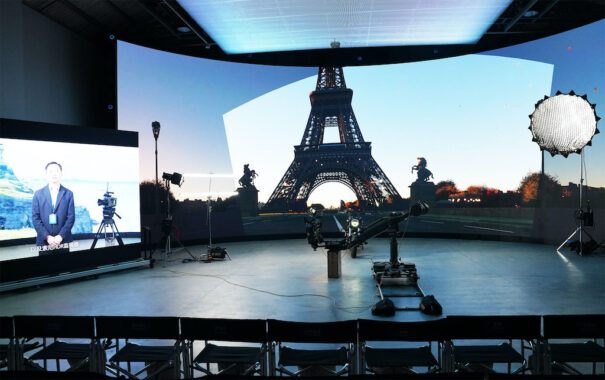 futuristic technologies
This demo is proof of Sony's success in offering a virtual production model. In addition, the Japanese company achieves this thanks to its many years of experience in film and television production, and to the R&D of its "futuristic technologies" for virtual production.
For example, Sony engineers have made numerous product enhancements to adapt the Crystal LED display to the virtual studio. This can display images with a brightness up to 1800 nits to suppress light interference. In addition, it offers excellent anti-reflective performance with a DOI index of 0 and little reflection.
The Crystal LED display also features a high contrast ratio of 10,000:1 to detail shadows and capture their subtle changes, and to boost image intensity. Its wide 170 degree horizontal/170 degree vertical viewing angle helps prevent color cast when shooting from the side, giving directors more creative freedom when shooting from a wide angle.
Thanks to the powerful chip X1 Made of Crystal LED, the display shows rich and brilliant colours. Industry-leading chip drives outstanding LED display performance with a wide gamut including sRGB, DCI-P3, and BT.2020.
In addition, Sony has also developed two functions for virtual production. One of them is the conjunction of Camera Sync, B-series Crystal LED display and CineAltaV/CineAltaV 2 by adjusting the camera's shutter angle and frame rate on the screen through advanced algorithms. This function can effectively reduce unwanted phenomena when the camera is filming the LED screen, providing the audience with ideal images behind the monitor.
The other is Art-Net to support the conventional lighting control protocol, which enables you to control the LED display as lighting, and adjust the color temperature and RGB of the LED display, along with other lighting equipment, in the same user interface to streamline the flow of job.
In addition to these futuristic technologies, the virtual production studio also adopts a unique design; Inside the studio, a mobile LED screen allows directors to shoot with dual cameras, reduce processing pressure, supplement images from different positions, and complete tasks such as high-quality real-time positioning and fill light.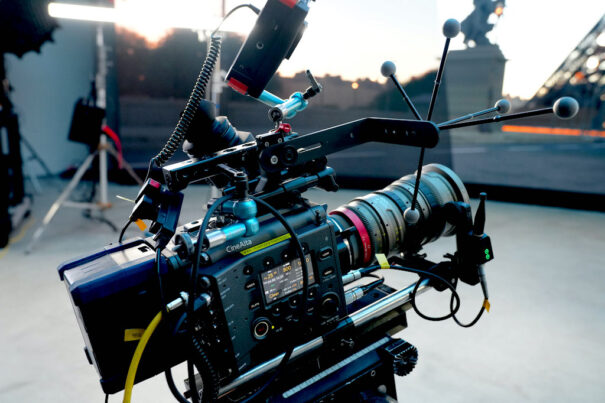 motion capture
In addition, at the opening ceremony, guests were shown how real-time motion capture works. Motion capture has become one of the most common cutting-edge technologies in film and television creation. The virtual studio offers this state-of-the-art technology thanks to the advanced real-time processing UE5 and the optical motion capture tracking system OptiTrack.
A total of 24 high speed cameras they can accurately capture motion from the trailing camera and send it to the UE5, while the rendering can be displayed in real time on LED screens with low latency.
It should be noted that the virtual study was not built at once, but after a preparation and design period of almost four years. Prior to the introduction of virtual production, Sony has conducted extensive research, testing, and verification of related products and systems, has strived to create industry-leading products and solutions, and has followed market demands for virtual production solutions. . To do this, it has carried out tests with Epic Games for virtual applications and has published a technical white paper. Sony equipment has proven to be excellent in key technologies such as moiré effect, shadow detail and viewing angle.
Zhang Xueqin, general manager of Shanghai Gwantsi Technology is satisfied with the studio, and believes that virtual shooting will greatly shorten the production period and reduce the costs of public relations and props departments, as well as the pressure of location and set assembly , which will allow completing about 40 shots a day. In addition, the studio has already collaborated with several famous brands for the filming.
Mori Kenichi, Chief Marketing Officer of Sony (China), also said that Sony will continue to invest in research and development to offer more sophisticated virtual production solutions to creators. At the same time, the Crystal LED virtual production studio also intends to engage in the production of commercials, movies and TV series. For clients who desire high-quality production, the features of the Crystal LED virtual production studio can satisfy their high-end requirements.
Did you like this article?
subscribe to our RSS feed and you will not miss anything.
Other articles on Epic Games, Gwantsi, Sony