Quidich pursues innovation in sports productions with disruptive cameras and solutions like AJA FS-HDR

A wide selection of innovative cameras and must-have workflow solutions such as the
只是
FS-HDR help
Quidich
revolutionise the Indian production scene.
制作公司 Quidich specialises in innovative camera systems to enhance storytelling and capture never-before-seen angles for live sporting events, film and television. Since its inception, the company has developed integrated services that enhance the audience viewing experience for cricket, football, basketball and kabaddi leagues.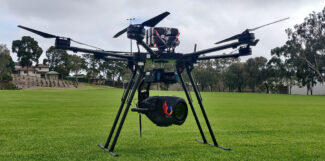 While traditional sports broadcasts have historically featured fixed cameras positioned around the pitch, the Quidich team first innovated with the BuggyQam remote-controlled vehicle, offering fans unique shots, including low angles, during cricket matches. Quidich was also "the first company in the world" to develop an augmented reality live tracking solution on a wireless mobile camera, with the Spatio system for drones. To give fans an even broader perspective of the game, they further developed the Quidich Tracker (QT), a proprietary real-time optical tracker to display the position of players during live matches.
To further enhance the audience viewing experience, Quidich uses a wide range of 只是 equipment, including the FS-HDR real-time universal converter and frame synchroniser. An essential HDR/SDR colour correction and transformation solution, FS-HDR allows Quidich to match the output of the BuggyQam camera with all cameras in the broadcast system to achieve the necessary consistency in production. This is because BuggyQam houses a single sensor camera, whereas other cameras used throughout the production chain include three CCDs with separate sensors to receive the filtered red, green and blue colours.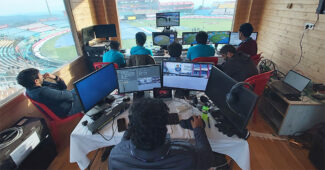 Neil Gokhale, operations director at Quidich, details his reasons for choosing the 只是 solution: "FS-HDR is a well-designed, versatile solution, which we've been able to take advantage of for real-time color transforms, ingesting multiple feeds in multi-channel mode, and many other use cases. Setting up color profiles prior to games helps us accommodate color temperature and lighting changes with the click of a button, which would take too much time to manually adjust during live broadcasts. The SFP slots are also quite helpful, as they eliminate the need for additional converters when routing BuggyQam feeds to the broadcast control room (…) Being able to run up/down/cross conversion on a single device simplifies our workflow, and FS-HDR includes a million helpful features in addition to this that you only realize once you start using it."
你喜欢这篇文章吗?
订阅我们的 RSS订阅 你不会错过任何事情。
关于其他文章

AJA [INT]

,

Quidich [INT]