Is the merger of Antena 3 and LaSexta already reality?
Antena 3 y LaSexta habrían culminado sus conversaciones dando por cerrada la primera gran fusión entre televisiones en España.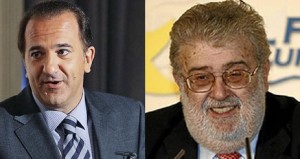 Después de meses de conversaciones cruzadas entre todos los operadores, según una información del diario El Mundo, ambas cadenas habrían alcanzado un acuerdo para la gestión de un futuro gigante audiovisual que desde el próximo mes de abril gestionará ocho canales de TDT.
El diario El Mundo asegura en su edición de hoy que la fusión entre Antena 3 y LaSexta sería un hecho que se materializará mediante un canje de acciones entre ambas compañías que tendrá al Grupo Antena 3 como principal accionista, pero que repartirá la gestión equilibradamente entre ambas. Al menos, esto es lo que recoge El Mundo de fuentes cercanas a los bancos de negocio que están participando en la operación: Citi por parte de La Sexta y Morgan Stanley por la cadena de Planeta.
La operación, según el rotativo, no va a afectar a las dos grandes marcas implicadas, Antena 3 y La Sexta, que mantendrán su personalidad, sus líneas editoriales diferenciadas y sus señas de identidad en la programación.
Largas conversaciones

Did you like this article?
Subscribe to our RSS feed and you will not miss anything.
Other articles on Antenna 3, LaSexta
Otros artículos relacionados