Antenna 3... because veinte Años no es nada
On January 25, 1990 came the first broadcast air regular Antena 3 Tv. Since the Foundation team headed by Javier Godó and Manuel Martín Ferrand until today, planet forward, it has been two decades in which private broadcaster has written the history of television in Spain with milestones as the first election debate between two candidates for the Presidency, his departure to bag or its new concept of TV 3.0.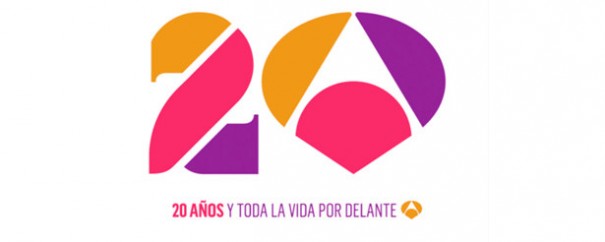 Antenna 3 meets today twenty years on the air. On January 25, 1990, at eight in the evening and after a brief speech by one of the founding partners, Miguel Ángel Nieto, began the broadcast of Antena 3 with an informative of José María Carrascal. In those early years with the founding team of antenna 3 Radio with Javier of Godo and Manuel Martín Ferrand head correspond spaces as You to you with Nieves Herrero, the political gathering The key, The wheel of Fortune and its greatest exitto, much-talked-about success, Farmacia de Guardiawith which private began its bid for national fiction.
On June 17, 1992 produces a change in the shareholding in such a way that the Zeta Group becomes majority shareholder and Antonio Asensio accede to the Presidency. Together with Grupo Zeta would enter at the same time Rupert Murdoch and Banesto to occur then a radical change in contents, professionals, aesthetic and corporate image.
Historically linked to antenna 3 Radio Presenters leave the chain and are replaced by professionals with extensive experience in television, such as Jesús Hermida, Olga Viza, Mercedes Milá, Pepe Navarro, Jesús Quintero, Alfons Arús, Pedro Ruiz and Manuel Campo Vidal. The latter, in 1993, moderated the first electoral debate televised in Spain between two candidates for the Presidency of the Government: José María Aznar and Felipe González. Gradually, the ratings began to trace, until in April 1994 Antena 3 became the first private television becoming a ratings leader in Spain and the first in Europe that discontent in news to a public broadcaster.
In July 1997 the Zeta Group sells its shareholding to the telephone company. José María Mas assumes the Presidency and José Manuel Lorenzo DG (until 1998 when he joined Canal ). During this stage, Antena 3 joined the Via Digital project and created the figure of the defender of the Viewer, who fell on the journalist Consuelo Álvarez de Toledo. It becomes the first private channel in Spain to broadcast a world in 2002.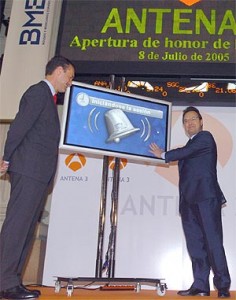 Planet
In 2003 the main shareholder happens to be the planet group. Since its President is José Manuel Lara Bosch and its Chief delegate Maurizio Carlotti (from Telecinco). Publicly traded since October 2003. In September 2003, the chain launches the series revelation, here there is no who live, which achieved huge successes of audience exceeding widely to other chains. The series was a genuine 'boom' and became the third most-watched Spanish television, and the second largest series view chain, behind Night chemist. July 1, 2008, Silvio González relieves Maurizio Carlotti as Managing Director of the chain.
Veinte años más tarde de su fundación, la primera privada que nacía en España se ha afianzado hoy como un gran grupo multimedia con tres canales en TDT (Antena 3, Neox y Nova) y su señal difundida en diecinueve países a través de su señal internacional.
Antena 3 puede presumir de haber sido la primera televisión en cotizar en Bolsa (2003); en emitir un debate a la presidencia del Gobierno, entre José María Aznar y Felipe González (1993), en comprar los derechos de un Mundial de fútbol (2002) y en crear un nuevo concepto de televisión 3.0 con enfoque multiplataforma a través de televisión analógica, digital, móvil e Internet.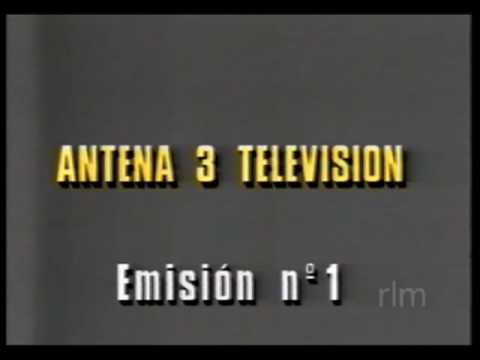 Did you like this article?
Subscribe to our RSS feed and you will not miss anything.
Other articles on Antenna 3
Otros artículos relacionados