Antenna 3... because veinte Años no es nada
El 25 de enero de 1990 salía al aire la primera emisión regular de Antena 3 Tv. Desde el equipo fundación encabezado por Javier Godó y Manuel Martín Ferrand hasta hoy, con Planeta al frente, han pasado dos décadas en las que la cadena privada ha escrito la historia de la televisión en España con hitos como el primer debate electoral entre dos candidatos a la presidencia, su salida a Bolsa o su nuevo concepto de televisión 3.0.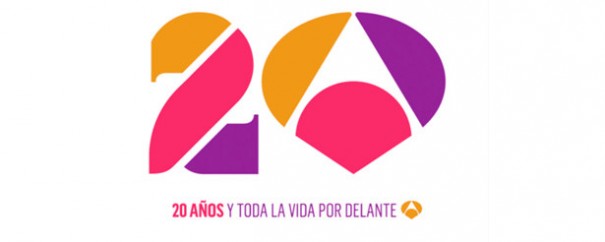 Antena 3 cumple hoy veinte años en el aire. El 25 de enero de 1990 a las ocho de la tarde y tras un breve discurso de uno de los socios fundadores, Miguel Ángel Nieto, comenzaba la emisión de Antena 3 con un informativo de José María Carrascal. De aquellos primeros años con el equipo fundacional de Antena 3 Radio con Javier de Godó y Manuel Martín Ferrand a la cabeza corresponden espacios como De tú a tú con Nieves Herrero, la tertulia política La Clave, La ruleta de la fortuna y su mayor éxitto, su éxito más sonado, Farmacia de Guardia, con el que las privadas comenzaban su apuesta por la ficción nacional.
El 17 de junio de 1992 se produce un cambio en el accionariado de forma que el Grupo Zeta se convierte en socio mayoritario y Antonio Asensio accede a la presidencia. Junto al Grupo Zeta entraría a su vez Rupert Murdoch y Banesto produciéndose entonces un cambio radical en contenidos, profesionales, estética e imagen corporativa.
Los presentadores históricamente vinculados a Antena 3 Radio abandonan la cadena y son reemplazados por profesionales con larga experiencia en el medio televisivo, como Jesús Hermida, Olga Viza, Mercedes Milá, Pepe Navarro, Jesús Quintero, Alfons Arús, Pedro Ruiz o Manuel Campo Vidal. Este último, en 1993, moderó el primer debate electoral televisado en España entre dos candidatos a la presidencia del Gobierno: Felipe González y José María Aznar. Progresivamente, los índices de audiencia comenzaron a remontar, hasta que en abril de 1994 Antena 3 se convertía en la primera televisión privada en ser líder de audiencia en España y al primera en Europa que desbancaba en informativos a una cadena pública.
En julio de 1997 el Grupo Zeta vende su participación a la empresa Telefónica. José María Mas asume la Presidencia y José Manuel Lorenzo la dirección general (hasta 1998 en que se incorpora a Canal+). Durante esa etapa, Antena 3 se incorporó al proyecto de Vía Digital y creó la figura del Defensor del Espectador, cargo que recayó en la periodista Consuelo Álvarez de Toledo. En 2002 se convierte en la primera cadena privada de España en retransmitir un Mundial.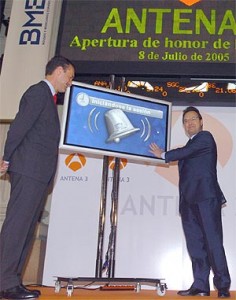 Planeta
En 2003 el accionista principal pasa a ser el Grupo Planeta. Desde entonces su presidente es José Manuel Lara Bosch y su consejero delegado Maurizio Carlotti (procedente de Telecinco). Cotiza en bolsa desde octubre de 2003. En septiembre del 2003, la cadena estrena la serie revelación, Aqui no hay quien viva, con la que logra enormes éxitos de audiencia superando apliamente a otras cadenas. La serie fue un autentico 'boom' y se convirtió en la tercera serie más vista de la televisión española, y la segunda más vista de la cadena, por detras de Farmacia de guardia. El 1 de julio de 2008, Silvio González releva a Maurizio Carlotti en el cargo de Consejero Delegado de la cadena.
Veinte años más tarde de su fundación, la primera privada que nacía en España se ha afianzado hoy como un gran grupo multimedia con tres canales en TDT (Antena 3, Neox y Nova) y su señal difundida en diecinueve países a través de su señal internacional.
Antena 3 puede presumir de haber sido la primera televisión en cotizar en Bolsa (2003); en emitir un debate a la presidencia del Gobierno, entre José María Aznar y Felipe González (1993), en comprar los derechos de un Mundial de fútbol (2002) y en crear un nuevo concepto de televisión 3.0 con enfoque multiplataforma a través de televisión analógica, digital, móvil e Internet.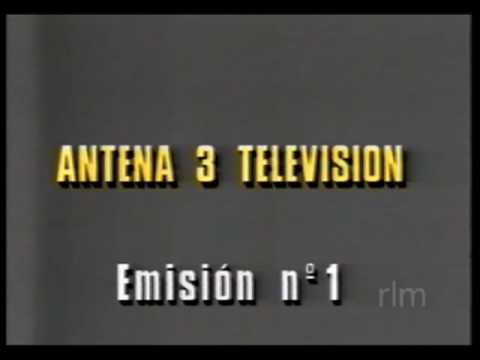 Did you like this article?
Subscribe to our RSS feed and you will not miss anything.
Other articles on
Antenna 3