Sony will present new proposals in the range XDCAM HD at NAB
Sony NAB 2012 will present two new optical products XDCAM HD in an exclusive package for some markets.
Among other solutions, Sony PSLA It will focus its presence at NAB 2012 camcorder XDCAM HD 4:2:2 PDW-680 and the Studio deck HD 4:2:2 HD-PDW 1200, that have been designed for XDCAM Latino customers, and have a cost of 30 to 40% lower than the existing line marketed in the region so far.
Andrew Nelles, Manager of Producto Senior de Sony PSLA, stressed that "camcorder XDCAM HD PDW-680 uses our 2/3″ of latest generation CMOS EXMOR sensor, and incorporates the main functions of our standard unit of the PDW-700 industry, with the exception of the progressive recording formats".
The unit is switchable between 50i / 60i and includes recording DVCAM as well as recording XDCAM HD 35 Mbps 4:2:0 and 50 Mbps 4:2:2. Therefore, "the camcorder will have very good acceptance since many of our customers have incorporated XDCAM systems in their stations", he said.
"Many of our broadcast clients have adopted the workflow XDCAM using proxy recording and random accessibility of the XDCAM camcorders to perform a 'pre', directly from the cameras to optical discs, which saves them editing time in the season, especially for new applications with time critical," Nelles said.
The PDW-680 unit can also incorporate our adapter Wi-Fi XM Pilot of Vanguard, CBK-WA01, that lets you organize and add metadata in the field directly to Professional Disc media. We showed this system to some of our key production customers, who see it as a huge time saving to the extent that really can give a name to the clips and add detailed information from your iPad, tablet Android or smartphone directly to clips in the field. Discs come then to the island of editing already organized and the editor can go directly to the clips you need to edit with lots of relevant information to make your time more efficient.
PDW-HD1200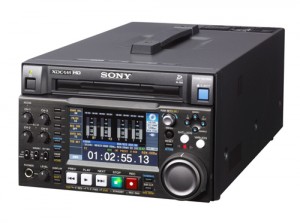 On the new PDW-HD1200 unit, Nelles noted that "our XDCAM HD recording deck is 4:2:2 lower cost and, like the PDW-680 unit, offers as standard interlaced recording and DVCAM recording to provide a seamless migration from SD to HD." Both the PDW-680 as the PDW-HD1200 unit can play progressive recordings. This is a particularly important for PDW-HD1200 unit function because "in the air" may be used as economic deck to play all XDCAM portfolio in a transmitter station of Professional Disc media for single layer and dual layer recordings. Like the PDW-HD1500 unit, the new PDW-HD1200 will have several inputs and outputs such as input/output HD/SD-SDI and analogue composite output. In addition, the PDW-HD1200 unit has a HDMI 1.4 output that allows to monitor a wider range of monitors."
The PDW-680 unit will be available in late April and the launch of PDW-HD1200 unit is scheduled for June.

Did you like this article?
Subscribe to our RSS feed and you will not miss anything.
Other articles on Sony
Otros artículos relacionados