Cinegy comes loaded with news NAB
En NAB 2012 Cinegy lanza dos versiones nuevas de un producto, además de un producto nuevo para gestión de activos y archivo media, emisión broadcast basada en IT y automatización con branding de canal y multivisualizador y distribución de señal basada en IP.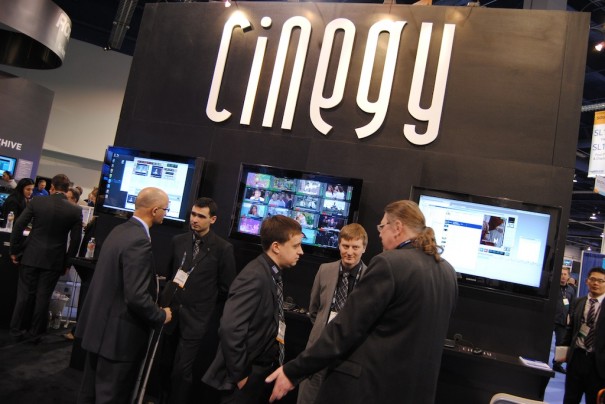 La versión 9.1 de Cinegy Archive y Cinegy Desktop se presenta estos días en NAB 2012 en el stand de Cineny. Cinegy Archive presenta una nueva API abierto con servicios de red SOAP y REST que también forman parte de la base del nuevo cliente de red Cinegy Workspace, además de un ligero front-end de portal personalizado que se puede utilizar, por ejemplo, para aplicaciones en nube de clientes. Los nuevos servicios de media de Cinegy permitirán creación al momento en tiempo real de contenido streaming para cualquier contenido que el usuario pueda solicitar en el formato que mejor se adapta al dispositivo y ancho de banda que el usuario tiene
Ahora el Cinegy Desktop integra un módulo de producción de noticias que viene con prestaciones de flujo de trabajo de producción mejoradas, por ejemplo, integración Avid de ida y retorno y un editor craft en tiempo real que ha sido muy mejorado para producciones SD o HD exigentes. Ahora el Cinegy Desktop puede gestionar hasta 256 canales de audio, incluyendo sonido surround y también ofrece efectos de video acelerados Nvidia CUDA.
Cinegy Archive
Cinegy Archive es una innovadora solución para la gestión de activos media en cualquier organización que tenga un archivo o producciones que necesiten ser gestionadas. Con su arquitectura abierta y escalable, Cinegy ofrece la solución más económica para digitalizar archivos basados en cinta y flujos de trabajo de producción. Con logging avanzado y acumulación de metadatos sobre toda la vida útil de los activos media, estos se pueden encontrar y reutilizar fácilmente, ahorrando tiempo y dinero. Cinegy Archive permite colaboración local y remota en tiempo real, permitiendo a los loggers y editores de video e historias trabajar con su material de video en tiempo real a la vez que se esta ingestando.
Automatización con Branding de Canal
Cinegy Air y Type Version 9.1 se presentan en NAB 2012. Ahora Cinegy Air puede emitir hasta dieciséis canales por servidor por medio de SDI y/o IP-streams. El Cinegy Type ofrece todo una gama de nuevas prestaciones apasionantes para branding automatizado y/o manual.
Cinegy están presentando algunos casos de estudio a sus nuevos clientes en el stand SL12213, incluyendo una explicación de las nuevas prestaciones. Ahora Cinegy Air puede soportar MXF AS-03 tal y como ha sido apostolado por PBS y MXF AS-11 y exigido por los principales broadcasters del Reino Unido.
Cinegy Air proporciona un servidor de automatización de broadcast front-end y de video en tiempo real para emisión SD y HD en un conjunto de software integrado. Diseñado para cumplir con los requerimientos más exigentes, Cinegy Air tiene éxito ahí dónde tantos otros han fallado. Cinegy Air se puede utilizar para controlar múltiples canales que estén retransmitiendo o para planificar y programar calendarios y bloques comerciales fuera de línea. Ahora muchos usuarios remotos y locales podrán controlar la programación y operación de la retransmisión.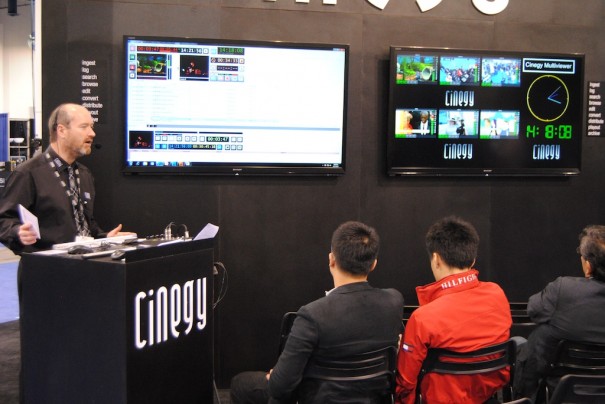 Multiviewer y distribución de señal basada en IP
El Cinegy Multiviewer, es una propuesta completamente nueva que vemos en NAB y destinada a monitorizar stream de broadcast MPEG2 o H.264. El diseño de la distribución del multivisualizador permite que el usuario pueda crear distribuciones personalizadas para un solo monitor o varios monitores. Este multipantall incluye una gama de prestaciones de alarma y QC, además de nuevos widgets de monitor que pueden mostrar metadatos descodificados desde streams de transporte entrantes RTP/UDP. El Cinegy Gateway, que convierte señales SDI a stream RTP/UDP, incluye todas las señales SDI de legado en el mundo IP. También se puede realizar streaming a MPEG2 o a stream H.264 en la salida de pantalla del Cinegy Multiviewer.
El Cinegy Multiviewer es fácil de usar debido a su interfaz que se puede personalizar por completo. Se pueden mostrar múltiples fuentes SD y HD en ventanas que se pueden ajustar por tamaño, posición y resolución, en un solo monitor o en múltiples monitores, permitiendo así poder monitorizar tantos canales como se necesiten. Todos los streams y canales pueden ser monitorizados simultáneamente desde cualquier estación que se encuentre en la red, con indicadores que muestran el estado actual de cada canal en modalidad tiempo real. Cada previsualización de canal esta equipado con un conjunto de componentes de previsualización e indicadores que lo convierten en un software que es comparable a las costosas soluciones de hardware de monitorización de video de multicanal.

Did you like this article?
Subscribe to our RSS feed and you will not miss anything.
Other articles on Cinegy, NAB2012
Otros artículos relacionados