MOOV relies on Brainstorm technology to power BBC Sport's narrative at Wimbledon

BBC Sport

and

MOOV
han virtualizado el plató de la cobertura de la cadena de Wimbledon para ampliar la narrativa del torneo y crear nuevas formas de interactuar con la audiencia con tecnología de

Brainstorm.

El set virtual creado para Wimbledon amplió el espacio disponible para la BBC más allá de los límites físicos de su plató, proporcionando nuevos entornos virtuales alrededor de la mesa de los presentadores y dejando espacio para añadir elementos como infografías. Infinity Set from Brainstorm, solución que integra herramientas de Unreal Engine from Epic Games, fue la herramienta elegida para crear este entorno híbrido y aportar funciones avanzadas de realidad aumentada.

El proyecto tuvo que producirse en un tiempo récord, ya que los diseños del plató no estuvieron disponibles hasta finales de abril de 2021. Una vez que BBC Sport y MOOV definieron el entorno, las cinco cámaras del estudio, de una amplia variedad de formatos, se equiparon con InfinitySet de Brainstorm, garantizando la continuidad en la presentación del espacio virtualizado.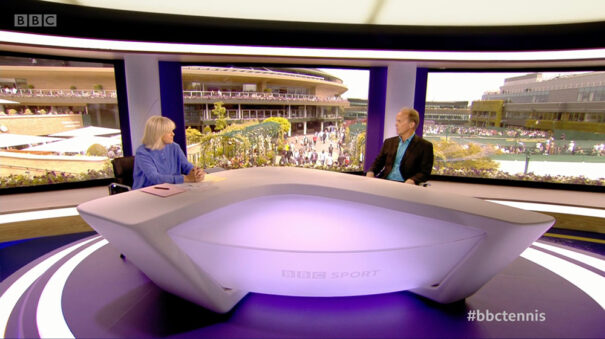 Una cobertura diferente
Tras la cancelación de Wimbledon 2020, BBC y MOOV comenzaron a planificar cómo ampliar la cobertura de 2021 basándose en herramientas virtuales. Nev Appleton, director y cofundador de MOOV, considera que el resultado prueba que estas largas conversaciones acabaron por ser fructíferas: "Hemos conseguido crear un espacio virtual que permitiera una cobertura dinámica del torneo que combinara a la perfección imágenes reales y virtuales de forma que mejorara significativamente la historia y el compromiso de la audiencia". "Fue un proyecto especialmente difícil, no sólo por las limitaciones de tiempo, sino también por las restricciones de personal in situ y por cuestiones técnicas, como la necesidad de reutilizar el estudio para los resúmenes diarios. Pero, a pesar de los retos, los resultados, realmente magníficos, reforzaron nuestro compromiso de utilizar la tecnología virtual para mejorar los eventos en directo", añade el responsable de MOOV.
On the other hand, David Alexander, director comercial de Brainstorm, detalla el papel de la compañía en el proyecto: "Junto con Paul Vanlint de Storm Broadcast, nuestro distribuidor en el Reino Unido e Irlanda, hemos trabajado con MOOV en varios proyectos, pero lo que se hizo en Wimbledon 2021 estuvo a otro nivel. MOOV cuenta con un equipo de gran talento que conoce a fondo nuestros productos y cómo sacar el máximo partido a sus ricas prestaciones y capacidades, ya sea el InfinitySet o nuestro sistema de gráficos en movimiento Aston 3D, hasta nuestro Neuron, que integra los gráficos y su gestión en los sistemas NRCS. Por ello, estamos encantados de trabajar con el equipo de MOOV en el proyecto de BBC Sport para un evento deportivo tan prestigioso y de renombre mundial".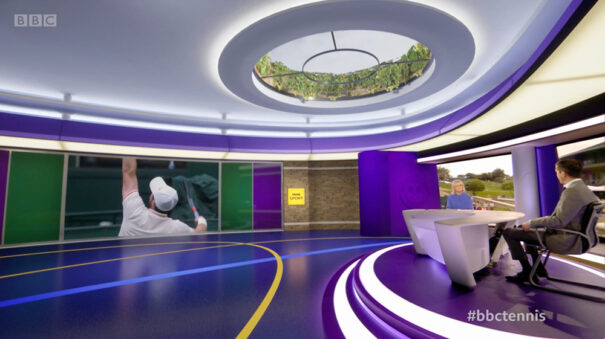 Did you like this article?
Subscribe to our RSS feed and you won't miss a thing.
Other articles about BBC, Brainstorm,

Moov

, Unreal Engine