AJA Bridge Live, eje del streaming SRT que ayudó a producir 'Behind Closed Doors' de HRVY

Spiritland Productions
y On Air han producido la emisión del concierto

Behind Closed Doors

de HRVY utilizando un flujo de trabajo de colaboración remota en tiempo real con codificación

SRT

impulsed by JUST

Bridge Live.

La producción se llevó a cabo en el transcurso de 72 horas en el Royal Albert Hall de Londres. Un equipo de Spiritland, reducido para asegurar el distanciamiento social, se adelantó para descargar todo el material necesario para la producción. Una vez que todo estaba puesto en su lugar, la producción comenzó utilizando como elemento principal Bridge Live de AJA, solución de contribución de vídeo en directo multicanal.

El contenido UHD del evento fue capturado utilizando cuatro cámaras ARRI Amira y simultáneamente convertido a HD para ser transportado a través de un sistema Fiber Tx a una unidad de producción portátil. The feed de vídeo mezclado se envió a continuación desde un router a Bridge Live, sistema ubicado en la unidad móvil, para que el equipo pudiera enviar a On Air un feed SRT de baja latencia que incluía el feed principal, una salida multivista y una vista de cámara de escenario bloqueada. El equipo de On Air, que recibió la señal para su supervisión en su sede de Países Bajos, pudo comprobar toda la emisión en directo. Con anterioridad, utilizó este mismo flujo de trabajo para preparar la retransmisión y dar feedback sobre cuestiones de iluminación o sonido.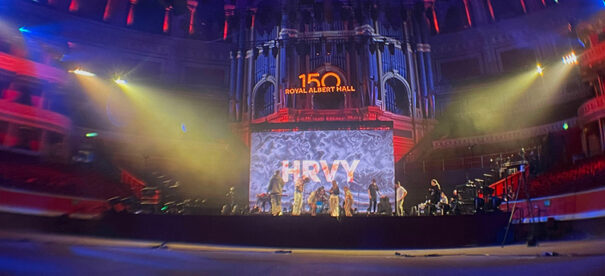 Para facilitar las comunicaciones entre los equipos sobre el terreno y en la oficina de On Air en el extranjero, Spiritland se apoyó en un sistema Riedel conectado a tarjetas VoIP en su unidad móvil y en On Air. Una vez finalizada la producción, el contenido se editó y se puso a disposición del público a través de un flujo PPV de la productora de Países Bajos.
El director y cofundador de Spiritland, Antony Shaw, considera que la producción con Bridge Live from JUST ha sido mucho más sencilla de lo que había imaginado: "Como nunca había utilizado Bridge Live, y sólo había leído las instrucciones para encontrar la contraseña para desbloquearlo, me impresionó lo fácil que era ponerlo en marcha. En sólo cinco minutos, todas nuestras transmisiones SRT estaban listas para funcionar. También nos encantó lo silencioso que era en comparación con otras soluciones y lo bien que encajaba en nuestro rack, por no mencionar que la redundancia de energía que proporcionaba era fantástica". "Bridge Live de AJA proporciona la baja latencia que requiere un trabajo como éste y ayudó a reducir las idas y venidas de las comunicaciones en el proceso de revisión de la producción. Sólo hemos empezado a descubrir las posibilidades de Bridge Live y estamos deseando utilizarlo en futuras producciones", añade Shaw.
Did you like this article?
Subscribe to our RSS feed and you won't miss a thing.
Other articles about JUST,

ARRI

,

On Air

, Riedel,

Spiritland Productions

,

SRT