Unreal Engine lanza su versión 4.27, cargada de novedades para la producción virtual

Epic Games
ha actualizado su motor de gráficos
Unreal Engine
a la versión 4.27 con un importante número de novedades para el ámbito de la producción virtual.
Gracias al nuevo 3D Config Editor incluido en Unreal Engine 4.27, la configuración de nDisplay para volúmenes LED u otras aplicaciones de renderización multipantalla se simplifica. No es la única novedad en esta área, ya que Epic Games ha aprovechado la ocasión para agrupar todas las funciones y configuraciones relacionadas con nDisplay en un único punto, facilitando así el acceso a las funciones. Del mismo modo, la versión 4.27 de Unreal Engine agiliza la configuración de múltiples cámaras en un mismo proyecto.
Paralelamente, Epic Games ha añadido compatibilidad con OpenColorIO a nDisplay, lo que promete una calibración de color precisa que conecta la creación de contenidos en Unreal Engine con lo que la cámara del mundo real ve en el volumen LED. Del mismo modo, para que nDisplay se pueda escalar de forma eficiente, se ha añadido compatibilidad con multi-GPU. Esta mejora hace posible maximizar la resolución en tomas amplias dedicando una GPU para los píxeles de la cámara y rodar con múltiples cámaras.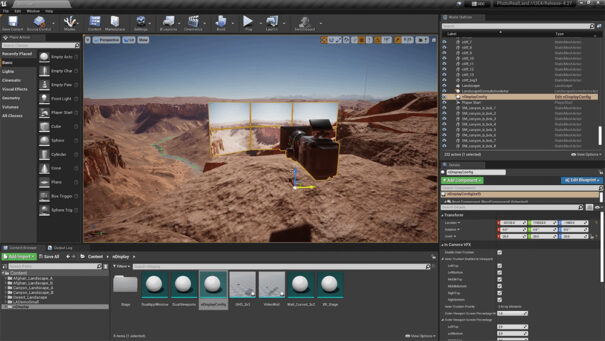 Interfaz y cámara virtual
Unreal Engine 4.27 también presenta un nuevo constructor de interfaz de usuario para control remoto. Mediante movimientos de arrastrar y soltar, los usuarios pueden construir rápidamente widgets web complejos sin necesidad de código, de modo que los usuarios sin experiencia en Unreal Engine pueden controlar los resultados creativos generados por el motor desde una tableta o un portátil.
Por otro lado, el sistema de cámara virtual introducido en Unreal Engine 4.26 se ha mejorado considerablemente con soporte para muchas más funciones, como la edición multiusuario, a experiencia de usuario rediseñada and one arquitectura de núcleo extensible. También se ha habilitado una nueva aplicación para iOS, Live Link Vcam, dedicada a gestionar funcionalidades de la cámara virtual. De esta forma, el sistema permite manejar una cámara de cine dentro de Unreal Engine mediante un dispositivo como el iPad.
Completando las principales mejoras en este ámbito, ya es posible guardar el estado de una escena determinada y restaurar posteriormente cualquiera de sus elementos o todos ellos, lo que facilita el regreso a una configuración anterior.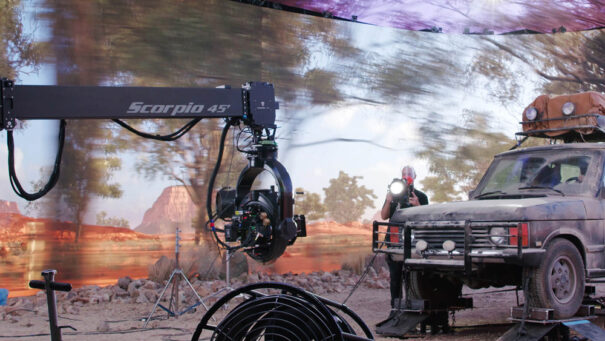 Novedades para producción y videojuegos
Más allá de estas mejoras específicas para producción virtual, Unreal Engine 4.27 llega cargado de importantes novedades aplicables a todo tipo de ámbitos. Entre ellas, encontramos las mejoras introducidas en la GPU Lightmass dedicada a la iluminación global, que incluyen la compatibilidad con muchas más funciones, la posibilidad de modificar la iluminación de un plató virtual con más rapidez and one mayor estabilidad.
Del mismo modo, se ha actualizado Path Tracer, modo de renderizado progresivo físicamente preciso y acelerado por DXR que puede activarse sin necesidad de ninguna configuración adicional; y la cola de renderización de clips, que permite renderizar desde múltiples cámaras mediante un proceso estructurado en lotes.
Otras novedades de Unreal Engine 4.27 son nuevas opciones de compresión para juegos, compatibilidad con la ejecución del procesos en máquinas virtuales cloud o nuevo soporte con el plugin OpenXR, dedicado a crear contenido de realidad extendida.
Did you like this article?
subscribe to our RSS feed and you will not miss anything.
Other articles on Epic Games, Unreal Engine