Chris Hemsworth promotes Centr with a spot filmed with Blackmagic's URSA Mini G2

URSA Mini G2 camera and 12G HDR Video Assists Blackmagic Design were used during the filming of the last commercial of the actor Chris Hemsworth for his app Centr.
Hemsworth decided to have the director and filmmaker Anthony Rose para grabar el spot, especializado en videoclips, documentales y anuncios. Sus trabajos más recientes incluyen proyectos con Marvel or the making of feature lengths about behind the scenes of productions of Disney+, tales como Shang Chi and the Legend of the Ten Rings Y Thor: Love and Thunder.
El propio Rose desvela que los rodajes se produjeron con completa fluidez: "Mientras Chris hablaba, rápidamente agarré mi Blackmagic G2 and I started recording trying with the objective Xeen CF Prime de 35 mm. Cuando los chicos abrieron la puerta del gimnasio, la luz era perfecta en la pared de piedra rugosa, aunque esto cambió pronto. Chris, Bobby y Luke agarraron unas mancuernas y comenzaron a entrenar duro. Así, sin mediar palabra, comenzamos a rodar y no tuvimos que grabar segundas tomas".
Esta naturalidad permitió a Rose seguir filmando de manera continua, "confiando en el amplio rango dinámico de la cámara, la profundidad que ofrece en las sombras y la habilidad para mantener las zonas más luminosas". "Además, con la LUT Blackmagic activada, sabía que lo que veía por el ocular era exactamente lo que quería", remarca Rose.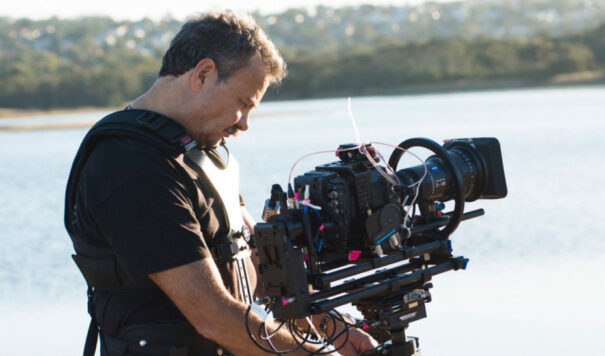 URSA Mini Pro 4.6K G2
Rose decided to use the model URSA Mini Pro 4.6K G2 de Blackmagic Design con el objetivo de captar tomas en 4.6K. Posteriormente, supervisaría el material con el monitor Video Assist 7" 12G HDR con el propósito de crear el efecto final deseado para la campaña.
La experiencia de grabación con el dispositivo de Blackmagic Design fue totalmente satisfactoria para Rose: "Tengo la certeza de que el rango dinámico tolera la luz solar directa y ofrece profundidad en las sombras y una fuerte retroiluminación, por lo que las imágenes siempre lucen en posproducción mejor de lo que esperaba. Superviso el material con una tabla de conversión BM Film to Extended Video v4 y uso una combinación de formas de onda a fin de mantener la exposición estimada, pero muchas de las tomas muestran momentos efímeros para los que solo tengo una oportunidad de filmar bien".
"En una industria de entregas en 4K, contar con la resolución adicional me brinda la opción de estabilizar las tomas o reencuadrarlas en la posproducción sin mermar la calidad de la resolución. Además, desplazarse por los menús es muy rápido e intuitivo, y la cámara es sólida como una roca, a pesar del calor extremo, el frío o el polvo", concluye el director.
See this post on Instagram
Did you like this article?
Subscribe to our RSS feed and you won't miss a thing.
Other articles on Blackmagic,

Samyang