Sony presenta la nueva cámara de cine Venice 2, con sensor intercambiable de 8,6K

El buque insignia del área de cine de
Sony
, la Venice, evoluciona en Venice 2, un modelo dotado con un cuerpo más compacto, grabación interna en X-OCN y la posibilidad de usar tanto el nuevo sensor 8,6K como el sensor 6K original de la Venice.
The model Venice 2, que convivirá con la Venice original, destaca por poseer un censor CMOS Full Frame 8,6K (8640×5760), ofrecer una latitud total de 16 pasos y contar con la misma tecnología de color que la Venice original. Otras de sus características destacadas de un exclusivo modo de doble base ISO 800/3200, que permite a los cineastas capturar imágenes en una amplia gama de condiciones de iluminación.
La CineAlta Venice 2 admite todo tipo de formatos, desde full frame (incluso full frame anamórfico) hasta super 35 mm, con una resolución mínima de 4K. Esta versatilidad busca convencer a todos los directos de fotografía para que vean a la nueva cámara de Sony como una solución "polivalente y versátil" para "cualquier tipo de producción".
Está previsto que la cámara Venice 2 con sensor 8,6K empiece a comercializarse en febrero de 2022. La cámara se puede utilizar con el sistema de extensión con el sensor 6k existente. Está previsto que, a principios de 2023, se comercialice un sistema de extensión de última generación para el sensor 8,6K.

Mejoras con respecto a Venice
Gracias a los comentarios de la comunidad de producción, la Venice 2 se ha diseñado con un cuerpo más pequeño y ligero que el de la Venice original, a la vez que se ha conservado su funcionamiento intuitivo. A pesar de ser 44 mm más pequeña y aproximadamente un 10% más ligera, la Venice 2 cuenta con nuevas funciones como la grabación X-OCN interna y Apple 4K Pro Res 4444 Y 422HQ sin el grabador AXS-R7.
La resolución de captura seleccionable por el usuario del sensor de imagen 8,6K permite grabar en diferentes modos, incluidos 8,6K en 3:2 a 30 FPS y full frame; 8,2K en 17:9 a 60 FPS y full frame; 5,8K en 6:5 anamórfico a 48 FPS y super 35; o 5,8K en 17:9 a 90 FPS y Super 35.
Por otro lado, con fin de aportar mayor flexibilidad, el chasis de la Venice 2 sigue incorporando la exclusiva funcionalidad que permite intercambiar el bloque del sensor de imagen. La cámara se puede utilizar tanto con el sensor 8,6K como con el bloque del sensor 6K original. El cuerpo de la cámara reconoce automáticamente el cambio y funciona sin necesidad de intercambiar o reinstalar firmwares, lo que aporta mayor flexibilidad durante el rodaje. El sensor 6K original ofrece una mayor frecuencia de cuadro.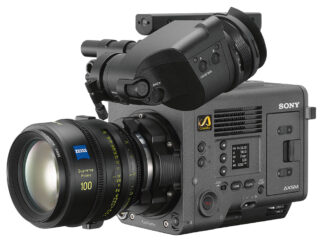 AXS y funcionalidades optimizadas
La Venice 2 de Sony utiliza la nueva tarjeta AXS de alta velocidad de 6,6 Gbps AXS-A1TS66 para la grabación en 8K 60p. Los lectores de tarjetas AXS existentes, incluido el AXS-AR3 a través de la interfaz Thunderbolt 3, son compatibles con los nuevos formatos.
Con respecto a la interfaz de usuario de la Venice 2, esta es la misma que la original, aunque incorpora mejoras para que su uso sea más sencillo e intuitivo. La cámara cuenta con un diseño renovado, a la vez que es compatible con casi todos los accesorios originales de la Venice. Otras mejoras ampliamente demandas por la comunidad que han sido aplicadas son la salida 4K con LUT aplicada; el procesamiento mejorado de la LUT 3D para mejorar la calidad de imagen; cambios de EI aplicados a las salidas S-Log3; control de LUT/ASC-CDL via Ethernet/Wi-Fi; función Zoom to Fit (grabación full frame con monitorización 17:9/16:9); posición del conector Ethernet cambiada al lado del ayudante de cámara; conector de salida Lemo de 2 pines para 12 V; o un micrófono interno incorporado.

Un sistema puesto a prueba
Varios directores de fotografía han tenido acceso al nuevo sensor 8,6K de la Venice 2. Robert McLachtan (ASC, CSC), que ha trabajado en Juego de Tronos, Westworld Y Territorio Lovecraft, define así la experiencia: "Me habría encantado tener un sensor de gran formato 8,6K como el de la Venice 2 de Sony durante el rodaje de Juego de Tronos. Habría hecho que pareciera más épica y atractiva, gracias a su mayor resolución y nitidez. La velocidad de cuadro más alta y los reflejos y sombras más nítidos, junto con el potencial de una profundidad de campo muy reducida, habrían supuesto una gran ventaja".
Por otro lado, Claudio miranda (ASC, ACC), tras testar la Venice 2 en un desierto de California, afirma: "En la película se mantiene la fidelidad en las sombras, y los planos abiertos son increíbles. En este rodaje no se utilizó iluminación de cine; la única fuente de luz eran los faros del coche y el fuego. De hecho, ese era el objetivo: estábamos en medio de la nada y tuvimos que encender una gran fogata para iluminar la montaña y ver hasta dónde podía llegar el nuevo sensor sin ruido".
Finalmente, Rob Hardy (BSC), autor de películas como Misión Imposible: Fallout, comenta: "Estoy acostumbrado a utilizar la Venice. Diría que soy un ferviente defensor de esa cámara. La oportunidad de utilizar la Venice 2 es realmente fantástica. Es la primera vez que utilizo este sensor de 8,6K. Además, hemos tenido la suerte de conseguir unos objetivos anamórficos que cubren todo el sensor y que ajustamos para crear un efecto cinematográfico. Los rangos ISO han aumentado, lo que me permite rodar a mayor velocidad con poca luz, algo que antes no era posible. Esto me supone una gran ventaja".
Did you like this article?
Subscribe to our RSS feed and you won't miss a thing.
Other articles on Sony