Limecraft Flow ya permite el empaquetado y envío de contenidos

La plataforma para la producción de contenidos de cine y televisión
Limecraft
Flow se renueva para abrirse al ámbito de la distribución.
Durante los últimos 24 meses, Limecraft ha afrontado un gran crecimiento debido a su enfoque cloud native. Respondiendo a las principales demandas de sus clientes, la compañía ha actualizado su plataforma Flow para que esta también sirva como repositorio de masters y plataforma for the ejecución automatizada de formato y envío.
Un proceso de coding completamente nuevo ofrece una gama de nuevos formatos de salida, incluyendo también opciones de escalado y recorte, marcas de agua y correcciones de color y volumen. Por otro lado, el audio multicanal y la configuración de la disposición de los canales de audio, permiten a los productores crear y gestionar diferentes versiones como estéreo, sonido envolvente o configuración de audio personalizada. Además, pueden calificar los diferentes canales de audio según la naturaleza o el lenguaje del audio, incluyendo, pero sin limitarse a, la sonoridad, el códec y las tasas de bits.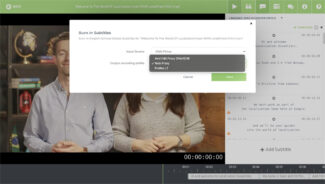 Limecraft también se especializa en la transcripción automática precisa, lo que posibilita que los contenidos tengan más probabilidades de ser recuperados por los motores de búsqueda y estén mejor clasificados por los motores de recomendación. De cara a la nueva versión de Flow, la compañía ha incluido mejoras específicas para varias lenguas minoritarias. Estas opciones de subtitulación automatizada permiten a los productores definir y utilizar diferentes características de estilo y tiempo para los subtítulos según las especificaciones del canal de distribución, y posteriormente crear automáticamente diferentes versiones del contenido en consecuencia.
Maarten Verwaest, CEO de Limecraft, pone en valor las últimas mejoras de la compañía, las cuales están siendo actualmente expuestas en la feria London Media Production and Technology Show: "A medida que los modelos de distribución de contenidos evolucionan rápidamente, ahora ofrecemos un modelo de autoservicio optimizado para una máxima flexibilidad, proporcionando a nuestros clientes la capacidad de distribuir más eficientemente sus contenidos y hacer crecer sus audiencias en todo el mundo de una manera integrada y sin fricciones".
Did you like this article?
subscribe to our RSS feed and you will not miss anything.
Other articles on

Limecraft