Recovery of sunken relics from the Yangtze River brought to light by TVU

Several 5G solutions from TVU have enabled viewers around the world to experience live the excavation and relic recovery of an ancient ship sunk at the bottom of the Yangtze River.
Shanghai Media Group (SMG) broadcast live the entire excavation of one of the country's largest ancient wooden sailing ships from the night of 20 November until the morning of 21 November. Submerged for more than 150 years on the seabed of the Yangtze River, this unique archaeological dig, broadcast with TVU solutions, concealed a treasure trove of more than 600 relics. The live footage was broadcast on Dragon TV in Shanghai, STV in Scotland, Kankan News in China and other TV stations and platforms.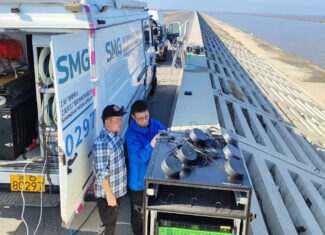 Due to the restrictions imposed on underwater archaeological salvage and the conditions of the ship on board, the broadcast faced numerous challenges: no communication or network signals at the site, difficulty in capturing key images underwater, uncertainty as to when the ship would be fully excavated and restrictions on the number of production team members. To address all these challenges, SMG developed a solution that included a temporary container-style studio with microwave transmission equipment inside. Signals from all cameras were received in the container studio, from where they were transmitted to a mobile unit located on the nearest embankment.
To ensure a stable signal return from the OB Van, SMG decided to employ the TVU G-Link point-to-point encoder and TVU Router multi-network aggregation router, which provided real-time transmission of the main and backup signals from the van to SMG's Shanghai studio for final production and playout, where the signal was received by a TVU Transceiver server with a sub-second latency. TVU Router also provided high-bandwidth network access for the mobile unit, aggregating 5G and 4G networks from multiple operators and employing its patented IS+ technology to ensure optimal bandwidth.
Paul Shen, CEO of TVU Networks, says the company is "proud" to have participated "in this incredible moment in Chinese underwater archaeology. "Thanks to the strength of our IS+ multi-network aggregation technology, SMG was able to realize multi-network bandwidth from the banks of the Yangtze River and deliver this remote event live to viewers across the country," he adds.

¿Te gustó este artículo?
Suscríbete a nuestro RSS feed y no te perderás nada.
Other articles on

SMG [INT]

, TVU Networks [INT]